KitKat update for HTC One pulled in the UK following 'difficulties'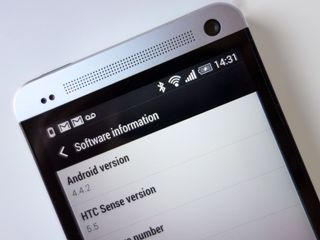 Android 4.4 OTAs no longer rolling out
While HTC America managed a speedy rollout for Android 4.4 on the HTC One, things haven't gone quite so smoothly in the UK. The country wasn't included in the first raft of European territories to get KitKat in late January. And now, a week after the company tweeted news of KitKat's arrival in Blighty, there's official news of the update being withdrawn due to "difficulties."
An HTC statement given to Android Central reads —
There's no info on exactly what kind of issues have been discovered with the firmware, but HTC's UK updates status page (opens in new tab) once again lists all carrier variants as being in the "integration" stage. If you've already updated your UK HTC One to Android 4.4, hit the comments and let us know how you're getting on.
Alex was with Android Central for over a decade, producing written and video content for the site, and served as global Executive Editor from 2016 to 2022.
Mine seems to work fine Posted from the ONE

I wondered why my partners HTC one on O2 hadn't got the update yet... We went into an O2 shop the other day and they didn't know anything about the update. Posted via Android Central App

Mine seems good too. Wonder what the issues are? Posted via Android Central App

Be happy you guys missed it. I, along with many others have experienced primarily battery life being cut in half. Otherwise my performance has improved, its still a great phone with no software problems. Before I was getting minimum 1.5 Days and could probably get more if I tweaked my power settings. But now, I'm lucky to get half that.
Just google HTC Kitkat battery drain, you'll find post after post. Whatever they did, they gave us more features and better performance but I'm not sure its worth it if it kills my battery in half the time.

I didn't even realise it was out. Just gone to check and there's the update, so looks like it hasn't been pulled just yet! I'm downloading now...

I updated via OTA on Vodafone UK last week and the phone was completely draining over night when it was switched off. Got in touch with HTC support and they suggested I perform a master reset. I did this and everything seems to be fine now, not noticed anything else.

We shouldn't have to reset the phone though! I don't want to go through the whole rigmoral of setting everything up to exectly how I want it again!

4.4.2 runs flawlessly on my T-Mobile US htc One, so I find this strange.

Nowt wrong with mine. UK unlocked handset with EE SIM

I have a UK phone. Cid 001. My problem is about the phone app wich automatically switches to speakerphone, sometimes.
And also the camera has sometimes difficulty locking focus. In the stock camera app and also snapchat app. This started all after 4.4.2.

I have a US AT&T unrooted. I get the same (speakerphone) call problem. It hurts to put the phone to your ear when it is running in speakerphone mode. This is a health / safety issue and htc should really be fixing it ASAP. That said, I think we have a solid 3 month wait before they even acknowledge the issue. Fix in 6 months, if at all.

Mine also switches to speakerphone by itself after the update! -------------------------------------------------------
Shared from my HTC One

Same problem here. I'm in the U. S. with a Verizon HTC One. It's been driving me crazy.

Battery life is atrocious, even after a full reset.

Mines okay, any clues as to what problems people are having with the update? Posted via Android Central App

Downloaded the update last week, No issues. Posted via Android Central App

The only issue I had was Deus Ex The Fall stopped working after update , but that's fine now Battery life seems to have shortened, although that could just be me

Yep, updated mine to KitKat and it's flaky as hell. Lag, freezing, high Battery usage, slow charging, Google now not working, wireless dropping even more than usual, it's been a right mess.
Posted via Android Central App

Issues tend to happen after updates and master reset normally does the trick. Posted via Android Central App

Interesting though there phone seems fine when I made some phone calls it s witches automatically to speakerphone.... Posted via Android Central App

I've rebooted my AT&T One a few times and it's still flaky. Facebook, Google+ and other apps have been crashing and locking up my whole phone. Very aggravating! Posted via Android Central App

Weirdly - I've had the kit-kat update for over three weeks and had no issues but over the last 48hrs my phone app keeps switching on the speaker for both incoming and outgoing calls. Cant explain why its suddenly started this weird behaviour! HTC One / Unlocked / on Three / UK

I am on Three UK and get the random switching to speakerphone issue all the time on 4.4 but nothing else. Everything else seems fine. The speaker phone issue is so annoying now when I ring someone I check before putting it to my ear.

I have an unlocked HTC One and since the update all is working well apart from when I charge the handset with it switched off, the led goes green after a few hours, and when I boot the handset, it goes back to red and says it's at 87% charge! Weird. I leave it about 10-15 mins longer and it goes green 100%. After about 10 mins of being unplugged from the charger, it drops straight back down to 87%, sometimes 77% and then drains normally from there. Don't understand why it is doing it. Posted via Android Central App

GOOD for Enterprise stopped working after the update. HTC One on Sunrise Switzerland

How can you tell? Worst enterprise email client ever! Posted via Android Central App

Mine's working like a dream! Posted via Android Central App

This is why companies shouldn't customize their software for every carrier in the world. There are bound to be bugs introduced in that process. If every HTC One ran the exact same software, like Apple does for the iPhone, they could get updates out quicker and avoid issues like this.

Erm. Actually it's not 'why', at least not in it's entirety. I had pretty bad performance issues on my Nexus 7 when that was updated. It's a symptom of updates, not necessarily customisations. Sure customisations will compound the issue but in itself the update process is probably the main issue. My HTC One is sim free and after the update I'm now experiencing occasional but terrible battery drain. Not found the culprit yet.

Got mine last week. Unlocked model. All seems ok Posted via Android Central App

4.4.2 is available on my device now. On Vodafone UK Posted via Android Central App

Have similar problem with speaker randomly turning on in phone app and it started couple of days ago, although I've updated almost a month ago to 4.4.2. Also, after updating, had problems with GPS locking, all the location apps didn't work, until couple reboots, but today everything seems fine. Weird.

I have AT&T HTC One with 4.4.2. I have started observing random issues - speaker phone ON by default for calls, quick toggles not working, bluetooth failing to connect with my car. I had conversation with HTC technical support and they have provided instructions to wipe cache partition. Since then, things are smooth. Need to see if I face any more issues...

My AT&T HTC One has been a power hog since the update. I even did a factory reset and I still barely get 7hrs of very minimal use. Default speaker phone is also annoying.

Installed and working without any issues on mine.... Although I'm still trying to find the differences from JB??!!

(UK) I upgraded to Kitkat on my HTC One last week, from the same day my battery power was halved from what it normally was, battery drain was terrible, after 3 or 4 days I had to go clear the cache after which the battery returned to its normal self. . . and has stayed ok since.
In the Recovery screen, (to get there) with the device powered off press and hold the Volume Down then briefly press the Power button, you will see the android logo and wait until you see a menu > Navigate to "Recovery" using volume buttons > then press power to select > wait until you see an icon of a phone with an exclamation mark and a triangle, as soon as you see it, press and hold volume up then press the power button > Navigate to "Wipe Cache" > Navigate to "Reboot Phone"

No problems here had 4.4.2 for a week now on Orange EE. Battery life seems fine and phone smooth to operate. Posted via Android Central App

My battery life is significantly worse since the update, but everything else seems fine. Posted via Android Central App

I have had kitKat since it was released in UK, I have not had a problem with it except I cannot use the alarm to wake me up, I could turn my HTC one off after setting the alarm and it would turn the phone on at the set time but now that doesn't work. Other than that I like it.

I have the same issue, in France :-(

Until now my unlocked HTC One is good and happy with the 4.4.

I noticed this last week and tweeted HTC, receiving no response. Wife's HTC One turned off last night and hasn't turned back on. Waiting for a replacement...

I've been having problems after updating on kitkat UK unlocked red version. It's just doesn't back up to cloud automatically.When I try to back it up manually goes to screen select cloud service n doesn't go any further.

I live here in the USA, did the Kit Kat upgrade, then my phones battery started draining very rapidly, and started getting very hot to the touch...I did a factory reset and it didn't change the problem...took it to my carrier (Verizon) and they called tech support...tech support said give me a new one, so they shipped it last night, should get it tomorrow

Michael Baker mine had same problem and I also got a new phone send out to me via T-Mobile and guess what it still has the same problem once you update to KitKat 4.4.2 unless you don't it shouldn't be an issue. The new phone was running 4.2 jelly bean and was fine but I updated it to KitKat and the problem resurfaced its utter RUBBISH!! I hope Google fixes this very soon with another Update!!

I have HTC One T-Mobile USA and the battery life is gone out the window. I have done the following Cleared Cache Via System Startup Boot, Safe Mode, Factory Reset, Uninstalled almost all my Apps, Calibrated the Battery, and the end result is the same What the Heck Google fix KitKat Asap!! Comon.....

Still waiting for my wife and best mates htc one to get kitkat in the UK. I asked htc UK on twitter, on day of release if update had been pulled but got nil response. Posted via Android Central App

Hmmm, could it be the fact that I and many others have experienced a huge loss of battery power? This absolutely sucks and I wish I could go back. Its horrible.

Mine is over heating speaker phone comes on when using phone and battery drains very fast wtf HTC

32GB HTC One with 4.4.2 - Will swap for Nexus 5 ;-)

I have a HTC One on EE and downloaded the update this morning. Since the update Wi-Fi has completely stopped working. The battery life seems to be a lot better though (maybe because of no WiFi...). I haven't had any problems with the loud speaker kicking in automatically in the Phone app either. Posted via Android Central App

Spoke too soon. Battery just dropped from nearly full to about 60% in an instant... Posted via Android Central App

I've had an issue with Wifi since the update. There is one particular wifi network where I work it will no longer connect to. All other wifi networks I've been able to try work though.

My WiFi is awful now. Shows fully connected, full bars and just can't load anything. Google Now is particularly bad in this respect. The whole thing is a heinous mess!

Try going into the WiFi menu, WiFi Direct and rename device as HTC One. That fixed my WiFi problems... Posted via Android Central App

I have a solution from the HTC UK twitter feed. Of you are having Wi-Fi problems, go to Wi-Fi menu, then Wi-Fi Direct, then change device name to HTC One. Hope that helps some people! Posted via Android Central App

No problems updated 10 days ago,noticed battery life bit better also. Was lagging slightly on swipe up from lock screen but now running really smooth again .Fix for in call screen time-out proximity censors also ok Posted via Android Central App

Since the update everytime I make a call it poss loudspeaker on its annoying I am from UK when I contacted support they said it was an issue if have to master reset the device Eric h did not work for me exactly same:-(

After using kitkat for a few days , I'm running the official 4.4.2 Vodafone UK update. Phone seems to drain the battery 25% quicker than before the update. Google voice search seems to have a mind of its own, opening up while I'm texting etc. Posted via Android Central App

Could you be swipping up on the home button as you txt ? Or maybe long pressing the full stop icon while texting to bring up google voice search ? Just a guess ??? Posted via Android Central App

UK Vodafone customer and updated to 4.4.2. Terrible battery drain. I rang Voda and they told me to do a factory reset. I did and still have bad battery drain. Not sure what to do...Trawled the forums but no solution. Voda have always been pretty good and I like my HTC One. Hohum...

mines working fine...howevr does not connect to WiFi..and I don't see the new dialer screen with the integrated search that I've heard so much about...I've always supported HTC but mistakes likr this gives those Apple dryphone users a reason to have a go! come on HTC get a mooove on!

Hello everyone. I have made a compilation of the issues faced at the user end after the update.
http://youtu.be/m4t5BQbuZes Hope HTC fixes it soon.

Updated about a week ago to 4.4.2 (Three UK). Battery life if awful! The phone is quite hot even through its screen has been off all morning; batter went from 100% -> 46% in ~4 hours. Nothing out of the ordinary in the Battery Usage page.

Only issues I'm having is all my shortcuts are gone from the lock screen, and I can't customise it at all, not even the music widget shows on lock screen.

I have the htc one and received my update yesterday and decided to do it this morning and since updating the phone will no longer boot up and is stuck on the htc opening screen. After taking it too the repair shop this afternoon and did a system recovery and other things it still stuck on the opening htc screen. Not a happy bunny right now! No ideas what too do now, any idears ???

Since the KitKat upgrade the phone element of my HTC has not worked. Callers cannot hear me although I can hear them perfectly. Grrrr

I've recently had the update, and there are 2 major issues: 1. Battery life has decreased SIGNIFICANTLY. From 100% to 90% in less than 10 minutes of light use.
2. Official HTC Charger, and I keep getting the "Slow charge" notification in my notification bar. Other issues I'm experiencing:
1. Plug the wall charger in, and I get an HTC SYNC notification. I've not connected it to my pc/laptop, so why is this coming up at all!?!?
2. Call switching to speakerphone when I least expect/want it. Other than these issues, the phone/update is great still. Oh, and before anyone suggests it I have performed a hard reset of my phone, which hasn't resolved the issues.

Mine has been switching itself off and I have to hold the volume and power buttons to switch it back on.

Since the update I have incredible lag, and hideously annoying battery drain! If I go into settings and battery usage, it shows 'Android System' as having used 80-90+% of the battery power! It seems as though there is some system process constantly running in the background that is processor and energy intensive! Resulting in lag and battery drain! This is not at all good enough! I'm paying good money for plenty of airtime and data (and bought an expensive phone to start with) to be able to make full use of what that makes possible! But now with only about 4-8 hours battery life the phone is effectively useless!!! And Why aren't HTC/Google Android informing people of what is going on and when it will be fixed!!! This is costing everyone affected money, inconvenience and all kinds of problems!!

I agree with this!. Battery life rubbish, phone lag and overheating problems. This is not good enough. The phone (HTC ONE MINI) constantly asking me to update the system to this rubbish software (4.4.2) You can only delay upto 4hrs. Please.... this is absolute crap.

since latest update i am also having terrible reception hardly getting calls just txt with voicemail and battery life is just as bad phones only good for browsing on wi-fi now :( and i have done factory reset and still the same, htc one 4.42, htsence 6.0

The auto screen brightness and rotate settings don't stick, which means when your outside you cant see the screen to unlock it. The autosync keeps turning itself off and the battery life in non existent.
Previously could you adjust the ringer volume when locked? You can now and I often find the ringtone has set itself to silent when in my pocket.

After upgrading to 4.4.2 my phone regularly freezes after making a call with the 'hang up' button not responding. The only work around I have found is restarting, which is possible after some inexplicable wait. Any other suggestions? Ralf

HTC has pulled the Vodafone update till further Notice Now due to Bloatware hijacking the stock browser
Vodafone started to blame Manufactures as this has been rolled out in Europe but there's is don different
theres uses Vodafones Message+ app and can be Disabled in the Applications manager
the UK ones doe not have this
This uses the RCS to send messages this also is causing battery drain issues
there is a 25+ page of complaints on Vodafones own Forum
Android Central Newsletter
Get the best of Android Central in in your inbox, every day!
Thank you for signing up to Android Central. You will receive a verification email shortly.
There was a problem. Please refresh the page and try again.