Killing Floor Incursion review: Guns, zombies, and severed arms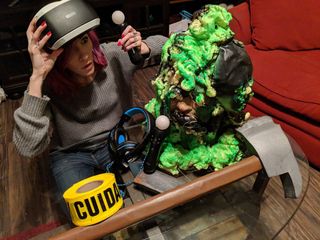 This sci-fi horror, created by Tripwire Interactive, hit some VR platforms earlier this year. But this title coming to PlayStation VR (PSVR) is such a big deal because Incursion is a VR exclusive, which means the scares are new and the action is so much more intense.
Perhaps more important, we know that Incursion came to PlayStation VR as a complete game, unlike other platforms. In November of 2017, the game received a few more updates including Hard Mode for the campaign, a Holdout Mode for how long you can survive, a new Katana weapon for the Holdout mode. Options for smooth rotation and a good amount of bug fixes were also included in this update. Here I'll go over all of these updates, as well as the overall review of the game.
So, if you're interested in trying out Killing Floor Incursion for the PSVR, read on below and get your Zed on!
Controls
At the start of the game, they ask you if you are right or left handed, and I really appreciated that optional setting. Another thing that got them loads of points from me was the ability to turn on an option for playing when sitting down. This was particularly awesome because not too many horror games are accessible to someone who might not be able to stand.
Movement and control buttons
The smooth rotation turning option was just a little too slow and definitely took some getting used to, but I've never been a fan of click turning because it always makes me feel nausous. There's no option to change the speed of the turning, but hopefully, one will be included in the next update.
Other than that "Free movement", which is the ability to walk or run, really made the game feel real. When it comes to horror VR games I appreciate being able to actually run from the enemies because teleportation movement makes me feel like I'm cheating. When I'm playing a horror game being able to teleport behind my enemy just makes it too easy to play.
Gameflow from pre-set controls
I appreciated being able to set my holster to my chest or my waist. Being a short person I have it set to my chest, but it's going to register at my waist anyway, so these types of customizations can really make an impact on gameplay. There is also an option to store things on your back, but there were more times than not where I would just end up throwing an object behind me. The best way to avoid this is to hover your hand over your back for a moment before you let go.
There was also a "Control scanning" option that worked in two different ways. You could send your little robot friend out to find something (via an option in the menu) or turn on your control scanning. This is an interesting mechanic that lights up items that are near you and illuminating objects that you can collect or interact with.
Now let's talk about melee options. There are melee weapons for you to fight with should you run out of bullets. Then, much to my amusement, if you run out of bullets and don't have any knives you can use the butt of your gun or the severed limb of a zombie. That's right, you can beat zombies to death with the bloody side of their own limbs. Phenomenal.
Presentation
The overall visuals were rather dark, but not in a murky or cloudy sense. This made everything an extra level of creepy and I loved every minute of it. The background sounds also get an A+ from me. Hearing the owls, bugs and other general forest noises added a level of immersion that made it feel that much more real. Heck, you can even hear the sounds of people dying and zombies groaning even if you're nowhere near a spawn for combat. They did an extraordinary job making me feel like I was in a real live zombie stimulation.
The last thing I want to goob about is how great their zombies looked. You can see the amount of detail that went into them all the way from movement to rotting flesh festering as they walked. While there were zombies who looked similar there were enough varieties to make it feel like a true horde. Also, spider zombies. Nope. Not even once. 10/10, terrifying every time.
Story mode
The beginning of the game gives you plenty of time to learn the mechanics and gather things before throwing you into the fire. This is pretty important for horror games, so be confident in knowing you'll be able to get those controls down packed before you experience your first zombie. To top it all off, the controls are actually fairly easy to use. This, combined with the Move Controllers great design, made learning go smoothly. And then there was Emma.
Emma Rose is the voice in your headset. While I appreciate a character who is there to explain the mechanics and what you need to do, the way she is presented wasn't the best. She reminded me all too much of Navi from Legend of Zelda, and not in a good way. The first time she explained how to do something, or what I needed to do, it was okay. But, if you take too long she will continue to ping you with notifications. There are already arrows in your field of vision that show you where to go, so some of the things she said were all but pointless. This got annoying very fast as I'm a player who likes to fully experience my surroundings and take my time to figure things out before moving forward. With her constantly nagging in my head I felt rushed and, ultimately, pretty annoyed.
With the new updates, they have now added a "Hard Mode" for the campaign. This gives you less ammo and health as well as more power Zed with different abilities. So, if you're looking for a challenge or to be scared out of your pants, you should check it out!
Holdout Mode
Holdout Mode is an amazing option where you can see just how long you can survive against a horde in a set location that you get to choose. After you complete a level in the campaign mode, that level will be available to play in Hold Out mode. Here you will only start with a pistol and a knife, but don't worry. There are better equipment and powerups you can collect on the way. This mode isn't just killing zombies. There are also puzzles, locks and full maps for you to explore and discover.
Your scores are marked on the leaderboards so there is a very real competition to get the best score among your VR peers!
Final thoughts
The entire story mode of the game takes about seven hours to complete. Then when you add on their multiplayer options and Holdout Mode, Killing Floor Incursion could very easily be a game that you have a blast with for quite some time. For $29.00 on the PlayStation Store it's almost a steal. From graphics to gameplay to controls I give this title a 4.5 out of 5 stars.
The only reason it's not a 5 out of 5 is that I wholeheartedly believe the movement visuals could have been a little better. As someone who spends a lot of time in VR having to get used to movement in VR isn't something I've had to do for a while.
Regardless, go check out this game and get your Zed on!
4 out of 5
Get the Android Central Newsletter
Instant access to breaking news, the hottest reviews, great deals and helpful tips.
Essa Kidwell is an expert in all things VR and mobile devices who can always be found with an Oculus Go, a Pixel 2, and an iPhone 7+. They've been taking things apart just to put them back together for quite some time. If you've got a troubleshooting issue with any of your tech, they're the one you want to go to! Find them on Twitter @OriginalSluggo or Instagram @CosmeticChronus.