Instagram on Android - Why you want it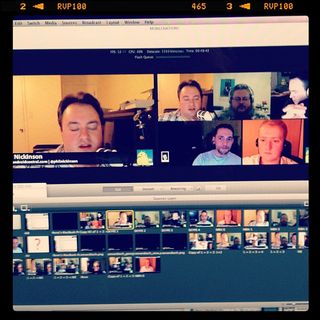 Rene Ritchie is the editor of iMore.com and knows a thing or three about Instagram on iOS.
Why do you want Instagram on Android? Because Android users have the right to take beautiful, modern, digital pictures and filter them down to look like bad 1960s-era Polaroids just like iOS users. I kid. Seriously.
Instagram isn't Facebook or Twitter. It's not big or as broad. It's smaller and more sharply focused. More important, it doesn't exist on the web at all -- it's a purely mobile network. Sure, you can see individual Instagrams on the web, but that's all you can do on the official site -- just see individual Instagrams.
To take or upload, filter or share, your photos with the Instagram community, you need the mobile app, and right now that only exists on the iPhone. And that's a pity.
I joked about the filters at the beginning of this article, but the community is no joke. It's filled with passionate mobile photographers fully in tune with the idea that the best camera is the one you have with you, and the one you have with you is on your smartphone.
Android has some great camera phones like most everything from Samsung in the past year (save for the Galaxy Nexus), as well as some great photographers. And HTC's upcoming line looks to impress. And right now, as an Instagram user, I can't experience and appreciate their photography. I can't interact with them in place where other, like-minded mobile photographers are interacting with them without the annoyance or distraction of Tweets about politics or Likes of Bieber videos (whatever those are).
There are many iPhoneographers on Instagram whose work has elevated the medium well into the realms of art. Androidographers (live with it) deserve the same access and Instagram deserves the greater talent pool.
Android is a serious platform that's not always taken seriously by developers. It doesn't always get the great apps it deserves as fast as it deserves them. Instagram has taken its time coming to Android, but that it's coming is important. It's not as big a deal as Twitter or Facebook, but it's a much sharper deal, perhaps sharper even than Path.
Plus, Android's got gallery and sharing hooks that make some iPhone users green with envy. (Being able to share a photo as soon as you take it in the stock camera app is something you all take for granted.)
Mobile photography is a big deal. Having Instagram on Android isn't just great for Instagram or Android, it's great for us.
Now please, for the love of Ansel Adams, go easy on those '60s filters when you get 'em, will you?
Sign up for Black Friday email alerts!
Get the hottest deals available in your inbox plus news, reviews, opinion, analysis and more from the Android Central team.
Rene Ritchie has been covering the personal technology industry for almost a decade. Editorial Director at Mobile Nations, analyst at iMore, video and podcast host, you can follow him @reneritchie on [Snapchat](https://www.snapchat.com/add/reneritchie), [Instagram](https://instagram.com/reneritchie), or [Twitter](https://twitter.com/reneritchie).