IM+ Pro review: All your instant messaging in one place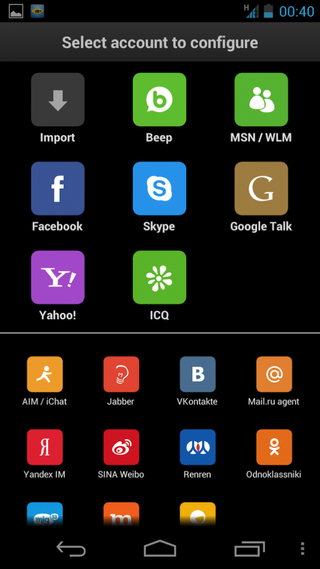 Shape Services' IM+ Pro client has been around on Android for a few years now. Essentially, the application is an all-in-one instant messaging client which integrates a whole range of services, and in addition to working on Android smartphones, it also has a tablet mode. In this day and age where many of us now rely on using data for communication rather than good old fashioned SMS, the number of instant messaging services out there has grown massively. So if you are going to be running instant messaging apps on your Android smartphone it makes sense to me to combine them into one neat and tidy application.
The services that are supported include Facebook, Skype, MSN/Live Messenger, Google Talk, Yahoo, AIM, ICQ, RenRen, Jabber, mig33, SINA Weibo, Fetion, Mambu.Ru, VKontakte, Yandex, Odnoklassniki.Ru and Mail.Ru Agent. That's a lot of messaging. IM+ also has their very own IM service called Beep, which is ideal if your friends also use IM+. If not then, I wouldn't worry about it too much.
We've got a complete breakdown of IM+ Pro for Android after the break.
The version of IM+ I've been using is the Pro version, although there is also a free version on Google Play. The differences are minimal -- the free version has a few limitations on the supported services, with Skype chat being one of them. Mind you IM+ Pro isn't expensive anyway ay only £2.99.
Once you launch IM+, you will see that there are three tabs at the top of the screen. These are essentially where you jump between your contacts, chats and accounts. Taking a look at the accounts tab first this is where you'll find all the supported services and get yourself set up. The most popular services are shown in the top half of the screen as bigger tabs than the not so popular services in the bottom half of the screen.
Choosing a service will prompt you to enter your username and password, and once that's done you're up and running. Next time you go to the accounts tab you'll be presented with the list of the services you've selected to use in IM+. A long hold on any of these will pop up a box where you will have options for disconnecting, modifying avatars, editing, removing or disabling the account. All very easy and user-friendly.
The contacts tab is where your list of friends will be shown. There are a few options when it comes to how they're listed, and these can be altered by jumping into the settings and selecting 'Contacts sorting types'. You have the option to have all your contacts listed in a manual order, sorted by groups or by accounts.
Onto the chat tab. This is fairly straight forward, although there are some nice features that not all IM clients implement. As you can see from the below screen shot half the screen is occupied by your keyboard and above that is the text box. To the left of that you have a smiley face icon and a quick tap of that will pop up a range of smilies to best suit your mood. Hitting the three grey dots at the bottom right of the screen will give you some further options, such as the ability to add attachments, use some templates, view history and contact info. All fairly useful things to have.
Much other standalone instant messaging apps, IM+ will let you change your status. If you are loud and proud about using the app, why not let your friends know? The same goes for when you are busy or want to remain online but invisible. Handy tools to have in your armory.
The above is the bread and butter of the app but there is a whole array of tweaks that can be made from within the settings. For example you have five options for font size, show/don't show offline contacts, customize sound and typing notifications as well as a light and dark theme.
One of the best features within the app is its push notifications. Switch these on, select your time out and the IM services will remain active on exit meaning you will still get messages - clever stuff. This is a godsend when it comes to battery life as the app doesn't need to be open for you to stay in touch with your buddies.
A rather neat feature of IM+ is that it has a tablet mode. That means if you buy the app, you can run it both your smartphone and tablet if you so desire. The tablet UI is not quite as nice in my opinion, but it still works just as well. It's certainly handy having the two versions integrated into the one app.
The Good:
Beautiful user interface
An array of IM services all rolled into one
Push notifications
File sharing
The Bad:
The only negative I can come up with is the fact that the Skype services seem to disconnect occasionally. Although a slight pain it isn't a big hassle as the app will notify you when this happens. (It's also a problem that affects the native Skype client for Android.)
Conclusion
If you send a lot of instant messages, you will soon discover the benefits of using IM+. Having all your accounts in one place is certainly handy, and with such a nice user interface, it really is a pleasure to use. It will also help out with screen real estate on your home screen, as it will reduce the number of standalone IM apps and widgets you need. If you haven't tried IM+ I strongly recommend you give it a go. Grab the free version now and see for yourself.
Get the Android Central Newsletter
Instant access to breaking news, the hottest reviews, great deals and helpful tips.