I want more tiny gimbals like the DJI Osmo Pocket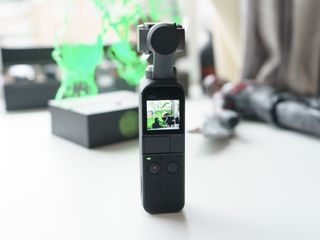 I've never been much of a vlogger. I've tried my hand at it a few times, but beyond the awkwardness of talking to a camera like it's your best friend in public, I just don't like the idea of using my professional camera for it. Sure, it's been done by plenty of successful YouTubers like Casey Neistat, but for me personally, it just seems a bit excessive — especially because the few times I actually want to vlog are when I'm at trade shows like CES, where I should be saving my camera's battery for actual work.
Enter the DJI Osmo Pocket (opens in new tab). Self-contained gimbals have been done before, but I've never seen one this tiny and versatile. The whole thing fits into almost any pocket, shoots great-looking 4K60p footage, and you can easily plug your phone in for advanced controls, easy file transfers, and external monitoring.
It's insanely small, which makes it a bit more discreet and less awkward to use in public. On paper, it seems like an almost perfect vlogging solution. Of course, nothing's perfect, and the Osmo Pocket still has its flaws.
It's so lightweight that the gimbal struggles to give you perfectly smooth video, and it's so small that it's hard to hold onto. It gets pretty hot with extended filming, and you're still shooting on a tiny sensor, so quality takes a considerable hit in low light. Still, I love the convenience of the Osmo Pocket, and I absolutely want to see more products like it.
I'd love to see pocketable gimbals that prioritize different shooting scenarios; maybe one with water resistance, or a slightly heavier model that's better suited for stabilization. There's plenty of potential in this form factor, and I'd love for other well-known gimbal brands like Zhiyun to give it a go. DJI is a great company, but they aren't the only one with good ideas — and other brands could avoid annoyances like the painstaking setup process associated with DJI products.
I'm sure I'm not the only one attracted to the idea of an ultra-compact gimbal. Would you buy the Osmo Pocket? Are you waiting to see more gadgets of the same form factor, or are you even interested in gimbal cameras at all?
$350 at Amazon (opens in new tab)
Hayato was a product reviewer and video editor for Android Central.
I actually did buy an Osmo Pocket. Until a friend of a friend mentioned it, I didn't even know such a product existed. I'm a regular person, not a photographer, and use my cell phone for photos and videos. Good ones, iPhone X and Pixel 3, but still cell phones. The infrequent need, bulk and cost of a better camera, just kept me away from it. The Osmo Pocket seemed small, not out of my price range, and the tech intrigued me. Have to say, I'm impressed by what it can do, though admittedly have no experience to compare it to. The size is amazing. I find he pictures it takes excellent, with enough resolution that framing by cropping after the fact doesn't lose any detail. I haven't done a lot with it yet, but I can see lots of potential, and as I mentioned, it's small so it actually being with me has a high probability.

I have a nice smartphone gimbal myself, so I like them, and I agree that the Osmo Pocket is very nice and pocketable, but even simpler is...no gimbal at all, which you can do with a GoPro Hero 7 Black using its Hypersmooth stabilization. It's even smaller than an Osmo Pocket and is already waterproof and can't get "confused" by fast movement in the wrong direction as gimbals can.
Android Central Newsletter
Get the best of Android Central in in your inbox, every day!
Thank you for signing up to Android Central. You will receive a verification email shortly.
There was a problem. Please refresh the page and try again.