Huawei Watch 2 is now available and it comes with 10 weeks of Play Music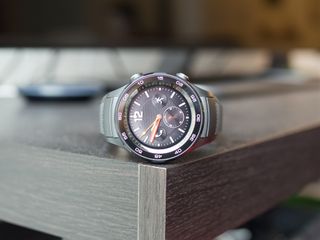 We weren't too impressed by the Huawei Watch 2 in our initial review, but perhaps the ten weeks of free Google Play Music could entice you to give it a try, anyway. The Android Wear 2.0-based smartwatch is now available for purchase at various retailers around the U.S., including BestBuy and Amazon.
The Huawei Watch 2 is the successor to the widely popular Huawei Watch from 2015. It runs on a Snapdragon Wear 2100 processor and 768MB of RAM. It also offers 4GB of storage, a heart rate sensor, Bluetooth, Wi-Fi, GPS, NFC and optional LTE. You can get it in carbon black or a color called concrete gray, which features brightly colored speckles and a more athletic aesthetic. There's also the Huawei Watch 2 Classic, which comes in Titanium Grey. The watches cost $299.99 and $369.99, respectively. You can read more on the Google Play Music deal in Huawei's official press release.
Read more in our review of the Huawei Watch 2
Florence Ion was formerly an editor and columnist at Android Central. She writes about Android-powered devices of all types and explores their usefulness in her everyday life. You can follow her on Twitter or watch her Tuesday nights on All About Android.
Meh. Not really a selling point for me.

10 weeks of free music is no incentive to buy anything. I would never buy a phone or a watch because of what came with it unless the extras were worth more than the phone and worth having.

So you get like $20 of Google music for $300 watch? It's not a good deal.

Enough of this ugly, cheap looking thing. Hurry up and bring out the Classic model so people can a little hands-on with it.

$300? So when is the promotion?

Still not sold on a watch that becomes obsolete as often as a cell phone

10 weeks of Play Music don't mean sh¡t if you're already an existing customer. They need to think of something better.
Android Central Newsletter
Get the best of Android Central in in your inbox, every day!
Thank you for signing up to Android Central. You will receive a verification email shortly.
There was a problem. Please refresh the page and try again.