Huawei set to debut the Emotion UI for Android on June 9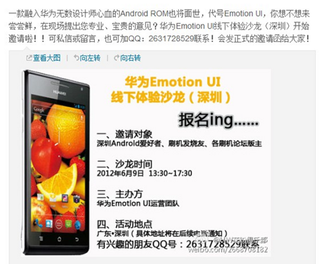 We can already hear the groans, another custom UI. Huawei are set to introduce their own brand of Android UI, dubbed Emotion, which will debut on June 9 ahead of a July arrival.
Details are scarce, but given the recent device unveilings at CES and MWC it wouldn't be too far fetched to imagine that it will be incorporated into builds of Ice Cream Sandwich. A July launch will also tie in with the supposed arrival of the Ascend D Quad, which may well have been put back to July with this in mind. Interestingly enough, the hands on we had with the D Quad at CTIA showed Huawei's current attempts at a custom UI.
There are no words on which devices may or may not get an update to Emotion, or for that matter if the western world will ever see it either. But, given Huawei's recent push to enter the global smartphone market, it's pretty likely we shall. What we really want though from Huawei, is the hardware.
via Unwired View
Android Central Newsletter
Get instant access to breaking news, the hottest reviews, great deals and helpful tips
its kinda annoying that every company are relaseing their own UI its kinda useless. phone with better resources is a whole lot better then phone with nice UI

We can customize it by own apps, they don't need custom UIs... :/

*groans* lol - no, maybe they add some new features just this better not slow down the Android updates too much or people are going to be mad

haha,oh how i just love hearing this news as i bathe in my Gnex ICS purity :)-

http://www.youtube.com/watch?v=XoxY4-UFXTA
This is their old EmotionUI (which I preferred and used for a while now).

Emotion UI was pretty unique I loved the launcher and a few widgets of course the phone I had it on was already slower than a snail crawling in molasses so I have no idea how much it slowed down the phone.

Everyone dont prefer vanilla, like some say and i tend to agree, its boring. I like the features that come with custom ui's and their uniqueness. I understand that vanilla is suppose to be fastest but most customs are just as fast. As long as they dnt slow you down to much, i lov'em. If they all had vanilla it would be kinda boring, everyone having the same flat looking ui. "Choice" its a good thing i would think. Plus that ui looks nice actually, nice, vibrant and sleek "not bad at all".

This must be what's caused months of delay on the d quad release, which has greatly damaged huawei's sales of it already.
Android Central Newsletter
Get instant access to breaking news, the hottest reviews, great deals and helpful tips
Thank you for signing up to Android Central. You will receive a verification email shortly.
There was a problem. Please refresh the page and try again.