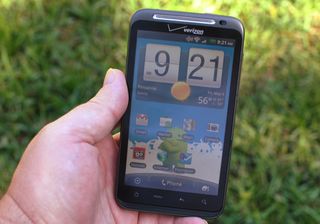 It isn't very often that a smartphone has the the staying power to remain a best-seller for an entire year, and it's even more rare to see that smartphone still have a major buzz factor when it hits another carrier some 12 months after it was initially announced. That phone, of course, is the HTC EVO 4G on Sprint. And it's been revamped and revitalized as the HTC ThunderBolt -- the first 4G LTE smartphone on Verizon.
Let's just get this out of the way -- yes, the ThunderBolt is nearly a dead ringer for the Sprint EVO 4G, another HTC device. And that's a good thing. The EVO 4G was the first Wimax device, and the first Android smartphone with a 4.3-inch touchscreen, and we'd still have little problem recommending it to someone today. So it was of little surprise that the ThunderBolt caused such a commotion leading up to its announcement at CES in January 2011, and that frustration over the nearly three months it took until release crescendoed to a level never before seen.
But, indeed, the ThunderBolt ushers in a new era -- the LTE era -- and that means a whole new experience. So join us after the break as we break down the ThunderBolt and its place atop of the smartphone mountain.
ThunderBolt Specs | ThunderBolt Forums | ThunderBolt Accessories
Our initial hands-on
Youtube link for mobile viewing
The hardware
We're going to end up saying this quite a bit -- if you're used to the EVO 4G, you'll be plenty comfortable with the ThunderBolt. They're roughly the same size, with the ThunderBolt measuring in (on paper, anyway) at 4.75 inches tall, 2.44 inches wide and 0.56 inches thick. The EVO 4G, by comparison, is 4.8 inches tall, 2.6 inches wide and 0.5 inches thick.
HTC ThunderBolt, left, and EVO 4G
The front of the phone is dominated by the 4.3-inch (diagonal) touchscreen. It's a TFT LCD screen, with the usual resolution of 800x480. We're really starting to get to the point where we'd like to see at least a qHD touchscreen on new high-end phones. They're coming, but slowly.
At the top of the screen you have a stylish earpiece and the front-facing 1.3MP camera. Below the screen are the usual four Android buttons. They're capacitive and are in the home-menu-back-search configuration. The buttons are backlit. But whereas each button is backlit on the EVO 4G, the four buttons share two backlights on the ThunderBolt. It's likely you'll never notice, but it's an interesting difference to those of us who notice these things for a living.
The right-hand bezel has the silver, single-piece volume rocker. The left-hand bezel is bare, save for the microUSB port. On top is the power button, 3.5mm headphone jack and noise-canceling microphone.
Flip the phone over and you've got the 8MP camera with dual flashes, the kickstand (which hides the stylish external speaker) and a little round rubber circle that doesn't really do anything you need to be concerned with. (We've been told it's part of the radio system.)
That kickstand's been beefed up, too. Whereas the EVO 4G's kickstand is narrow, thick and more rounded, the ThunderBolt's is thin, wide and flat. The kickstand does a fine job supporting the phone horizontally or vertically. Bad news though: The microUSB port is blocked if you're using the kickstand horizontally. So no charging while you're watching a movie in that position. And worse news: We're seeing a thin coating start to rub off the kickstand, and we're not alone.
Underneath the kickstand is the rear speaker, which looks beautifully massive but has the usual so-so quality we've come to know from HTC devices.
The battery cover is on pretty tight. You open it via a notch on the top bezel. A fingernail should do, but make sure it's a strong one. A guitar pick works even better. There are a couple of little holes just above the dual flashes. No, they're not microphones. They're used to attach an antenna contact that's on the inside of the battery cover. And now that the cover's off, it's time to note a pretty cool little design feature. Just below and to the right of the camera lens is the little motor that makes the phone vibrate -- not something you see every day.
Pop out the battery and you have access to the microSD card and 4G LTE SIM card.
Battery life/LTE data speeds
So let's talk about that battery. The ThunderBolt comes with a 1400mAh battery. That's pretty much standard in smartphones these days (or close enough, even if it's not enough). And if you're in a standard Verizon 3G area, you'll see fairly normal battery life. Maybe a tad less than what you're used to on a smaller phone, but that's one of the trade-offs for having a 4.3-inch screen.
But once that 4G LTE data's a-chuggin', well, you're going to burn right through that battery. That's not to say you're not going to get some pretty fast data speeds in the process -- we've been plenty impressed with LTE -- but that radio sucks right through the battery in just a few hours. Your time will vary depending on just how much you're using it. We're heavy e-mail users and ate right through the stock battery in about 5 hours. But we were loving every LTE-minute of the speed.
The good news is that there already are extended battery options. There's a 1600mAh extended battery that's the same size as the one that comes with the ThunderBolt. Or for some serious juice, there's a 2750mAh option. But it's bigger and requires a new battery cover, and weighs about an ounce more. Trade-offs, again. But if you want to use LTE data and get a day's use out of your phone, you're going to need it.
Note that unlike on the EVO 4G, there's no easy way to turn off 4G data -- no toggle switch, anyway. There are a couple of hacks and even an app or two that'll make it easier. But we're pretty sure the reason Verizon left this out is because of the time it takes the phone to hop from 4G to 3G (and vice-versa). Let's just say it's not quick.
The software
There's not a lot to be said here that hasn't been said about just about every other recent HTC phone with the Sense user interface. Sense is based on seven home screens, with a number of pre-loaded widgets, application shortcuts and a few settings toggle switches.
It's pretty much ready to go out of the box -- you can do all the customizing you want, but the ThunderBolt is plenty useable as-is. And that's made even better by HTC's "Scenes" feature, which gives you six pre-customized sets of home screens. The "Verizon Scene" is on by default. There's also "HTC," "Social," "Work," "Play" and "Travel." The scenes give you different setups, and you can switch between them in a matter of seconds, and save your own customizations as well.
The ThunderBolt runs Sense version 2.0. The biggest noticeable change from previous versions of Sense is that a number of settings and personalization options are accessed straight from the home screen by pressing the little easel button. From there you can change Scenes, wallpapers, skins, add widgets and icons, change ringtones and sounds or set alarms. HTC's done a good job to keep all of those customizations in one place.
Pre-installed software
Some good news here: Verizon has pre-installed a bunch of applications on the ThunderBolt. And the bad news: Verizon has pre-installed a bunch of applications on the ThunderBolt that you might never, ever use. We're not talking the custom HTC apps like Flashlight, FM Radio and the Peep Twitter client.
Here's a list of other apps that either are pre-loaded, or are stub apps (which require further downloads):
Bitbop (mobile TV)
Blockbuster
City ID
Amazon Kindle
Let's Golf 2
Quickoffice
Rhapsody
Rock Band
Slacker (Internet radio)
TuneWiki
VCAST Apps
VCAST Media
VZ Navigator
Some of those are more useful than others. And, no, you can't uninstall the ones you don't want. The good news is you still have about 2.5GB of space on the phone to load new apps.
The ThunderBolt has a smooth vertically scrolling launcher. Flick your finger and it goes from beginning to end. (Newer Sense phones have been tweaked a little.)
Location tracking
Given the recent fears over location tracking (which we still believe are unfounded), it should be noted that the ThunderBolt doesn't have location tracking turned on by default. You'll have to enable it during the phone's initial setup if you want to use things like GPS, or Wifi or cell tower location services. (Which at some point you'll undoubtedly need.)
You can turn location services on and off at will by going to Settings>Location. No worries.
The camera(s)
The ThunderBolt, like nearly every phone released now, has not one but two cameras. The main shooter maxes out at 8 megapixels (3264x1952) and will record video at 720p. The front-facing camera does 1.3MP and really will only be used for video chatting, if you're into that sort of thing.
HTC's camera software is pretty good. It takes just a single toggle to switch between still frames and video, and you've got a number of special effects you can apply. Our only real gripe is that the on-screen shutter button (remember that there's no physical camera button on the ThunderBolt) feels a tad small.
Images below open in a new window in full resolution
Here's the thing about video on the ThunderBolt -- it works just fine and records at a full 720p. But it has issues with noice-cancellation -- and has had them since launch. A fix is coming. But at the time of this writing, it's yet to be released.
Youtube link for mobile viewing
Hackability
If you've been anywhere near our ThunderBolt forums (all the cool kids are hanging out there), you should know full well by now that the ThunderBolt has been rooted and custom ROMs are available. And we highly suggest checking it out.
Other odds and ends
The ThunderBolt is still a phone. And the phone works just fine. There have been reports of echoing in the speakerphone, but we've yet to experience that.
Browsing? If you've browsed the web on an Android phone before, you're good to go here.
Wireless hotspot: Worked just fine for us. Others have reported periodic disconnects.
For the love of all things holy -- please stop including City ID on phones. Let that contract die.
The wrap-up
For being a new phone, the ThunderBolt is a pretty familiar device. And we have the EVO 4G to thank for that. You've got the familiar HTC lines, the familiar HTC Sense user interface, a familiar camera, and so on and so forth.
What sets the ThunderBolt apart from the numerous other Android devices on Verizon is, of course, the inclusion of 4G LTE data, which we're very much in love with. Yeah, it chews through a battery. So did the EVO 4G at first. And until we see a radical shift in battery technology, we're just going to have to live with it. And we expect that as the phone ages, software updates will help mitigate that a little.
At this point, if you're looking to buy a 4G phone on Verizon, it's either the ThunderBolt or the Droid Chage (whenever it actually goes on sale). And after spending some quality time with the ThunderBolt, we can easily say it's a testament to the quality of HTC's manufacturing, Verizon's network, and the Android platform as a whole.
Get the Android Central Newsletter
Instant access to breaking news, the hottest reviews, great deals and helpful tips.