HTC stops selling its phones in the UK over patent dispute with IPCom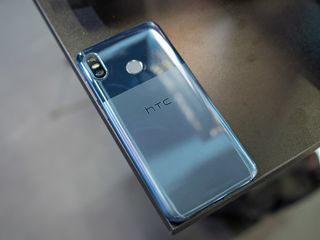 What you need to know
HTC has stopped selling its phones in the UK due to an ongoing patent dispute with IPCom.
All HTC products on the company's online store are listed as "out of stock" currently.
Amazon, however, is yet to pull HTC phones from sale in the UK.
Struggling Taiwanese smartphone maker HTC has temporarily stopped selling phones via its online store in the UK over a patent dispute with IPCom, an R&D company based in Munich. HTC had apparently agreed to resolve the issue by agreeing to only sell models with a workaround in the UK. As per the BBC, however, IPCom has alleged that HTC did not implement any workaround and failed to "play by the rules."
Responding to the allegations, an HTC spokeswoman said:
While Carphone Warehouse, O2, and EE had stopped selling HTC phones, you could pick them up from Amazon and HTC's own online store. All HTC phones on the company's online store are now listed as "out of stock". Amazon, however, is still selling them in the UK. The only HTC product that continues to be widely available in the country is the 5G home hub router, which does not infringe any of IPCom's patents.
HTC was found to have infringed IPCom's patent 100A by a UK court in 2012. The patent is related to controlling how UMTS mobile devices gain initial access to a network. Even though HTC had agreed that it will not sell smartphones in the UK without using a workaround, IPCom discovered that the suggested workaround had not been implemented by HTC after it tested a Desire 12 in its R&D lab. The R&D company has also found Xiaomi's Mi Mix 3 to be in infringement of the same patent, so it remains to be seen as to how this affects Xiaomi.
Get the Android Central Newsletter
Instant access to breaking news, the hottest reviews, great deals and helpful tips.
That seems a bit harsh. They've definitely put themselves in the situation they're in, but they've always made decent hardware and it's an indisputable fact that they helped shape the smartphone industry.

You must be one of those fools that worship Samsung or Apple, 2 of the worst copy cats in the industry.

Exactly, i sincerely doubt anyone will notice.

Window's phone probably has a bigger marketshare than HTC these days. I honestly thought they were already dead

Tbh they made the best windows phones in the HD2, HD7 and Titan. Loved HTC phones of the past but really lost there way and I don't see them ever getting back

Sounds like you don't know that last year's HTC is faster than all of the S10 series, including the Note 10. Or that HTC beats out the iPhone XS and XS Max in photography. Or that the closest you can get to the original studio sound is with HTC USonic. Or that Apple's Live Photos was licensed from HTC. Or that the U12 Plus has a better in hand feel than Apple's current best. Or that HTC can make full sapphire screens that no one else can. I'll stop there, but you get the picture.

What's with the hate on HTC in here? They were one of the true pioneers of the industry. They also still put out great hardware and software. I think they put out the first windows mobile phone and the first Android phone. Samsung just somewhat figured out how to avoid lag. TouchWiz, Grace UX and now One UI. It took them that many tries.