How to watch Billie Eilish's concert through the Oculus Quest, Oculus Go, or Gear VR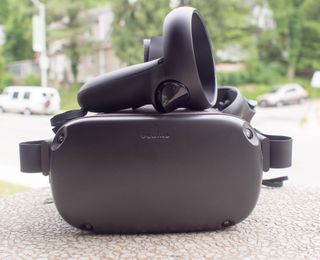 (Image credit: Android Central)
Billie Eilish, arguably the biggest star that's ever come to Oculus Venues, will have a concert on the platform on September 3, 2019. VR users will be able to watch her concert from the "WHEN WE ALL FALL ASLEEP, WHERE DO WE GO?" tour on the same day that the concert happens live in Madrid, Spain. Users will be able to watch the concert through the Oculus Quest, Oculus Go, or Gear VR using the free Oculus Venues app. The concert will be viewable from 9:30PM EDT.
Products used in this guide
How to watch Billie Eilish in VR
Eilish's concert will be available to viewers on several platforms through the Oculus Venues app. Luckily, there aren't many steps to enjoy the pop star in VR.
Download the Oculus Venues app.
Subscribe to the event.
Open the Oculus Venues app on September 3, 2019.
Oculus Venues is pretty straightforward. You do need to set up an avatar to use it, but if you want to go through this quickly, you can just select randomize.
Our top equipment picks
Oculus Venues is available on the Oculus Quest, Oculus Go, and Samsung Gear VR.
Untethered yet powerful
Liberating VR
The Oculus Quest provides an untethered VR experience that utilizes two Touch Controllers and that tracks your movements around the room.
Lighter VR
Simpler VR
The Oculus Go is light on your head and a good choice for enjoying media apps. It also can handle some light gaming with its single controller.
Phone-powered VR
Mobile VR
The Samsung Gear VR is dated now, but it's still capable of viewing media and doing some light gaming with supported Galaxy phones.
Additional Equipment
The Oculus Quest has everything you need to run it in the box, but you can still add some accessories to enhance the experience and help you take it with you on the go.
Oculus Quest Travel Case ($40 at Amazon)
This case will protect your Oculus Quest when you're on the go and has enough room for the headset and Touch Controllers.
Quest Deluxe Strap ($20 at Studio Form Creative)
This strap adds another layer of support to the head strap that's built into the Oculus Quest. It helps distribute weight across your head to improve comfort, which is essential for longer sessions.
Panasonic rechargeable batteries ($19 at Amazon)
These batteries can be recharged up to 2,100 times and are a great way to keep your Touch Controllers charged and ready to go.
Get the Android Central Newsletter
Instant access to breaking news, the hottest reviews, great deals and helpful tips.