How to view your match results and statistics in PUBG Mobile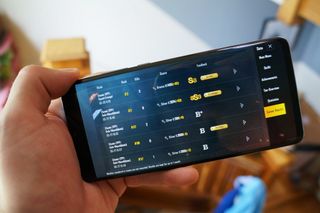 (Image credit: Android Central )
Tracking gameplay stats and match results in PUBG Mobile reveals much more than bragging rights over your friends. Knowing where to find this data — and how to learn from it — is important for working your way up the tier ladder.
PUBG Mobile records the full results — every shot fired and every kilometer traveled — of every completed match is recorded, which means you're able to go back and analyze your match results from the past 30 days. So along with celebrating your wins, you can review how each match performance affects your ranking score in one of the best Android games.
The game also does a good job of compiling all your personal data across each season and server into a handy graph that breaks down your career combat and survival performance. Here's how to find match results in PUBG Mobile without getting lost.
How to find and read your statistics
While PUBG Mobile does a good job compiling your stats, they don't grant you direct access to them from the home screen like they do the in-game shop. However, all you need to do is tap your Profile picture to see all your profile data, then we'll be focusing on the bottom two tabs — Statistics and Career Results.
Statistics
The statistics page will look pretty similar to the results page you see at the end of every match, except this is where all your statistics are compiled for Solo, Duo, and Squad classic matches along with your personal bests for kills per match, survival time, and headshot accuracy. This is the place to go to find your final stats at the end of each season. Let's break down each element of the statistics page so you can read it at a glance and know which stats to focus on.
The top row is for setting the statistic parameters. If you switch between playing TPP and FPP a lot or like to play in different game servers, you'll want to pay particular attention to those drop-down menus to be sure you're looking at the right stats. Below that are your "stats at a glance" — your overall player rating, matches played, wins, top 10 finishes, kills, and that ever-popular kill-to-death ratio. This is probably the most valuable information that a clan or tournament organizer will want to see.
Below that is more detailed statistics for your average performances in matches, including a graph that shows at a glance how well-rounded you are as a player. If you want the best stats, you're going to want to play often and focus on surviving the longest. Your survival rating is determined by how long you survive matches and how many people die around you — whether or not you're the one killing them — and is the more important metric as the game calculates your overall rating by adding your entire survival rating but only 20% of your kill rating. This will become more clear when you look at your Career Results.
Career Results
PUBG Mobile offers your match results from all matches, including arcade, that you've completed in the last 30 days. This is where to go to see your individual match results, which you can expand by tapping the arrow under the feedback column.
I want to point out the score calculations, which show how many rank points you earned in each match based on your performance. If you look at my screenshot, you'll see two matches where I finished in second place, but despite getting two more kills in the more recent game, I actually got a higher score in the match where I only got eight kills.
What can you learn from your match stats?
Analyzing your gameplay statistics and match results can help you identify your strengths and weaknesses in PUBG Mobile. Remember that surviving to the late game is much more important than collecting the most kills, so focusing on stealth strategies is your best bet if you're trying to rank up fast.
It's also worth checking out your statistics at the end of each season, and you can share your stats from pretty much every screen if you only want to brag about how great you are.
PUBG Mobile
PUBG Mobile is a free-to-play battle royale shooter that pits you against up to 99 other players. With an ever-growing list of maps and game modes to choose from, it's one of the best games available to play on Android.
Get more PUBG Mobile
Be an expert in 5 minutes
Get the latest news from Android Central, your trusted companion in the world of Android
Anthony Nash has been writing about games and the gaming industry for nearly a decade. When he's not writing about games, he's usually playing them. You can find him on Twitter talking about games or sports at @_anthonynash.