How to set auto reply messages for rejected phone calls on the LG G3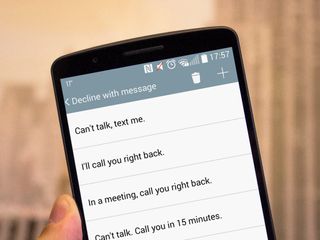 We've all been there. Your phone rings in the middle of a meeting or other engagement and you can't answer, but you don't just want to reject. You want to be polite about it. So you can send a message with your call rejection to let the person at the other end know you're not just ignoring them. On the LG G3 this is a simple enough process to do, and you're even able to set up your own personalized messages on top of the stock responses.
Here's what you need to do to set up your own messages:
First up head into the main Settings app on the phone
Tap on "Call"
Scroll down and tap on "Decline with message"
You'll see a bunch of pre-loaded messages covering various reasons why you can't talk right now. To edit one of those tap on it and amend the text before hitting "Save"
To add your own hit the "+" button at the top right, write out your message and hit "Save"
Next time you get a call when you can't take it make sure to hit the "Decline with message" option that pops up instead of answering or rejecting the call. All the options in your list of messages will be shown to choose from, you just choose one and that message will be sent to your caller. Just don't forget to call them back if you say you will!
For more, see our LG G3 help page, and swing by our G3 forums!
'can't talk, the bar is too noisy' doesn't go over well with the wife. Just a pro tip for you all Posted via Android Central App

Haha +1 Posted via Android Central App

My friends and I are all nice enough to know better and have manners, than to call each other at work. The only times a person should get a call at work is if it is an emergency.
Android Central Newsletter
Get the best of Android Central in in your inbox, every day!
Thank you for signing up to Android Central. You will receive a verification email shortly.
There was a problem. Please refresh the page and try again.