How to send a text message in Android Wear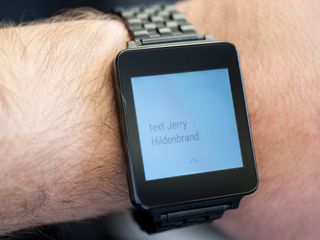 Sending an SMS in Android Wear is as easy as telling it to text someone
Sending a text message with your Android Wear smartwatch — and it doesn't matter whether you've got the LG G Watch, the Samsung Gear Live or the Moto 360; it works the same on all three — is just a matter of speaking a few words.
And it's smart enough to figure out what it is you're trying to do even if you say it differently than someone else.
To send a text message with Android Wear, you've got a few options. The easiest is to just tell your watch to do it.
Either works. You might get asked which phone number to send the SMS to if a contact has more than one.
A slightly more manual way is to tap into the list of actions, and then chose the "Send a text to ..." option. You'll then be asked to whom you want to send the message (kudos on the grammar there, Google), and what you want the message to say. And as is the case with both options, you'll have the opportunity to cancel if Android Wear didn't hear you right, or if you simply changed your mind.
A reminder to you Google Voice users out there: When you send a text this way, it's the same as doing it through a voice action on your phone. It'll use the default SMS app, whether that's hangouts or a watch or whatever. And that means Google Voice isn't involved, and the text will appear from the phone's actual number and not your Google Voice number.
Be an expert in 5 minutes
Get the latest news from Android Central, your trusted companion in the world of Android