How to change the watch face on your Android Wear watch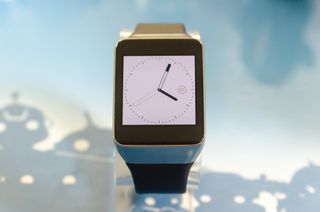 One of the first things many of us will want to do when we get an Android Wear device is customize it a little bit. There will be plenty of apps come along for the new breed of smartwatch, and possibly we'll see replacement user interfaces just like we do on our smartphones, but I'm talking about something more basic — changing the default watch face.
Changing your watch face is easy to do, and really changes the look of the device on your wrist. You change them much the same way you would change the wallpaper on your Android phone or tablet, with just a few swipes and taps to make it all happen. Have a peek and see how it's done.
Any custom watch faces that may come about aside, your Android Wear watch comes with a set of faces to choose from pre-installed. From what we've seen so far, both the LG G Watch and the Samsung Gear Live have the same faces installed, and chances are there is something there that suits your taste and your needs. From the abstract to the more traditional, with trays for app notifications or date indicators, everything is covered.
Image 1 of 13
Image 2 of 13
Image 3 of 13
Image 4 of 13
Image 5 of 13
Image 6 of 13
Image 7 of 13
Image 8 of 13
Image 9 of 13
Image 10 of 13
Image 11 of 13
Image 12 of 13
Image 13 of 13
We're not sure if developers will be able to design and distribute their own watch faces just yet. (It's probably just a matter of time.) The good news is that even if they can't (and never say never when talking Android) we've got a good selection that's easy to change up so you can make your Android Wear watch feel more like your own.
Jerry is an amateur woodworker and struggling shade tree mechanic. There's nothing he can't take apart, but many things he can't reassemble. You'll find him writing and speaking his loud opinion on Android Central and occasionally on Twitter.
Just a bit off topic for this article... but after a lot of thought and looking at all the comments from the great participants on the forum and mods... I just ordered the Samsung Gear Live. Being a watch collector I have plenty of round cased watches and was looking for something a bit more on the rectangle side. So the Moto 360 was not something of interest to me. Aside from some of the functions on the Samsung that the LG doesn't have, I really liked the watch case more in terms of its overall look. The screen just seems to be more in sync with the overall design.
I'm looking forward to getting this and, of course, using it with my LG G2! Hopefully it will work ok with the LG phone... guess I'll have to see on that one.

Those have got to be the ugliest watch faces I've ever seen....
Moto 360 please. Sooner rather than later.

Like the Pebble I'm sure within the next few months of release we'll see plenty of very cool watch faces from developers out there. Granted, some of these aren't the greatest, but a few of them are fine. Let's see what the next few months bring.

If you find the stock watch faces a bit boring... try my custom watch face:
https://www.androidcentral.com/e?link=https%3A%2F%2Fwww.anrdoezrs.net%2F...
You can customize the appearance of this watch face using the app directly on the watch.

I just received notification that my gear live shipped. It was supposed to ship on the 8th. Very excited!
Posted via Android Central App

Lucky guy still waiting for confirmation on shipping on my LG g watch can't wait to pair it with my G2. Hopefully it ships sooner then the 8th. Posted via Android Central App

Jealous. I am still waiting for mine to ship. Posted via Android Central App

These don't change the always on 'ambient mode' correct?

Any faces that show seconds?

I think they try to stray away from seconds because the constant changing display drains the already precious battery life. ಠ益ಠ

In the video the Aviator scheme had a second hand... Not sure about any of the other ones. Posted via Android Central App

I'm really surprised at how astoundingly bad these watch faces are! With a color display, I'd have thought that they would have released the watches with gorgeous faces. Even the digital ones are just okay.

All the photos that I've seen of the moto 360 watch faces look fantastic. Hurry up moto please. John Hancock

The only problem I have with the Moto360 is that watch faces will have to be very dark for that bit at the bottom to blend in.

What? You talking about DAT BEZEL?

So was really looking at getting a android gear device and sell my fitbit zip and wanted to know does the watch itself count steps and if so with what apps. I use fitbit now because it ties with myfitnesspal and gympact app i use.

anyone know the difference between increment and simple watch face? I still cant' figure it out. Thanks.

what's the difference between increment and simple watch faces?
Android Central Newsletter
Get the best of Android Central in in your inbox, every day!
Thank you for signing up to Android Central. You will receive a verification email shortly.
There was a problem. Please refresh the page and try again.