Here's what happened when I left Android and switched to an iPhone 7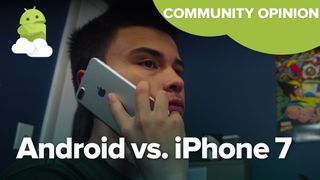 What's it like to switch from Android to iPhone? Best thing ever, or worst thing ever? Perhaps some of you have already tried and know the experience first hand.
Whatever the case may be, join one of our first community reviewers (Eric) as he attempts the switch. Be sure to leave your comments below or hit us up on Twitter with your feedback. We'd also appreciate it if you shared some love with Eric on Twitter and YouTube.
Want to see YOUR tech videos on Android Central?
Making it happen may be easier thank you think! We're accepting applications right now for our Community Review Program. If accepted, you'll receive all sorts of resources including help and advice from our teams, free tech to rate and review, and massive exposure via our blogs and YouTube channels.
Get the Android Central Newsletter
Instant access to breaking news, the hottest reviews, great deals and helpful tips.
I like this content. Very cool to collaborate with other enthusiasts. However, wasn't a huge fan of the video. Felt it lacked substance. I would have enjoyed a more comprehensive review on why he didn't want to keep the iPhone besides the fact that he was used to the Nexus 6P and that he was already entrenched in the Android ecosystem.

Great suggestion for a future video! I'm sure Eric will stop by to add his thoughts here. Thanks Matt!

James, you're such a positive dude. I have always liked that about you :-)

Or get from another perspective. I've recently switched from an iPhone 6 plus for last 1.5 years to the Axon 7 a month ago. Transition was rather easy. And I honestly can't think of one thing I miss from the iOS ecosystem. The final straw was my wife (iPhone 6s) and I decided to ditch the iMessage for WhatsApp. Made my decision to leave iOS that much easier.

Axon 7 is a great choice. I have the iphone for work and the Axon7 for personal use. For some reason the iphone seems a little boring on the features. I would have liked a little more customization and more settings on the iphone. What bothers me the most is that i need itunes to put music and videos on the iphone after which i dont have access to from another pc. I love the fact that i can browse and download content from the Axon7 from any PC. The iphone also lacks the front facing speakers which i can't live without.

I purposely tried to stay away from turning the video into a review but I definitely see your point. If I appear on Android Central again you'll slowly see my reasoning for my love for android but those were my primary reasons. Thanks for the input man!

I liked how you made sure to emphasize how you were certain iPhone and iOS were going to get stale in time due to its overall lack of functionality compared to the rival platform. I feel exactly the same way. If iOS had more capability and options to customize even somewhat at the level you can on Android I'd enjoy using it on the daily. But there's just too much that can be done with Android to ditch it for iOS. It's the superior functionality that keeps me on Android, probably for a very long time

Simple...... He switched back because he was smart!

As would I. Too many great Android phones out now to be tied down with Apple.

Fair point. However, I wish that there was an android equal to the SE. Maybe not exact but like 4.7
The X Compact is very midrange. Not bad but it leaves a lot to be desired, camera wise.

Totally agree. I made the switch from Windows Phone to Android a few months ago. When I decided to switch I was first drawn the obvious models like the S7, 6P and V10, but I simply didn't want a phone that big. However, the camera was particularly important to me, especially the ability to record 4K video (to match the output of my larger cameras). That started to rule out the likes of the P9. I had my eye on Sony, to see what the next flagship compact would be like, but when the X Compact came out with the 4K ability removed, it disappointed. So I ended up grabbing the previous Z5 Compact which retained the full 4K capability but came in a small form factor. I really love it. That said, I think there is a huge niche to be exploited by android manufacturers on the back of the success of the Apple SE. The big phones suit those who use the phone as a main interface, but a lot of people want a powerful smaller device to compliment their laptop/desktop environment. I'm hoping the likes of Samsung look at the Apple move and bring out an S8 Compact, with a near bezel free 5" that fits in the palm like a 4.5" phone does now; without compromising the functionality.

I read an article just yesterday stating the complete opposite. It's obvious that guy was on an apple high. Great video Eric, I couldn't agree more. Eventually bad fruit makes you sick.

I made the switch to try the iPhone 7 due to the free-after-trade-in deal, and the only thing that really bothers me is the lack of choice for default apps when opening links and such. The apps feel like they run better on iOS, and I'm loving the Touch ID. Apple Pay also worked smoother than Android Pay for me. These might be solved with the Pixel though, I haven't tried that phone. My latest Android is a Droid Turbo 2. I also like that the volume keys are on the left and power is on the right, something the Pixel doesn't have. Lost a lot of functions with my Android Wear watch too, but it still works fine for notifications.

Galaxy S7 With Samsung Pay is the absolute Best! Its the only Phone brand that will work on a magnetic stipe reader, plus work with the newer reader too. But the USA is slow on that train, Plus Samsung Pay has Reward Points!!
Thanks, Dave

I might give Samsung another try some time in the future. I stopped using them because i hated TouchWiz, but that was a while ago and hopefully it's gotten much better.

TouchWiz has become much better lately (S6, S7, etc). And with Nougat it's a quite different launcher (called Grace UX).
A preview look http://www.androidauthority.com/samsung-galaxy-s7-edge-android-7-nougat-...

There was an update to Android pay yesterday. I installed it even though I've never used the app so I'm not sure if it was changes or bug fixes

I really liked this! Good job!

Wooo! Thanks Libra, I agree!

I went to an iPhone 7 about 2 weeks ago, had the s7 edge and now I'm back with edge, won't make that mistake again

Glad to see we're on the same page!

I went the other way. I used the iPhone for a few weeks and went back to the s7 for about 10 minutes. Android is clumsy and extremely unpolished.

If I can't make it mine, I don't want it. IPhones are notorious for having to do things apple's way. Put swiftkey on my iPad Air, and am pretty pissed, every time I set it as default, next boot, it reverts to the dumb apple keyboard.

Go to Settings -> General -> Keyboard -> Keyboards and set Swiftkey to the top of the list, also delete English if you don't want to use the Apple keyboard.

One thing I don't understand is why people feel the need to switch from one side to the other. I carry an S7 active and also an iPhone 7 plus and like them both for different reasons. I don't feel like I have to be stuck with one or the other when I can have both. I guess some people just don't have the budget to carry both devices but it really isn't a matter of one being better than the other more so than them having different advantages. Posted from my unlocked S7 Active/ Jet black iPhone 7+/ peerless Note 4/ or iPad Pro 12.9

I have no need to carry both. There are two iPhones amongst my household. I suspect others have the same. Inevitably, no three or four people in a household desire the sane device.

I don't really need to carry both either but I can appreciate both OS's. You may have no desire to carry both and I can certainly understand that. Now I may not be reading you right, but it seems you just don't like iOS and that's perfectly fine since everyone has different likes. I guess my point is I don't understand why some people feel like they have to put down one to enjoy the other. Posted from my unlocked S7 Active/ Jet black iPhone 7+/ peerless Note 4/ or iPad Pro 12.9

I agree with you and feel similarly. I like having one of each. My iPhone SE is great but so is my Honor 8. Can't make me give either one up. I mean altogether lol. I would only give up the Honor 8 for a solid smaller phone running Android.

Why don't you just say "I like to brag to strangers on the internet, then play dumb".

The nice thing about having my spouse on an iPhone while I'm on Android is that I don't become automatic tech support. I just say, "Jeesh honey. I have no idea!" And I'm not lying. I have NEVER used an iPhone nor do I have any desire to own one personally.

I have the same situation at home, but I'm still automatic tech support. Part of the responsibilities of managing all the technology in our house.

Same here both the wife and daughter have iPhone Sorry guys I don't know about them i use an ANDROID!

You've never used one so how can you say you wouldn't like it?

wow what logic...would you like to jump over a cliff? oh and please tell us your answer only if you've tried it

I have had an iPhone since they came out. I used to JB them to customize everything from notifications to themes to better messaging apps, etc
I finally switched to android this past weekend (S7) and i am blown away. Everything i used to download and apply with a JB (which took hours, sometimes days) is already included in this phone. My wife has an iphone and we have shared calenders which i was able to sync to my S7 calender easily. I love the freedom of choosing default and general apps that I like/want, i love the SD card capability, the look and feel of the phone and the amazing camera. Cheers

Your sentiment is exactly how I felt, about 5 years ago. I still have an iPad in the house and I own a iMac. However, android OS is way too flexible for me to be wasting my time waiting for a jb exploit. Especially when I can flash a ROM that is continually supported in a matter of minutes...

It's funny, people going the other way say the same thing (iOS blew them away). I wonder if its simply confirmation bias, or (and bear with me).... they're both very good - but different - operating systems and we all like to play with new things.... then we start to miss the old things... iOS always felt slicker and more integrated than Samsung and (especially) Sony. I've been HTC for about ten years, Sense (their Android overlay) matured beautifully and became very slick and integrated your apps and accounts really well. But I always felt a bit "restricted" with iOS. I recently decided I wanted a "premium compact" and the only choice was a Z5 Compact. I've replaced the launcher and a few other bits with Google's own. I still find it really fiddly, and nothing like as polished as an HTC. Allegedly Sony are releasing a more "vanilla" version of Nougat for the Z5 range shortly. Hope so, as I'll be looking at a Pixel or... an iPhone :)

I'm using a iPhone 7 plus and a Honor 8. Lov them both! lol

I switched to Apple because the iPhone 7 Plus is the best phone out right now. I had a Note7 and that was definitely my pick for phone of the year, but unfortunately, we all knew what happened with that. I feel the hardware of the 7 Plus is so much better than the hardware on any existing Android phone and that alone is why I love the phone. The Pixel's only great features is the software. The hardware is really lacking, as it lacks water resistance, stereo sound, lens flaring issues, and poor LTE connectivity. I don't have to worry about any of that with my iPhone 7 Plus.

Naah. The iphone7/plus doesn't have 6 gigs of DDR4 RAM, UFS 2.0 storage, or a QHD display. It's been outdone by its Android rivals

doesn't need it. It works flawlessly as is.

Ram and the screen aren't everything. The s7 was trashed by the iphone 7 in the geekbench test

I don't care about water resistance. Nice to have but not a need for me. Stereo speakers is moot since I don't listen to music out loud and have no issues talking on the phone with the one on the Pixel (around 1.5K mins a month). I haven't hit the lens flair issue yet. My LTE has been on just as much as it was with the Note 7, iPhone 6 plus, S7 Edge, etc. -- T-Mobile is my carrier of choice for all these. Just goes to show how we all have different needs right? :D.

I dread the possible switch to an iPhone. When I mess with my girlfriend's iPhone, I have noticed that the Microsoft office suite is more nicely and efficiently designed (easier access to common formatting, for example).
Also, Notability is an incredible note taking app available only for iOS and MacOS...with some advantages over OneNote. I can find nothing nearly comparable with Android.
Still, it's hard to walk away....especially with the Note 8 in the near future.

Just change your desktop LDPI to 380, this will change MS Office's interface to tablet mode. Here are a bunch of screenshots of my phone, https://photos.google.com/share/AF1QipPSaTB_RSPOuhUUkqRwuy9m9g1CKZRzh68R... see how much of a difference it makes. Now try to tell me MS for iOS is still better. I simply cannot use an OS that doesnt have full multitasking, I'm talking about being able to run any and all apps in the background without the system pausing them. A real file-systen, iOS's file management paradigm is the wost I've ever seen in my life, ever,. I couldn't live without being able to select my own default apps, running two apps side by side, customizing my UI, the list just goes on and on and on. There might be a few nice apps for iOS but Android is much better all the way aroud. Why aren't you using Google Keep for notes, also what is the name of that app your talking about?

Notability allows you to record while taking notes....and on the iPad, you can use the stylus like OneNote, The recording audio is VERY clear, too.
When you play back the audio, you can touch any part of your typed or handwritten notes, and the audio will immediately go that the part of the recording.
This is a key part of my work in life, so it's a big deal. A surface tablet could possibly work, but the short battery life and some stability issues make it too risky. Notability has an excellent, super reliable, light weight app on all Apple platforms, too....syncs up nicely across them.
I searched for a reliable, well designed note taking (and recording app) for Android, but was stunned to find nothing. There was maybe one, but the reviews were horrible.
I have tried using a separate voice recorder while taking notes (using OneNote), but that was buggy with horrible audio. Perhaps I'l keep experimenting. I'd love to stick with Android because I'm fully "googled" in terms of Docs, Calendar, some Keep, email, Drive, etc.

Google apps work better too.

I probably would have switched to the iPhone a long time ago if it wasn't for the Nexus line of phones. I was ready to ditch Android after my experience with the Galaxy S4 but I found the Nexus line. Google was selling the Nexus 4 and it was cheap so I gave it a shot. The phone didn't have all the bells and whistles of the S4 but it just worked and it still allowed me to customize my phone. Since then I've had every Nexus phone (5, 6, 5X, 6P) and now I have the Pixel XL. I'm very comfortable with Android and there's really no need for me to switch.

That's my exact reasoning! My family got the original Nexus 7 and from that point on I always leaned towards Android.

I actually almost switched to the iPhone 7 Plus. However, I ended up sticking with an Android phone not because of iOS but because the model I was about to get ran on an Intel modem. If you've read on it, you'd know that its performance is considered kinda subpar.

How old is this kid? I'm impressed

All I ask is never to have 'Florence Ion' contact me, lol.

Can we get this kid and Renee Ritchie in a room? "Lets get readdddy to ruuuumble"!

I thought this guy did a great job - he was clear, interesting to listen to and imo definitely has a future in this arena. Good on you mate!

Well filmed video! From a basic user level, iPhone and a good Android mobile are very similar in functionality, especially as you mention, you find the same apps in both platofrms. Yes, Android definitely provides for greater personalization of the device with widgets etc. The finger print sensor on the back of Android can be a pain at times as the user ALWAYS needs to pick up the phone to unlock it while the iPhone can be unlocked flat on a desk with the touch of a finger. As these two technologies develop, it becomes more a question of taste and/or ecosystem.

Why do you say the "the user ALWAYS needs to pick up the phone to unlock it"?? Not true at all! There are Android phones with the fingerprint reader on the front. Galaxy S6-S7 comes to mind....quite possibly the most popular Android phones in existence.

Indeed. The beauty (and problem) of Android is the multitude of devices it runs on. My fingerprint sensor is on the side, my sister's S7 is on the front. I can also double tap the screen to access basic functions. I was with a friend in his car, he was quite pleased that he could get Siri to play music even though the screen was locked. I was impressed too, but when he went to pay for petrol, I was able to send text messages via Siri. I'm not sure about his settings, but "okay google" won't activate unless you're unlocked, which is a Good Thing.

Actually, it will activate if plugged in to a headset. His was connected via Bluetooth to his car. So maybe it's the same, and I'm being harsh.

The s7 is really the BOMB too

Hey Christopher, I understand why you want the ability to unlock your phone without picking it up. My Android phone (Samsung Galaxy S7) has its fingerprint reader on the front of the phone. So I don't have to pick up my phone to unlock it. This was one of the main reasons I bought the S7 instead of the Pixel. The debate about which phone OS is better is a waste of time. My wife owns an iPhone 6 plus and loves it. I'm very happy with my Android. I conclude that each system has its strengths. As long as we're happy with our own choices, I'm not judging what anyone else buys. I think that you're writing a similar message, only with different words.

I'm a Google fanboy (using Pixel currently), because of their services, as well as integration with their hardware such as my Chromebook, Google Home and Chromecast. That said, the differences between iOS and Android have become largely cosmetic, as they've narrowed to the same feature set as they've matured. All in all, they've both converged to be closer to what WebOS tried - that was still years ahead of its time.

customizability is not a word

Come back to pixel/pixel XL... You'll will not go back to iPhone 7or 7 plus... Believe me...I moved over.. And pixel phones are brilliant, specially pixel XL.

I have the Pixel XL and an iPhone 7 Plus. The Pixel is awesome. It's the first one that has me seriously considering moving off iOS. The issue(s) I am seeing with this particular one are some lens flares in photos (taken side by side with iPhone), no WiFi connectivity at work (we have Ubiquiti AP's - read about it), and just now noticing the 'H' for cellular connection (on Project Fi). The Pixel is awesome. Look and feel are a breath of fresh air over iOS but if Google is going to charge premium prices, I think it needs to be as flawless out of the box as an iPhone.

I made the switch to an iPhone about a year ago (I still use an LG tablet). I was a longtime Android user and it was a painful process. I frequently complained about how boring the iPhone was. My reason for switching had to do with system updates. Every time Samsung or LG updated my phone, it caused some problem (battery drain, app incompatibility, sluggishness) resulting in me eventually wanting to buy a new phone because I couldn't fix the problem (yes, I tried many resets, even though I shouldn't have had to). If I didn't have to rely on my phone for business purposes, I might have tolerated it, but I have to have a working phone when I need it. I've since gotten used to not being able to tinker with my phone's GUI. Multiple updates later, my phone works better than it did a year ago. Not to mention that, as a business traveler, apps like passbook are ultra convenient (a far cry from my android phone that would lag so much that I'd get embarrassed at the TSA checkpoint because I couldn't get my boarding pass to pull up). To add insult to injury, I've just some recent run-ins with Google customer service that were appalling and makes me question their commitment to not being "evil". On the flip side, the iOS ecosystem is still too restricted. Apple won't allow you to buy competing services from an app on their phone (sounds anti-competitive to me... More than anything Microsoft was slapped for regarding Internet Explorer). Also, their iCloud backup service didn't play well with my Asus router, so I had to play with my router settings for a while. Eventually, I ditched iCloud for Google's backup services which work fine on iOS. 1 year after the switch, I find myself eying all the new phones, but my iPhone 6s is working so well that I can't justify a change. Here's a tip to anyone making the transition from Android to iOS... install your favorite Google apps to your iPhone right away to minimize the differences. Everything is available, including all your purchased movies and music.

I too preferred the Android but all what you say above is telling. Doing resets etc should not have to happen regularly. Will be swapping to IPhone next time with some regrets still. Thanks for the transition tip and tip on the ASUS router.

Resets...really? I feel so much better now...I thought I was the only one resetting my HTCs, or my Samsungs, again and again. Thanks O.
At work, the powers that be decided to give us each a 3rd screen; an Apple iPad. I feared it, because my non-techie wife was always asking me "how do I...?" on her iPhone. As a committed android user, I had no idea about anything on her phone. But now that I'm getting used to the iPad, I'm seriously thinking about my next phone. It may just be an iPhone. More later.

Update: if you read my comments above, you understand that I generally prefer Android, but have been frustrated by the lack of consistent performance. My wife, on the other hand had been satisfied with her aging Galaxy S4 until it recently died and decided she wanted to replace it with a GS7. I took this as my chance to see if Samsung had improved enough to switch back. Long story short, I was so impressed with her device that I decided to try out the S7 Edge myself. I'm patiently awaiting the Android N update that will really tell me if they've fixed the issues associated should updates. I'm on a lease plan with my carrier, so I can switch phones any time I want, so this is a fairly risk free experiment. It's very possible that I get fed up with a new set of issues and switch back to the iPhone when the iPhone 8 comes out... time will tell! Meanwhile, my GS7 edge is quite stable with no significant issues. I do miss the smoothness and speed of my old iPhone. I find it stutters fairly regularly. However, I find myself using significantly less data with Android. I'll update this again as I progress through this journey.

Update: if you read my comments above, you understand that I generally prefer Android, but have been frustrated by the lack of consistent performance. My wife, on the other hand had been satisfied with her aging Galaxy S4 until it recently died and decided she wanted to replace it with a GS7. I took this as my chance to see if Samsung had improved enough to switch back. Long story short, I was so impressed with her device that I decided to try out the S7 Edge myself. I'm patiently awaiting the Android N update that will really tell me if they've fixed the issues associated should updates. I'm on a lease plan with my carrier, so I can switch phones any time I want, so this is a fairly risk free experiment. It's very possible that I get fed up with a new set of issues and switch back to the iPhone when the iPhone 8 comes out... time will tell! Meanwhile, my GS7 edge is quite stable with no significant issues. I do miss the smoothness and speed of my old iPhone. I find it stutters fairly regularly. However, I find myself using significantly less data with Android. I'll update this again as I progress through this journey.

I ended up again, switching to an iPhone 7+ (from a Pixel XL, no less). The Google apps are perfect on iOS and the "sandboxing" doesn't bother me. The 7+ hardware is very nice and iOS does all I need it to do. Interfaces very well with my 5k iMac, iPad Pro 12" and Apple Watch. Having iMessage is great, too (yes, US loves it, sorry rest of world). I still love Android and the Pixel is world class, but iOS just works better for me at this point in my life. I don't root, tinker and fool around like I used to. I just want things to work properly and they do very well in the iOS/macOS ecosystem. No fanboy here, so save the 13 yr old comments for someone else. It's just a phone.

I completely feel where you're coming from. I almost went with the 7plus for that exact reason.

I'm leaning this way too. the customisation is not the main driver for me any longer. i will swap to IPhone next time.

Fair perspective. I go back-and-forth when I want to tinker (Android) and glide (iOS).

https://youtu.be/o6OlJjnnkCk
https://youtu.be/s5VGB4GdShQ Sorry guys... I'm Android user for more than 4 years and I still got my Nexus 5X... but the iPhone suits me better. The "customizability" is overrated. The updates on Android are not received over the air equally. Overall feel is laggy and the reason for that is the not good memory management of the Linux underneath and the virtualization of the java and the java itself. iOS is based on BSD which is Unix, which is better than Linux and there is no Java and virtualization (apps are written on Objective C). Yes, it is a closed system but that ensures stability. And also when an app is developed by someone, Apple are testing it for 3 months before they publish it on the App Store (that includes the updates). Don't get me wrong. Competition is a very good thing and we, the users, are the winners here because we get to choose what suits us best and the competitors are evolving fast :) So whatever you choose don't hesitate to try the other thing and don't hate the opposite thing, because you never know when you're going to start loving it (as it happend to me) ;) Life works that way! Cheers

They don't test no app for 3 months. They do test them well though.

I Rembrandt the large number okc IOS users who were locked out when IOS 8 was released and how many iPhones were bricked by IOS 8 and IOS 9.. I'm a confirmed Android owner Ahmad use a ZTE phone, and Samsung Galaxy Note 10.1(2014). Believe me, my tablet is not laggy at all. My tablet is working on graphics and memory intensive tasks nearly 24 hours a day and I spend a few minutes twice a day cleaning it. It's a real monster killer, outstripping any version of both the IPad Pro and Surface Pro in almost every area. I just love it and at this point can't see any reason to even consider going any other direction.

You're so full of ****, your eyes are brown.

And your Android autocorrect is amazing, Rembrandt!

You say that, but I have a feeling you haven't tried the new iPad Pro or Surface Pro 4... 😂

I apologise for the fact that I hadn't had my auto correct, or grammar checker turned on when I wrote the reply above. I only had a very few minutes to write while waiting for a plane. I had one hand holding a sandwich, and the other on my S Pen and the boarding call came. Either I sent the message without checking, or have hours to wait before I could continue writing. For that reason, I sent the message without checking what I had written. Yet, the issues I pointed out still remain. Have a great day.

When you talk about it, please do not mix up general Linux' memory management (which can be excellent, if a distro does not screw up), and some Android iterations, def. not the same! Well, most Android versions run a highly customized and older linux kernel, and top of that, manufacturers' and Google's own system customizations, android build! With Linux in general we are hitting slowly the version 5.x of the kernel with unseen growth of hw-support and management growth.
Objective C is indeed highly capable as are plenty of others btw (like C#, Python, JavaScript and so on...), but in the hands of the wrong developer, any tool can result in bad applications, and in the right ones, in great innovations. Also you might confuse the problems of Java plugin versions with Java itself....
Laggy in MArshmallow and Nougat is non existent, that is a problem of the far past's android versions together with Java issues, come back to end of '16 and of course mid-range to high end hardware, not some obscure low end, 3rd world phone or tablet. Sincerelly, a linux-kernel patcher and compiler/tester on Arch and openSUSE, owner of S6 EdgePlus

Erm, both Linux and BSD are derivatives of UNIX, neither are "better" than the other, they're simply derivatives of the same core. Android's C library is actually based on Bionic, a BSD package. I hear what you're saying about Java, but since the switch to OpenJDK, it's *much* smoother. As an aside, Oracle released Java for iOS about a year ago. It's like you say, each to their own. There's a lot I like about iOS, but I'm firmly Android after spending time with Marshmallow (I agree about the laggy roll-out but that's improved too). Regarding the memory management; I agree somewhat, but notice the problem isn't with Google apps - it's badly written apps, and here Apple does shine because of its testing before adding to the store.

brinv an IT professional, no one with whom I work would think about having an Android. We need the security and stability iOS offers.

I work for a large company and we can use iPhone, Samsung Android phones due to Knox encryption, and Windows 10 mobile.

Yes, and the security gets broken on Youtube every week.

I am using a ip6s currently and I enjoy it a lot. Coming from windows phone it was like a new world...apps, accessories, features, stuff! I am very interested in a Nokia phone with android if they sort of run with the whole 1020 phone updated as a flagship. I would own one in a heartbeat! Its hard to leave my iPhone now tho. I am notorious for switching phones every 4-5 months..but it has been almost a year with the iPhone and I still enjoy it ALOT.

LOL. IPhones are for people who are slow and prefer not to have a learning curve. That's ok though. No one that I know of, who started out with an Android would EVER think of going to an iOS platform. When you ask an Iphone user, why they like the iPhone., they always say, they don't have the time top wait to learn...etc. They want something that JUST WORKS!
Android is not that.

Aren't you tired to repeat your unwanted propaganda? You make yourself to look like 2016 Don Quijote.

You are NOT an "SPCS" guy. Maybe a troll. I like this forum because people on it appear to be open-minded and want to share experiences and ideas. We all like technology and appreciate innovation. I'd prefer to see you offer information of value or just be mute. I'll add, please.

That's funny, everyone I know of that started on android has, or wants the move to Iphone, including myself.

Same situation like you, waiting for Nokia high end phone.

LOL. IPhones are for people who are slow and prefer not to have a learning curve. That's ok though. No one that I know of, who started out with an Android would EVER think of going to an iOS platform. When you ask an Iphone user, why they like the iPhone., they always say, they don't have the time top wait to learn...etc. They want something that JUST WORKS!
Android is not that.

What do you learn with Android exactly?

Patience. Any non-Nexus user: "Ooh, android 7 is out! awesome".... *6 months later*.. OEM: "we promise you'll get it soon, as long as you have one of the flagships"... *1 year later* OEM: "just kidding, but our new phone has it, go BUY NOW!! Oh, and Android 8 is out now, we promise to get to that soon.. "
Nexus user: "Nice to get updates and betas.. sweet deal .. " Google : "Yes, it was a great run, now, we are going to raise the price to match Apple, take all the hardware cues from Apple, and call Nexus Pixel... get your credit cards ready guys! Oh, and we May keep a few of you Nexus folks in the loop for updates about ... half of whatever Apple does for it's users... enjoy your phone while you can, and watch out for malware!"

W'hat in the hell are you talking about....just stay on Facebook with your iPhone,t'hats all the phone can do.

funny, because I happened to notice that the iphone 7 happened to outperform the samsung galaxy s7 on the geekbench test and multiple private tests

I noticed that in real world performance, my cheap, 4 year old tablet outperforms the iPhone 7. Apple cheats on those tests.

Yeah.....sure thing buddy.

Thats a fair analysis, Jason. I'm an Apple evangelist that wants Android to be great. The competition is good for all of us. I am currently using a Pixel XL. My last Android was a NEXUS 5X. I really like the Pixel and it's the first Android I've picked-up that didn't have me anticipating a return to the iPhone. The build quality is just short of my iPhone 7 Plus; but it's dang close. I miss iMessage but Pushbullet is pretty good.

iPhones are for people that don't wanna have to tinker with they phones a lot. Have to download cleaners and wait for updates .... you shouldn't have to buy a nexus just to get updates . Google released features with the new phone only used by the pixels even though other phones run its software

Switched between ios and android as a personal device. Didn't really care, thought both were average and stuck with bb10 for work. Only time I felt like android was a clear winner was when the hub+ services productivity app suite was released for android. Became majorly jealous of my wifes xperia, until I swapped the iphone for a priv. Can't wait to get rid of the priv either. Too precious. Bring on the mercury.