Here's how to download the Android P Pixel Launcher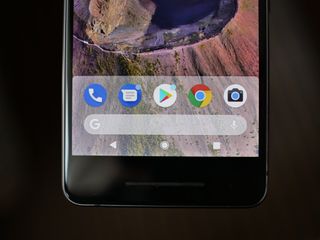 Android P's first developer preview is here, and while there's a lot that remains unknown, it's still exciting times in the world of Android. The overall look of Android P seems to be mostly the same compared to Oreo, but one area that has seen a visual update is the Pixel Launcher.
In Android P, the Pixel Launcher now has an outline around the Google search bar and your dock that moves up as you swipe open your app drawer. It's a small change that doesn't add any new functionality, but it is a sleek look.
Current version (left) and Android P version (right)
Along with this, you'll also find a new microphone icon on the search bar. Tapping the icon brings up the Google Assistant, and while I still find squeezing my Pixel 2 to be faster, it's a nice touch nonetheless.
If you want to get the updated Pixel Launcher on your phone now, all you have to do is download and install this file. I got it to work just fine on my Pixel 2 running Android 8.1, and Droid-Life reports similar success with the Essential Phone on its 8.1 beta.
Current version (left) and Android P version (right)
The launcher is just as fast as the current version with Oreo, but I noticed that the "Wallpapers", "Widgets", and "Home Settings" icons are visible behind the app drawer when it's open for whatever reason.
If that doesn't bother you, have fun with your updated home screen!
Android Central Newsletter
Get instant access to breaking news, the hottest reviews, great deals and helpful tips
Joe Maring was a Senior Editor for Android Central between 2017 and 2021. You can reach him on Twitter at @JoeMaring1.
Man that's ugly....hope there is an option to turn it off. Makes my launcher look like an iPhone....just saying.

I think Google is going all in on copying the iPhone now.

the notch and swipe gestures coming to Google Pixel 3 in September. copy from Apple iPhone.
then Pixel also removed the headphone jack last year just like Apple did.
why does Google mock Apple (iPhone) when it copies it afterwards?

I like it better without that line. As for the notch, I wonder if that means the Pixel 3 could have a notch. That's one trend I don't really want to see.

Looks like Google is making changes just got the sake of making changes

I can see the wallpaper and widget icons too on my Pixel XL :(. Another interesting change is that if you have a work profile, your apps will be sorted in the app drawer into two separate tabs, personal and work. 👌👌💼

I installed it on my Pixel XL, but it kept stopping. Very annoying. I uninstalled it, but I had to add my icons back onto the production Pixel launcher.

Wish Google would spend less time worrying about looks and more about adding functionality. Full system backup, anyone? Google is the only supplier of OS's that doesn't provide at least a hook for that functionality. Google seems to be running on empty.

Is there still not a black theme? I can't stand Google's obsession with the white backgrounds..

Installed, then quickly uninstalled from my S8. It works just fine. Just ugly. I actually find I prefer Nova's Pixel setup.

I agree... It's ugly. I'll stick with my awesome setup on Action Launcher which allows multiple, quick shortcuts on the search bar.... And no outline!

How about they stop copying Apple and start making the swiping to unlock and clear away notifications to work correctly. So I don't have to swipe 7 times. I can already get those look on Nova launcher and it's been turned off for several years now.

I don't like the bottom overlay shade over the wallpaper. It blocks the detail of scenes and fine detail of pictures on the home screen. Not happy about it. Just leave the launcher look alone, and give is better functionally

Agreed. What's the point in picking out wallpaper for these amazing displays if the launcher is just gonna cover it up.

Ugly. Another reason to stick to Samsung phones. Happily enjoying dark theme, combined with Nova Launcher 😊

Exactly! I stay as far away from stock Android as possible.

You can do the exact same thing on Nova Launcher, without the hiccups.

I still don't get the reason for the Google bar at the bottom. It is like the old days of the Android launchers (prior to Nougat)--it is back to not being a search bar, but just a large space-wasting horizontal icon that opens Google Search in a new screen. Only in Nougat did it work as I would expect--I could type right into it, and suggestions would auto-fill. A shame to lose that in Oreo and still see it AWOL in Android P. And I still don't like it being on the bottom--the dock icons are inconveniently pushed up higher. Much as I dislike third-party launchers (I've been through many), The Googs is forcing me to go back down that rabbit hole again.

Why is the Google 'G' in the screen shots rainbow colored and mine is plain white before and after installing the Android P pixel launcher....

No support for the Nexus 5X ????

It also works fine on my HTC 10 running Android 8.0. I like the new Pixel Launcher overall, but not the white app drawer.
Android Central Newsletter
Get instant access to breaking news, the hottest reviews, great deals and helpful tips
Thank you for signing up to Android Central. You will receive a verification email shortly.
There was a problem. Please refresh the page and try again.