Hands-on with the Nexus 9 Keyboard Folio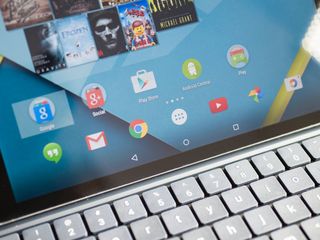 $129 is a steep price for a small keyboard, but it's one worth considering
We've had the opportunity to play with the Nexus 9 Keyboard Folio a few times already, and this week it finally made itself available in retail form. And that means we've got one in hand. Or under our fingers. Erm, whatever.
The long and the short of it is this is a scaled down keyboard that connects to the Nexus 9 via Bluetooth for software, and to the tablet physically by a series of magnets that do a decent job keeping everything in place while you're typing.
Let's take a quick look.
If you've been anywhere near tablets the past few years you largely know what to expect here. We've got a scaled down keyboard attached to a flap that protects the Nexus 9 when not in use, and props up the screen when you're typing or watching video.
The keyboard folio connects to the tablet via Bluetooth, and you can pair the two with NFC by tapping the top edge of your tablet to the spine of the folio. (There's a helpful sticker attached that will guide you. Or there's a Bluetooth pairing button (and accompanying LED) if you prefer. Pairing was pretty simple, though.
It's intended for you to use the keyboard folio in the landscape orientation, and good luck trying to set it up vertically. Again, that's where the magnets come in. They do a decent job helping you to that decision. Not quite as obvious (though again some included diagrams help) is how to fold the front flap to position the tablet. I managed to do it the "wrong" way first, which actually seemed to work just fine. Follow the instructions, though, and the magnets get back to work and everything is as it should be.
Actually using the keyboard takes a little practice. It's maybe a tad more than three-quarter size, and my sausages are going to need a few minutes to get used to that. The keys have about as much travel as you'd expect from a keyboard this size — that is, not very much — but you are able to get a fairly satisfying sound from them, if you're a fellow whacker. This probably won't cut it as an everyday keyboard for more folks. But then again it's not supposed to be.
A few other quick thoughts:
I love that you can wake the tablet by pressing a key. That's good attention to detail.
The charging port for the 500 mAh battery is nearly tucked away on the spine, on the opposite end from the pairing button.
The LED is red while charging.
The two emoji keys (which is at least one too many, and maybe two) work in the Google Keyboard (which makes sense) but not in SwiftKey. Not sure about other keyboards yet.
The bullseye-looking button in the bottom left is just ctrl.
There's a trio of button combinations that trigger the back, home and multitasking fucntions. Search + backspace is back. Search + return is home. And an emoji + tab triggers multitasking. (Hold the face and keep hitting tab to cycle through the deck.)
We don't have a feel for keyboard battery life just yet, so we'll have to circle back around.
We'll have to see how the folio holds to up being banged around inside a gear bag. Will it properly protect the 8.9-inch display?
All in all, not a bad keyboard, as far as first impressions go. The $129 price (currently available in Google Play and eventually at Amazon) will be a bit for many to stomach. So it'll be interesting to see what alternatives crop up.
Get the Android Central Newsletter
Instant access to breaking news, the hottest reviews, great deals and helpful tips.