Hands-on with the Nexus 9 Keyboard Folio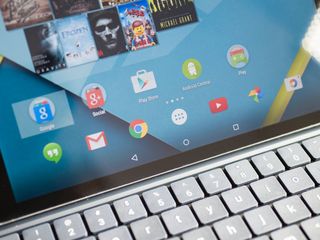 $129 is a steep price for a small keyboard, but it's one worth considering
We've had the opportunity to play with the Nexus 9 Keyboard Folio a few times already, and this week it finally made itself available in retail form. And that means we've got one in hand. Or under our fingers. Erm, whatever.
The long and the short of it is this is a scaled down keyboard that connects to the Nexus 9 via Bluetooth for software, and to the tablet physically by a series of magnets that do a decent job keeping everything in place while you're typing.
Let's take a quick look.
If you've been anywhere near tablets the past few years you largely know what to expect here. We've got a scaled down keyboard attached to a flap that protects the Nexus 9 when not in use, and props up the screen when you're typing or watching video.
The keyboard folio connects to the tablet via Bluetooth, and you can pair the two with NFC by tapping the top edge of your tablet to the spine of the folio. (There's a helpful sticker attached that will guide you. Or there's a Bluetooth pairing button (and accompanying LED) if you prefer. Pairing was pretty simple, though.
It's intended for you to use the keyboard folio in the landscape orientation, and good luck trying to set it up vertically. Again, that's where the magnets come in. They do a decent job helping you to that decision. Not quite as obvious (though again some included diagrams help) is how to fold the front flap to position the tablet. I managed to do it the "wrong" way first, which actually seemed to work just fine. Follow the instructions, though, and the magnets get back to work and everything is as it should be.
Actually using the keyboard takes a little practice. It's maybe a tad more than three-quarter size, and my sausages are going to need a few minutes to get used to that. The keys have about as much travel as you'd expect from a keyboard this size — that is, not very much — but you are able to get a fairly satisfying sound from them, if you're a fellow whacker. This probably won't cut it as an everyday keyboard for more folks. But then again it's not supposed to be.
A few other quick thoughts:
I love that you can wake the tablet by pressing a key. That's good attention to detail.
The charging port for the 500 mAh battery is nearly tucked away on the spine, on the opposite end from the pairing button.
The LED is red while charging.
The two emoji keys (which is at least one too many, and maybe two) work in the Google Keyboard (which makes sense) but not in SwiftKey. Not sure about other keyboards yet.
The bullseye-looking button in the bottom left is just ctrl.
There's a trio of button combinations that trigger the back, home and multitasking fucntions. Search + backspace is back. Search + return is home. And an emoji + tab triggers multitasking. (Hold the face and keep hitting tab to cycle through the deck.)
We don't have a feel for keyboard battery life just yet, so we'll have to circle back around.
We'll have to see how the folio holds to up being banged around inside a gear bag. Will it properly protect the 8.9-inch display?
All in all, not a bad keyboard, as far as first impressions go. The $129 price (currently available in Google Play (opens in new tab) and eventually at Amazon (opens in new tab)) will be a bit for many to stomach. So it'll be interesting to see what alternatives crop up.
I would love the opportunity to buy the Magic Cover if they ever give me that chance!

This thing is only $25 cheaper than the Nexus 7 2013 at some places lol Posted via the Android Central App

Ya Googles taking some traits from Apple Posted via the Android Central App

Which isn't bad because businesses need to be able to profit in order to operate. Posted via the Android Central App

Because Google is financially struggling right? Do you have any idea how much money Google makes off of advertising? Posted via the Android Central App

The profit margin on this keyboard is probably huge tho, and they can no longer use the excuse that the base device is cheap... If ASUS could sell a METAL keyboard dock with a huge battery that fully charged a 10" tablet, SD card slot, touchpad, and USB port for the SAME price over three years ago; I think HTC/Google could do better.

Personally I think it should've been $80-90 tops, even the Surface Pro's keyboard seems like a better value at the same price (larger board with a standard layout + touchpad)... I doubt this will do much for HTC's woes... And they really could've used it as a springboard back into the tablet market.

If the Nexus 9 sells reasonably well, probably only a matter of time before Logitech releases a similar product at half the price.

I wouldn't spend more than $50 for this type of accessory. Posted from my HTC One M8 via Android Central App

I am liking Android less and less each day. How's Windows Phone, better experience?

Coming from Windows Phone, it's pretty much the same. WP is great for Art, Photography, better if you prefer normal use, then you shouldn't experience any issues. It's great. Yet when it comes to productivity (docs) I still do more on my Nexus tablet. Microsoft apps are superior on Android. Hope that Windows 10 (yes on phones) will fix this as more apps comes too.
They both have their own goods, neither is perfect. Posted via the Android Central App

Thanks for the info. Worried that there isn't enough apps on Windows Phone but may give it a try. The interface is nice. I don't really use docs or anything.

If you like camera on your smartphone then you'll absolutely love it, all photo, video editors are there, its like a system is built around them lol. Microsoft Office is meant to be ultimate thing of WP, but that's more like "in works" in the upcoming Windows 10. (Just for info). Livetiles are great, once you get used to them, then you just want to fill up your Android device with widgets. If you're not a big user social networks and their latest features then you shouldn't have any issues. IE is pretty fast, uses low data when your connection is low (you can manually set that), but you may get into random moments when content is not displayed properly. Anyways apps are there, but some big name apps still lack some customisation and features. If you use a lot of Google service then it's a pain in the ass OS versus Android. Anything else runs pretty well and like it should, with each upate getting better, however to get the latest OS updates you need to use free "Developers Preview" app to update your system. This is when your phone gets better and worse with random bugs when you just want to rip your face off ( like now IE rebooted my phone while I was writting this on my WP ) but okay that's the preview that needs firmware updates that comes really slow if you're on a carrier phone. It should work perfect without playing around with DevP, but that's hard to do cos WP still lacks some really small things like cellular toggle, fast loading speeds of the apps, etc.. And you just crave for updates. Anyways if you're a simple user then you'll love this phone all the way, you can install hundreds of apps and you won't slow it down, works as new. IF YOU LOVE UPDATES - You will be happy too, all Lumia phones get's all the updates, even all current WP8 phones will be updateable to W10. W10 is a whole new story when it should come to perfection. Microsoft really listens to their customers feedback and ideas. It's built around people. However updates takes some time.. Yeah. On Android.. You already get everything you want to have on WP so yeah .. It's a hard choice. I only use WP cos I love the idea of it, Livetiles, Camera.. Yet for now If I could I would go back to Android - Flagship only yes as it is Android. Then when Win10 comes I would consider it again.. Microsoft doesn't sleep anymore, but so Google doesn't. Kitkat and now Lolipop got my interest back in Android. It suits me better minus the camera, so hopefully soon we get manual controls on Android too hah. Sorry for so long and confusing reply, but I just want to give a non biased comment you'd probably get from WP users only cos of lack using Kitkat or flagship phones which are now even faster and lagfree like WP is meant to be or is. It's a perfect OS, yet for multitasking and heavy work - Even just browsing, emailing, sharing options - I'd say stay with Android at least for now. Peace Posted via the Android Central App

Thanks! Glad to get some feedback and some comparison on WP. It sounds like a toss up to me, but it sounds like WP is coming into its own. I am definitely going to keep an eye on it. Livetiles and camera are something that I like. I'll have to see what apps I'll be missing. I need a change from android and google.

I see great potential in WP, but it just needs some time :) Win 10 finally looks like what I ever wanted so I'm keeping an eye on it too :). It will be one OS to rule them all, on phones, tablets and PCs, so developers better support it! Then we're set to win. Just wanted to point that out :). Posted via the Android Central App

One thing that's blatantly clear around these parts is that most Nexus fans are a bunch of cheapasses. I'm guessing this won't sell very well at this price but week elicit tons of complaints from said cheap asses. Posted from my Droid Turbo, Kelly and Ozone

That's a great opinion you got there, very thought provoking and well backed up. Posted via the Android Central App

Yet that 'great opinion' is spot on. Is it just me or did all of you decipher the hieroglyphics just fine. What is
search + <- and search + enter and search + tab even mean? Does all that replace cntrl-alt-del or is it the sequence to talk directly with Steve Jobs....oh wait, wrong company. I gather it has to charge before it works. $79 on Amazon? They charged me $129.

Overpriced keyboard for an overpriced tablet that has reputable bad build quality Posted via the Android Central App

Look at the type cover for the SP3 and tell me it's over priced. Posted from the amazing whatever device I can afford because I'm a broke college kid.

It's not I've tried a sp3 and really like I this is different Posted via the Android Central App

Happy Thanksgiving elitist tdizzel Posted via the Android Central App

I concur, piss and moan if you can't afford it. Smh

Frankly, I think it's overpriced for what it is, but it's all about context. I'm not sure if I qualify as a Nexus fanboi, the 5 & 7 were my first Nexus devices (32GB & 16GB respectively), succeeding three HTC phones and an ASUS tablet. A few years ago I paid about as much for the keyboard dock for that ASUS OG Transformer, but that included a large battery that charged the tablet, SD card slot, and USB port. In light of that I think this dock is hella over priced. I thought the 9 was only slightly over priced (should've been $350), particularly in light of the meager storage and build quality issues. I don't have an issue with Nexus 6 pricing, I think it's in line for that kinda device, it's just not my cup of tea... As long as they keep selling the N5 for now I think it makes for a very solid Nexus phone lineup. I think it's disappointing that they're already phasing out the Nexus 7 in light of the size/price difference vs the 9, nearly a year and a half later the 7 (2013) is STILL one of the better values out there. That says a lot, both about it and about the other OEM, why anyone wouldn't applaud that kinda strong value as a consumer I dunno...

I am a little disappointed that there was no commentary on the responsiveness of this peripheral in various apps. Also, again, there remains no mention of the fact that this is a mechanical keyboard (according to the released specs), which does drive the cost up. Can we expect a more in depth article discussing the actual experience using the keyboard at some point?

I think we can. Posted via my Z10 using Android Central App

It's mechanical as in it uses Cherry scissor stitches? Or mechanical as in it's got actual keys over a membrane board (like the Surface Type) rather than some horrible capacitive mess without discrete keys (like the Surface Touch cover, which really should've never been). Big difference...

They keys are responsive. I haven't noticed any appreciable lag in Docs or the web browser.

Nice pictures. Thanks guys! Posted via the Android Central App

Why not get a Chromebook and a Nexus 7?

Indeed. Posted via the Android Central App

Please tell us. Can you scroll in places like the browser, home screen etc with the arrow keys? Or do you have to constantly touch the screen for navigation? The lack of OS wide support for keyboard navigation ruins the experience of using a 3rd party keyboard with the iPad even though the typing experience can be quite good. Just curious if android handles this better?

Yes, you can scroll with the arrow keys in the browser and on the home screen. The arrow keys jump to each icon and to the next/previous home screen after you move beyond the last/first icon.

Emoji button? I'm sold! Posted from my TARDIS!

Two, actually! Posted via the Android Central App

It's really nice. That price tho... Posted via the Android Central App

That price is standard for this kind of accessory. Go look at the equivalent for the iPad from Logitech or the keyboard for the surface pro 3.

Idk about standard, like I think 90ish$ would have been appropriate but that's based off first impressions. Posted via my HTC one m8 or my nexus 9.

It's priced identically to the surface pro 3 keyboard, though it is a little more expensive then the Logitech keyboard cases for the iPad.

How does a keyboard that is made to work exclusively with Android not have dedicated Home, Back, and App Switch keys?

Agreed. Having two emoji buttons and the strange bulls-eye key would have been better replaced by dedicated Back, Home and App Switch keys. I haven't figured out the purpose of the bulls-eye key yet.

Well, you have those buttons right there on the screen about a centimeter above the top row of keys. It would be redundant and I'm pretty sure anyone who complains about that would find something else to complain about if they stuffed three extra keys into the keyboard. Maybe they should have put those keys on the bottom row, and put the space bar on the screen? Would that make you happy?

So that's £429 for the tablet and keyboard according to Google Play Store! That's a lot of money for the functionality! It won't replace a laptop and it would have less portability than a Nexus 7 and a separate keyboard.

Looks great, but way too expensive.

I haven't had it for an hour and I already have the RMA for it. Piece of garbage. The magnets aren't strong enough to hold the tablet up. Very disappointed.

And this is one of the people that drives up the cost for the rest of us. Nice job!

I bought the keyboard for $87 on Amazon and I LOVE IT!!!!
Android Central Newsletter
Get the best of Android Central in in your inbox, every day!
Thank you for signing up to Android Central. You will receive a verification email shortly.
There was a problem. Please refresh the page and try again.