Hands-on with the Nextbit Robin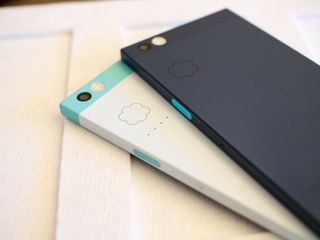 Nextbit is a fresh mobile startup that's already off to a hot start with its first phone, Robin, which raised more than $900,000 on Kickstarter in just its first week of crowdfunding. The phone isn't coming to retail until early in 2016, but we've had an opportunity to get our hands on some pre-production units and see what Robin — and Nextbit as a whole — is all about.
Here's an early look at the hardware it's bringing to market, and a little more on its company strategy as well.
Robin is one of the most interesting looking (and feeling) devices I've had my eyes and hands on in some time. Part of that is the unique "mint" and white color scheme, but this is a very cool device in the darker blue (almost black) color as well — and the color I expect a majority of sales to come in.
It looks nothing like the rest of the smartphone industry today, but Robin certainly has ties to the look of the solid polycarbonate Nokia phones of yesteryear as well as the color and sharp lines of HTC's Desire phones (Scott Croyle, Nextbit's designer, is formerly of HTC). The phone is flat on all sides without feeling sharp, and it has just a few subtle design flourishes that make it stand out. Dual speakers flank the display, there's a notification LED on the top edge of the phone (so it can be seen even when the phone is face down), and an array of four LEDs on the back plate indicate cloud activity happening in the operating system. Some more subtle additions are a fingerprint sensor in the side power button, and a USB-C port on the bottom for charging.
Robin definitely stands out without trying too hard to be flashy and intense. There aren't any chamfered metal edges, swoopy curves, bits of chrome or superfluous design elements — and I find that incredibly refreshing. It's just a phone, with some very clever design decisions, and one that I'm initially a fan of aesthetically. Reactions from around the Internet have been slightly more mixed to be fair, but I think the overall feeling is positive, as is mine.
On the inside you're getting plenty as well — particularly considering the $399 price. Robin has a Snapdragon 808 processor, ample memory and a decent 32GB of storage, a 5.2-inch 1080p display, 2680 mAh battery, 13MP camera, and a few other little perks like quick charging, NFC and a two-tone camera flash. The internals aren't really the big focus of Robin, and I'm OK with that so long as there's enough inside to power the experience it wants — and it seems like there is.
But Robin isn't just about nice-looking hardware — there's a big software component here as well. Nexbit has some lofty ambitions when it comes to value-adds baked into its build of Lollipop on the phone (and they're already working on Android 6.0 Marshmallow), with the tentpole feature being integration with cloud storage right into the operating system. Though the phone has 32GB of internal storage, you also get access to 100GB of Nextbit cloud storage — included for the life of your device — that will automatically back up your photos, videos and apps.
But this isn't a "push" kind of system, Robin is always backing up for optimization purposes — meaning if you haven't touched an app in a few months, the app's assets (but you your personal app data) will be seamlessly moved to the cloud to clear up your local storage, and you can quickly recall it and pick up right where you left off (with all of your data and preferences) before. The operating system will also back up full-resolution photos to the cloud and keep device-appropriate sized ones, again to save storage.
And that's just what Nextbit has announced so far. The company has bold ambitions to do even more with the cloud and add entirely new features to Robin before and after launch. Of course what's there now is certainly new and not found anywhere else, but Nextbit feels there's more to be done with this cloud-integrated thinking. There are concerns about battery and network issues when you start doing a lot on the cloud, but it also opens up massive possibilities when you don't tie everything down to just the phone's internal hardware itself.
Beyond the cloud features, this is a relatively familiar Lollipop experience, with some simple changes to the interface — primarily in the launcher and color scheme. Nothing feels foreign to anyone who's used Android before, and you still have full access to the suite of Google apps and anything you want to install from Google Play. Considering the pre-production nature of the devices I had access to I can't make any calls on performance (nor would I want to at this point), but I do appreciate Nextbit's software approach — it seems clean, simple and useful, just like the hardware that carries it.
So much can change from now until Robin starts shipping out to Kickstarter backers early next year, but first impressions have me ready and willing to get a full production device in my hands for real long-term use. There are plenty of other questions about the launch — mostly in the realm of retail sales, the future of the Nextbit itself and customer support in the real world — that need answering. But when evaluating it based on what we know now, purely as a phone, Robin is extremely exciting.
Andrew was an Executive Editor, U.S. at Android Central between 2012 and 2020.
I think this will do ok. I just can't stand Kickstarter no matter how much I like a product. I really like this phone. And with the announcement of the BLU Pure XL with more functionality and $50 cheaper, I can't justify waiting 4-6 months for this when others are coming within the next 2 months. I love its design and color scheme, regardless if the critics Posted via the Android Central App

Hey, different kicks for different people, but this looks unique. I know for sure the BLU Pure XL is a giant phablet that's made by an unknown (to me) Chinese company. Even if they get the hardware right there won't be any software upgrade support for it. Good luck though!

BLU is a company in the US... FL to be exact. And have been around for many of years. And sell more than just phone products. I'll take my chances with a company with a known sales track record than a company that feels compelled they need to use Kickstarter to get their phone out. Case in point https://www.getneptune.com I'm sure people forgot about this. If this phone was available this month or next I would be on top of it. Posted via the Android Central App

Being an American company is of no consequence. Nothing Nik wrote is incorrect. BLU sells repackaged phones made by third party Chinese manufacturers. None of their designs are original. Not that there's anything wrong with that, just a fact. You can find the exact same phone under different brands by looking at certain European and Asian markets. Plus, despite being an American company, their product support is almost non-existent. I now only recommend BLU to people who don't mind buying a phone essentially "as is."

And it's available. So? I'll be able to buy it, without message updates and progression and "hopes" of getting "eventually" I don't care if it was Wileyfox Zuk, or other no name brand. The two way to promote your product is crowdfunding and invite system. Posted via the Android Central App

blu has the worst product support out there, think of that before trying to save a few bux upfront

"...made by third party Chinese manufacturers" You've pretty much just described every electronics company on the planet.

Not to mention a Moto X Pure at the same price.

I was leaning towards the Moto X Pure after hearing the Nexus 5X announcement which I wasn't all that impressed with. But in the end I just cannot stand that curved back and not having a finger print scanner on the Pure kinda bummed me out. Oh also for the 32 GB version (which the Robin has) of the Moto X Pure it would put it more expensive than the Robin I think by $60? What was keeping me on the fence with the Robin was lack of wireless charging AND micro SD. BUT I think the AMA with the Nexus 5X team made a good point. With USB C there is no confusion on which side is up when plugging in the cable. Though I love the convenience of just plopping my OG Nexus 5 down on a charging pad. As far as a micro SD with Robin's cloud storage (100gb) it makes it not as bad. Though I'd prefer the Micro SD card option more. But I can see the benefits of the cloud in having a back up there. In any event we will see what comes of this in February.

Looks different and kind of nice ;)
Expected price & release date?

the full price is $399 with an expected Jan 2016 delivery I grabbed one then cancelled, as I just couldn't see any difference over my current LG G4 (same processor and memory, smaller battery, no SD card support but uses a cloud service in place)

I cancelled for some other reason but I kept going back and forth cause I really like the design Posted via the Android Central App

I got a bad feeling I'm going to be reading a article in November/December that the phone is delayed to something like Q3 time frame That and the cancellation of P roject Ara. Posted From my Nexus 6/Nexus 7 2013/Surface pro 3

Basically. Posted via the Android Central App

Project ara wasn't cancelled. Lol

It was all but cancelled. It will fail. Posted via the Android Central App

If Fisher Price and HTC had sex, this is what their baby phone would look like. Posted via the Android Central App

I like the phone, but... true. Lol! Kinda, half right though. Ex HTC employee designed it. Posted via the Android Central App

That's pretty accurate, but for some reason, I really like the way it looks.

My unit twitched, am i perverse?

I backed it but am on the fence right now about keeping it... If the battery was a little bigger I would feel better about it.

One of the founders Mike Chan has worked for Google on Android heading their power management team and ahs worked on Android from versions 1.0 thru 3.0. I am assuming this is well covered territory for Nextbit. So I am not too worried. Then again I am coming/upgrading to the Robin from my current phone the original Nexus 5 with it's really tiny battery.

How does the screen look to you guys? Colours / contrast / sharpness?
- With a black screen border like that I'm hoping the blacks are real deep so I can make the border look seamless with a dark theme.

Seamless cloud storage and app caching are cool ideas, but this phone is probably not the best option for people on tiered data plans and limited wifi availability.

Sure, I suppose, but you can control when apps are offloaded (if ever), and when they're pulled back down. Nextbit isn't interested in destroying people's data plans. But further to the point, what phones are suited for people with limited wifi availability and tiered plans? Every phone nowadays benefits greatly from fast, ubiquitous connectivity.

Amen to that. Posted using SwiftKey on my LG G4 via the Android Central App

Yes but this concept takes cloud access to a new level. I like the idea, but if I had a basic 1-2 GB/month plan and limited wifi access, this phone would probably be last on my list.

This is correct. Most people don't have a company to pay for unlimited data exploits like some who seem to have forgotten that.

But its only a worse option compared to a phone with an SD card or 64GB's or more of internal. This doesn't hurt anyone, and I don't think you even have to use the backup ability if you don't want to. Pretty sure you can also set it to only use the cloud on WiFi too. Anyone could make do with 32GB if they wanted. It's not as hard as people make it out to be. ;) Posted via the Android Central App

4 to 6 months is too long away. Who knows what will come out before then

Sure, there are lots of questions about that. And we'll surely re-evaluate Robin versus what's out there when it's fully available. But all we can do now is look at it compared to what's available now, it's all we have.

I mean, what's really going to change in 4-6 months? The 808 will still be a solid SoC, 1080p will still be decent for some, meh for others. Not every flagship even has an awesome camera, so that's fairly irrelevant in a 4-6 month timeline, its not like it will get leap frogged. Unless we start getting SD820 and 1440p phones under $400 in 4-6 months, time doesn't matter. Posted via the Android Central App

The similar Nexus 5X will be out Posted via the Android Central App

But all it offers is stock Android. Specs will probably be similar if not identical. Stock Android is great, don't get me wrong. Posted via the Android Central App

For the same specs, I rather like the design of the Robin over the Nexus 5X. That's just me though. Posted via the Android Central App

Idk when will the "NO SD CARD SLOT, NO BUY" folks will come. That aside, looks extremely unique and that cloud service could actually work for the future. Here lies the "2016 Flagship Killer". It got slayed by 2015 flagships like the LG G4 being used to post this.

If this was another site (whose name I won't mention), there'd already be 1,000 comments about how they won't buy it because it doesn't run "Pure Android".

Nah, we're mostly ignoring this phone.

It looks like something they dug up on the moon. "My God, it's full of stars!"

Man, at least they are trying to think outside the box (and phone). I really like the idea of a full and, somewhat, constant back up of the device. Nova Launcher Prime's and Helium's back ups work well enough. Certainly far better than trying to set up a new phone entirely from scratch. But that's still having to use two apps and it is beyond annoying that you have to first connect your phone to a PC in order to restore using Helium. I'll be following Nextbit for sure. Posted using SwiftKey on my LG G4 via the Android Central App

Outside the box? It looks like a box. (I actually like the looks, but I had to say that.)

A bigger SD is a lot cheaper than the price of a good data plan, even an model with more storage is cheaper than the data plan, I don't get the point on this phone.

Stop. A lot of people like less ability in their phones.

It doesn't seem to make sense to me when people say "less ability in their phone" when a device that kind of transcends the generic monotony of the mobile market is announced or presented. I get that *some* people require an SD card (either due to carrier limitations or lack of access to WiFi networks). Obviously, this phone isn't for them as they're not going to be able to use the cloud-based platform as well as someone who has consistent WiFi and unlimited data. Just seems like a troll response.. so I'm not really sure where you're headed with this. :P

As you stated. Some people need the better functionality of the previous iterations. The new version is LESS, therefore the "troll response" to the guy above trying understand how people can somehow overlook the downgrades in a device yet somehow not understand how those downgrades affect users.
It was a sarcastic statement about the absurdity of getting less tech, yet blindly defending less as more. Hope that clears it up. Posted via Android Central App

It's not trolling, i just don't get the value of this phone...

I think it looks really nice, a breath of fresh air amongst all the ugly bland phablets. I'd be worried about timely OS updates, bug, and security fixes. Posted via Android Central App

I really like the sharp edges, actually. How it will feel holding it is yet to be seen, but I really like the "It's a flat rectangle" look.

It probably feel similar to the Sony phones. The Z3 I had seems to be about the same size as this. Flat rectangle and all that. Posted via the Android Central App

I have to admit it interests me primarily because it appears to come from a group of enthusiasts who share some of the same ideals I had when Android was originally announced. As opposed to a mega-company who's first design consideration is how to lock you into their ecosystem and buy more More MORE!!! I also look forward to a longer support life-cycle from Nextbit, but I guess we'll have to wait two or three years to see how that turns out. The cloud storage aspect is interesting, I tend to keep my phone clean but I know some people in my family would benefit from having it automated (and by that I do NOT mean handing it to me and saying "make it work better again"). What I'd really like to see is someone (hint hint) do a round-up new & interesting mid-range priced phones that are taking on the big-name flagship priced phones. And maybe include some phones that aren't necessarily sold in North America but would be compatible with our networks (I'm thinking the Giga Me phones, but maybe I'm wrong).

I know there strategy is "cloud first" but for consumers who live in areas with slow internet speeds, it really doesn't work. Once high speed internet starts to reach more rural areas then I could see it catching on. Either that or when 5g comes out, we need to had hundreds of gbs of data, because limiting data to 10gb or less on 5g will be ridiculous.
Well this phone is interesting, so is the blu pure xl, and the new nexuses....
Project Ara is the most interesting device in the tech industry right now, I hope it launches next year. I might get one and never go back to all these non-modular devices

I would say that "Cloud First" doesn't mean you rely on the cloud. The phone works 100% without internet access, and you can tell it to not back things up, ever, or simply back up only on Wifi. The phone is just a phone... and when it has a good internet connection it can do extra things.

But if you tell it to not back things up it doesn't have enough onboard storage. It doesn't make any sense to me unless you're all in on the concept. ...Joe K.

It has 32GB of on board storage, more than most Android phones in the same price range Posted via Android Central App

to not have access to wifi at home in 2015 is damn near ridiculous.
this phone isn't intended for people who don't have wifi at home, or work, or live in the boonies.
People that don't have wifi, and have 1GB of data per month on their plan, barely needs a smart phone at all.
Hell, with that kind of limitation, you can barely use a smart phone at all, making it any smart phone not worth buying. (unless its like a moto G non LTE version)

Making faulty assumptions is damn near ridiculous too. Doesn't anybody read posts before commenting anymore? Who said anything about not having WiFi at home? ... Joe K. Posted via the Android Central App

Phone design is nice enough, though a bit too angular IMO. Probably digs into your palm after a while (without a case). Still too early for a "cloud phone", IMO. The network isn't cheap enough or reliable enough.

But you don't need it... Posted via the Android Central App

Like it, like it allot. Very simple but clever design. Very different from the rest of the Android devices. It has very respectable specs, the 32gb of int storage is a great suprise, throw in the 100gb of cloud storage for life. You cant beat the price. This phone will sell, I'll buy one.

Drop the price $100, at least. Posted via the Android Central App

Why? It's basically same as OnePlus Two but this has cloud storage. It's a fair price. They need to make money after all... Posted via the Android Central App

Why did you think it needs to drop in price?

A refreshing change is exactly what it is. I was starting to think I was the only one sick of all these devices looking so identical. People say " well, its a slab, what can you really do?". Well, apparently you forgot how unique devices were compared to today, just a few years ago. I'm not even saying I'd buy this, even though I really do love that color scheme, but I think it's amazing for the market right now. I hope it pushes the big players to take chances again. Posted via the Android Central App

This is not a bad phone but the emphasis on cloud IDK given how stingy carriers are with data in the states at least. Posted via the Android Central App

You can set it to only back up on wifi. The default setting is wifi and plugged in for back up. It only uploads apps that aren't used regularly, full resolution photos, etc. I think this phone and the way it's gonna handle storage is misunderstood.

Correct me if wrong, but the selling point of the 100 GB of cloud storage is a major plus for carriers wanting to sell more data isn't it? Once you exceed the 32gb which with is easy to do you're constantly pinging the cloud using more and more data.. or did I miss something here? Personally for the price it looks like a toy to me rather than something premium.. Bang for buck in a crowded market is going to be important as well as a strong battery, quick updates, reliability and good customer support.

Well there's no cooperation between Nextbit and the carriers to sell the phone ... it's coming unlocked. So there isn't any synergy there. And everything can be limited to just Wifi (and even while charging) by default if you'd like for both backup and restore. You can always override it and get the data down over the mobile network if you need it, but it's not necessary. I think if you're worried about the data costs of services "pinging" a server, you probably aren't a fan of email, or social networking, or any Google services at all ... it's a tradeoff, you're going to have to use some data some times, and it's all about getting something for it.

Yes I'm aware its unlocked. It's not that I have a problem paying for data at all, it just seems that a phone reliant on the cloud is in the carriers best interest rather than the subscriber. Call me crazy and you might, ha ha. I happen to use WiFi quite a bit since I work from home. At $400 it's not exactly a bargain especially since its a new unproven company with a device that has no track record. In comparison and unlocked Moto X is similarly priced and feels a bit more premium. Each to their own :)

It's not reliant on the Cloud, it has internal storage. And yes, you can set it to only sync over WiFi. People have this all wrong, this is a typical 32GB device with enhanced Cloud storage abilities. It's not Cloud or bust. It's also priced similar to other devices with similar internals and you're getting the Cloud storage space to boot. Posted via the Android Central App

The hardware is gorgeous but I've never quite understood the philosophy behind this phone. If I am mobile, I want my stuff with me, music, books, games, etc. Being on the bus, subway, airplane, or riding around in a car is not ideal for sucking down music libraries from the cloud. I hope the battery can handle all the network activity.

You don't even have to use the Cloud feature though. Posted via the Android Central App

2 things.
1. You can set what you do and don't want offloaded to the cloud. Be default it backs up to the cloud over wifi and while plugged in. You can of course change that to whatever you want (ie: backing up on battery thru cellular if you are so inclined). 2. The whole point is it back up things you rarely use....but don't want to delete forever.

Thanks for the perspective. I think the "at night backup / cleanup" idea is compelling. Android should just do that. Looking forward to learning more but I'm running out of space because I want as much music (or general media) with me as possible, so I'm likely not the target audience because I would quickly fill up the 32GB and there would be nothing that could be pushed to save room. If you take a ton of photos, but don't have much music, this will probably work for you as it offloads photos to the cloud, but then if you want to show that cute thing your baby did 2 months ago, you'd theoretically have to re-download it and hope you have coverage.

Oh for sure, all valid points. I would have liked an SD card as well. I'm much more interested in the other potential cloud applications (ie:cloud computing) than just cloud storage. Seems like these guys want to do something different and I am down with that.

So here's one use case I see sinking this device. Let's say you rarely use Microsoft PowerPoint so the phone backs up the 153mb apk to the cloud. You find yourself somewhere without wifi and your boss sends you a PowerPoint deck and he wants you to check for accuracy... now! So you say I'm on it boss and you whip out your Robin just as the email arrives. You go to open the attachment only to discover that PowerPoint isn't installed. No problem, you think, because my trusty Robin backed backed up my configuration so all I have to do is let it download and install the apk. Then suddenly you notice you don't have LTE in your present location and discover it takes 20 minutes download a 153 mb file over a 3G connection. Next thing you know the boss is calling asking if he can go with the numbers in the deck, and you have to explain that you're waiting for an app download because you're a dumb bastard that didn't buy a phone with enough storage to keep all your apps installed. (Note, this exact thing just happened to me last week -- 3G service and all -- when I took a day off and with my LG G3 I was able to respond to my boss immediately. My point here is that when I want to use an app I want it to open now... not a minute from now or longer. I see readers constantly complaining about the least bit of stutter or lag and yet many of those same folks are willing to accept the kind of lag that a download and install would introduce? I just don't get it. The concept is seriously flawed given the present mobile data environment, I think this is as ill-fated as the Fire Phone. ...Joe K.

You can pin apps so they're never uploaded to the cloud. The apps and their data are always on the device. If you use an app for work it'd never get uploaded to the cloud anyway. Only apps that aren't used often get uploaded to the cloud.

Big paragraph question, simple answer: You can "pin" any app so that it is never uploaded and offloaded from your phone. If PowerPoint is that critical to what you do, you'll just keep it pinned. Those other 5-20 apps (and games) you haven't touched in 6 months? Those will be uploaded, saving you local space. Same goes for full-resolution photos and videos that you don't look at often. And remember, you still have a full 32GB of internal storage here. It's not like there's no local storage and you're forced to pull everything from the cloud on demand.

Ok. Or an even simpler answer than pinning apps -- and way more efficient -- is to get a phone with more robust storage options. ... Joe K. Posted via the Android Central App

I mean, that's obvious if you can't deal with 32GB of internal storage. Alot of people can and alot of people are around WiFi constantly. Obviously everyone isn't. Is a PowerPoint file going to cause you overages?? Lol. Let's be real here. Posted via the Android Central App

What, do you work for Nextbrick? You sound like you're on commission. I am being real and you're not stopping to think about what I'm saying. I never said a word about overages. This whole concept of backing up seldom used apps is so you can stretch 32GB of storage to 132GB. Sell phones with minimal storage and when the user runs out of space you offload their stuff to the cloud so they can add more stuff. I say a simpler, more efficient way is to get a phone with more robust storage (preferably an SD card) and you won't have to be bothered with pinning or wifi or latency or whatever else. And as an added bonus, when the company goes belly up and shuts down your 100GB you won't have to worry about what to do with all the stuff you have in their cloud. ... Joe K. Posted via the Android Central App

There are already smartphones like that, that would make the Robin not unique and not competitive (we already have the Moto X Style which is in the same price range, so people would easily chose it over the Robin, One Plus Two - no micro SD card but more robus internal storage, LG G4, HTC One M9, and some others). The big message behind Robin is the intelligent cloud system, that's what sets it apart, like having the ability to offload full apps and saving the data information so you don't lose it when it's back up. I don't think the person has to be a Nextbrick. It's obvious you don't want, like, and or aren't interested in the smartphone. Just don't buy it, it's as simple as that. There's no reason to open up dialogue and try to completely shut everyone down who don't agree with you.

I'm not trying to shut down dialog but I'm also not going to drink the kool-aid. The main differentiator is a flawed concept and that's what I'm trying to point out. I actually think the device looks pretty cool and I like the design. I kinda wish they would offer it without the gimmicky cloud backup and more storage options. Despite the fresh design I unfortunately think it's going to fail once the people get it in their hands, like the Fire Phone. ... Joe K. Posted via the Android Central App

I'm just going to say, reread my first sentence of my last reply. Still the most relevant reply to your points. And no I don't work for them. Lol. Just can't understand why people can't grasp this is a regular 32GB phone with an enhanced Cloud capability. It's not, use the Cloud or bust, like people seem to paint it as. Posted via the Android Central App

I grasp that it's a 32GB phone. I just can't grasp the the flawed cloud gimmick. Go get another cup of kool-aid and talk amongst yourselves,I'll leave it at that. ... Joe K. Posted via the Android Central App

So just because it doesn't work for you, anyone it does work for must be drinking the koolaide? You're drinking the koolaide on your own intelligence level... (If you're gonna dish it, be prepared to take it) Posted via the Android Central App

Wow. That was really uncalled for and juvenile. I don't know why the Kool-aid remark pissed you off so much, or why you can't stand for me to voice my opinion, but you win. You can be king of the thread.

It's a derogatory comment, implying someone can't think for themselves. But no, I'm not pissed. If you think I'm being rude, step back and read what you are typing. I'm merely dishing back what I'm being served. Hey, if it's merely a case of written word coming across wrong, my apologies. Posted via the Android Central App

My guess is that if that is scenario, PowerPoint is probably used fairly often for that person. Also, you can "pin" things so they don't ever go to the cloud.

No, that's not the case at all. I very VERY rarely use PowerPoint on my phone, and that was the whole point of my post. I only installed it for occasional use and It just so happened that I needed it that day. If I were using a Robin I wouldn't have thought to pin it. My whole point is that you never know what app you might need and what the circumstances will be, but I guess it was lost on those of you that replied. I guess we'll see next year. ... Joe K. Posted via the Android Central App

I backed it purely from the "we need more competition, new ideas etc." standpoint. Will it be my daily driver? Who knows. Tired of note 1-35, S 1-52, iphone xyz. New phones some new features deletion of old ones not profitable to include. Cloud storage seems wifi more and more where I go, so why not. Posted via the Android Central App

:like: Posted via the Android Central App

Dig the design aesthetic a lot but wish there were more color choices (much better than moto x IMO) & a dinky 5.2" screen in 2016 ain't cutting it though

Looks really awesome truth be told. Has me intrigued and I kind of want one haha.... Wouldn't mind it being a backup. Posted via the Android Central App

Bah. The REAL breakthrough will be when the apps live in the cloud themselves. You will initiate and interact with the app on the phone, but actual execution occurs in the cloud. You push your actions to the app executing in the cloud, who processes it there and sends the response which your phone renders on the screen. To a degree this is already happening .... there have been virtual apps on platforms like Citrix for years, and now companies are replacing physical PCs with virtual PCs where everything is executing on a remote server that may as well be in Katmandu or something. Then you have the game streaming service with Nvidia, their "Netflix for games" and Razer is also working on having the games executing on a PC but the interaction streams to your Android TV box. The thing about Nvidia GRID ... it isn't just for video games. They are marketing it to corporations to deliver their business software as a service also. Of course, you will need very fast Internet service to make this a reality ... it will pretty much require 5G (which it looks like Verizon will debut in 2017). But when that happens, it will pretty much make these decacore processors (MediaTek created the first; it will be in the Acer Predator phone, so you figure that the Qualcomm 830 will likely have 10 or 12 cores) unnecessary. The apps will be executed in the cloud, so you won't need all that horsepower to run programs locally. Instead, the empasis will be maximizing connection speed and reliability through the LTE radio. There may even need to be a new standard that blows LTE out of the water to make it happen. So these guys shouldn't just give away 100 GB of cloud storage and then contrive ways to justify it. Instead they need to work on creating exclusive software and services that live in the cloud, something like the Adobe Creative Cloud that Google is trying (and mostly failing) to push with Chromebooks. Gaming could be one direction they look at; productivity apps could be another one I suppose. Cloud-based social networking maybe, so the Facebook, Instagram, Whatsapp etc. apps will stop killing your battery and processor? And since they are going to back up all your apps and data anyway, why not just go one step further and create a virtual machine of each phone in the cloud. (So when you buy a phone, you get a real physical phone in your hand and a VM of the phone in the cloud.) The apps would be backed up to the virtual phone, and they could give users the option of letting certain apps execute on the virtual phone in the cloud. Some things, like the asynchronous stuff and background stuff that don't require immediate or fast user interaction could probably be offloaded from the real phone and run on the virtual phone entirely, saving who knows how much CPU and battery. THAT is what Nextbit (and Google) need to focus on. And yes, making smartphones cloud-driven devices would be huge in the war with Apple. Apple doesn't have the infrastructure or expertise to deliver cloud-based phones and it would take them years to develop the ability to. By contrast, Google could use their cloud infrastructure and applications - and can exploit their existing partnerships with Nvidia (who has worked with Google since way back; the SOC in the Motorola Xoom tablet way back in the way was by Nvidia) - to come out with "Nexus Cloud" phone and tablet as early as next year. That is, of course, if Google is ready to stop wasting time and energy messing around with Chrome OS (like 7 million Chromebooks are sold annually; which is probably as many smartphones as Samsung sells in a single day), stop their ridiculous, doomed to fail attempts to compete directly with Apple (because the tech media and American consumers will always have the iPhone first in their hearts and minds) and start the process of kicking Android to the next level and fulfill its actual, original vision of powering cloud-based devices (which by the way was Sun Microsystems' vision way back into the 1990s ... until it got crushed by Microsoft).

WebOS V4? Lol Posted via the Android Central App

I miss my old Palm Pre & webOS so much.

I don't agree with your Apple statement. I am not huge fan of Apple, but as a tech business guy, I can appreciate Apples abilities in business. It is a pretty broad statement to say "Apple doesn't have the infrastructure or expertise to deliver cloud-based phones and it would take them years to develop the ability to." For starters, Apple is already one of the largest music cloud providers in existence with ITunes. Secondly, Apple has one of the fullest cash reserves of any tech company. So to say that this is some opportunity for Google to put Apple down is not true. It is easy for these smaller companies to put focus on one particular cloud service and to make it seem like the bigger companies aren't doing anything in that area. Truth is, Google, Apple, Facebook or any of them could pop up with something tomorrow and you wouldn't even know they had been working on it. Google's Chrome is not a waste of time. It is playing a important role in getting their OS into schools. Again, Google has the resources to do more then a few projects. To say that Chrome is somehow misdirected and preventing them from taking Android to the next level is a naive statement at best. You are obviously a smart guy. I do agree with you that so much more should be done with Android, the integration with the cloud. I just don't agree with your analogy of why it isn't happening as we would like. Small companies like Nexbit do serve one important function, and that is to push the bigger companies in a direction to create products consumers want. Be it Nexbit fails or succeeds, one thing is for sure, the big guys are going to notice what they are doing. The more Nexbits type companies and the more media coverage the better. And should they succeed, that would be awesome too.

Bring on the Cards too ... :-)

I like the design. It is refreshing.
How can Nextbit launch a new phone on a $500,000 goal but Ubuntu needed $32 million for its Edge phone. How much money does Nextibit already have? Even if Ubuntu wanted a totally unique design instead of using an existing OEM base model, Shouldn't the $12 mil that got pledged be enough? And can't Ubuntu raise the rest of the money through other means?

It's like they just raised money for Payroll or something. I dunno... Posted via the Android Central App

They also go $18 million from Google ventures and a mother company ( don't remember the name ). Posted via the Android Central App

Do you think you think the South African market will be seeing these beauties?

I like the look of the phone a lot. It will be interesting to see how battery life is on the phone with the smaller screen size. I will get getting one for sure. I just hate having to wait until early 2016 for it. I believe they are doing the Kickstarter campaign to get an idea of demand for the device to start out with.

Shut up and take my money....

This is a handsome phone, and an interesting one too. I don't know if I'd actually buy one, but my first impression is quite positive.

Wasn't really worthy of making it to the top bar of the news section, more like one of the stories you see when you scroll down.

This is really impressive... I just hope this cell won't hot while using, like other devices ! Posted via the Android Central App

I'm on the phone about this device. I saw the interview they did with TechnoBuffalo and am interested but not 100% sold especially with it being so far out and on kickstarter.
Android Central Newsletter
Get the best of Android Central in in your inbox, every day!
Thank you for signing up to Android Central. You will receive a verification email shortly.
There was a problem. Please refresh the page and try again.