Hands on with AutoMate Beta — Android Auto for your phone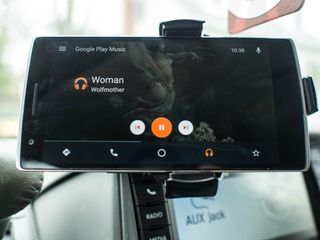 There's no denying how cool Android Auto is. As a concept, it's everything we've wanted out of car stereos since everyone figured out Google Maps was infinitely better than whatever was living on your "infotainment" system. Toss in compatibility with a healthy number of music and podcast apps, a self-imposed limit on notifications while driving and the ability to have text messages read to you while you drive, not to mention plenty of voice controls, and you've got a decent first generation offering. The only problem with Android Auto for most folks is the price. It doesn't matter who you are, $700 as the "low end" for Android Auto devices that aren't included in your vehicle is a tough pill to swallow, and that's assuming you don't also need to pay to have it installed.
If you're looking to check out something that looks and feels an awful lot like Android Auto without spending the money, and you don't mind beta-testing or offering feedback based on your use, there's an app being developed right now to scratch that particular itch. It's called AutoMate, and there's already a lot to like in this app.
A fairly constant question asked in comments and throughout the forums here at AC is whether or not Android Auto is really more useful than a Bluetooth connection to your existing stereo. It's a valid question, especially since all of the Android Auto apps live on your phone already and adding Bluetooth to your existing stereo is significantly less expensive than replacing the entire thing. For the most part, our answers take into careful consideration how useful the car-friendly UI in Android Auto is. Since AutoMate uses a lot of those same interfaces, and Aukey was kind enough to send over a Bluetooth 4.0 stereo adapter (opens in new tab), a full car demo to see how functional this app really is.
The AutoMate UI is basically Android Auto with some extra features bolted on. You can use this interface in landscape or portrait, which is great if you're using this interface on a phone. If you've got a tablet with mobile data, however, landscape is where its at. The home panel offers a GPS-based speedometer and Yahoo Weather cards, and will float new cards based on whatever activity you are currently in on the other menu listings, like music and navigation. Since everything in this instance is playing through the Aukey adapter, all of the audio for turn by turn navigation and music plays right through the stereo.
Not everything is exactly Android Auto, however, and that's to be expected. The dialer isn't set up the same way currently, voice commands aren't quite the same for calls and media playback, and every once in a while notifications from apps like Hangouts slip into the app through the immersive mode drop down, which isn't great for a car experience. There's a separate settings panel for app-specific brightness and audio controls, as well as the ability to turn off immersive mode and let your on-screen buttons stay on the interface, but for the most part the experience feels a lot like Android Auto.
Being an unfinished beta, there's some fairly serious bugs right now. The GPS tab takes forever to locate an address if it manages to successfully locate at all, the music tab has to leave the app in order to activate Play Music, leaving you to manually go back to the AutoMate app, and the cards in the home panel most of the time don't do anything when you tap on them. It's pretty far from complete, but it's also quite impressive that the app has gotten this far in such a short time. It's hard to recommend something so unfinished and crashy as an app to use in your car while driving, but it's also not hard to see this app being an excellent tool for a lot of drivers before too long.
Join the AutoMate for Android Beta Community to participate!
Russell is a Contributing Editor at Android Central. He's a former server admin who has been using Android since the HTC G1, and quite literally wrote the book on Android tablets. You can usually find him chasing the next tech trend, much to the pain of his wallet. Find him on Facebook and Twitter
What's the car dock you're using in the images?

Came here to ask this as well. I have an OPO, so I'm definitely looking for a good car dock for it.

i think its the number 2 in the article below http://www.androidcentral.com/tech-makes-wireless-charging-car-cool

Hey I'm using beta right now. I understand it's not perfect and there are some bugs, but I have the issue that I can't clear the missed calls on the main screen. Am I missing something?

No, you aren't missing anything. You can't swipe away things yet.

I didn't see it in the article or maybe I just missed it. Can you use your existing Bluetooth with this app, or do you need there attachment? Posted via the Android Central App

You can use your own BT. I have a cheap $10 USB BT adapter, and it works fine with my Moto X.

Sorry if I wasn't clear, I didn't have BT in my car so I'm using this Aukey. Any BT, including something baked into the car, will be fine.

Do you have the url so it can be downloaded? I tried on the google+ page but it says url not found within the play store.

Gotta follow the community instructions to gain access to the beta.

Google automate apk and select 0.1.2

I realize these head units are expensive but there is already a huge market for 3rd party and after market caraudio. This is what these units have always cost. Now they do everything they used to do AND they have android auto and apple car play. We will see allot of people with these in the coming years. Posted via the Android Central App

I prefer using car dashdroid over auto mate, however looks nice

If I'm using something while driving I'd rather it not be associated with the phrase "crashy" Posted via Android Central App

Si tengo un radio con Bluetooth integrado no necesito el Bluetooth 4.0 stereo adapter?

Nice Article. I'm also testing the app since 3 days. So far it's great, for being in beta.
Question regarding GPS: have you tried other nav apps? Because i'm also using an OPO and it takes forever getting the GPS signal no matter what app i'm using. Apparently that's a CM11 problem?!? I've tried Navigon, Here, Google Maps and Navmii. Always takes 10+ minutes to get the signal... Posted via the Android Central App

holy crap! That would pretty much render the phone useless for me in regards to navigation. Not good.

I use a Kenu Airframe for my holder - perfect and minimal Posted via the Android Central App

hello fellow loot crater :)

Putting this on my Nexus 7 and playing with until someone releases a compelling head unit I can put in my '09 Civic Si. But this article alone is a pretty good indication as to why Google doesn't release AA for your phone or tablet: control, legal issues, safety. Google wants complete control over AA, and the only way to do that is by allowing it only on infotainment systems already designed for use in the car.

This is what I'm doing. Tasker + NFC + wifi tethering + bluetooth = Nexus 7 head unit. Thinking about trying to fashion a way to slap a wireless charging puck into my dash mount.

I've spent about 20 minutes with this app, and I'm enjoying this app. I reserve my right to change my mind as the app gets updates. #nexus6 Posted via the Android Central App

Just jumped on to Android from Windows Phone. One thing I do miss from my Windows Phone is how all my text messages are read out loud while I'm driving and I'm I able to respond to it with voice. On my Moto E I have yet to find a way to duplicate this. Windows Phone has Driving Mode where it will not distract you with app notifications while you're driving and you can choose to also ignore phone calls and text messages if you wish. It automatically turns on Driving Mode when it detects your Bluetooth connection to your car. I wish I could find an app similar to this for my Moto E. It's the one major thing, besides deep app pinning, that I miss from Windows Phone.

I get all of those features you mentioned with my Moto X (2014). I guess they aren't available on the Moto E? I thought they had similar "Moto" features...

I think Agent is what you're looking for: https://www.androidcentral.com/e?link=https2F2F...

I second this, Agent is great Posted via the Android Central App

I like the design of this app. It probably won't tear me away from Car Home Ultra until some of the bugs are worked out.

I use Car Home Ultra. Great App.

I have not tried this out yet - I was hoping to use the Nexus 7 as the screen as the "head unit" tying it into the cars bluetooth but using the network via the phone.. guessing this is not there yet..

App looks great! Just wish there was a way to connect phone to a tablet (Plug, wifi, BT...) without needing to use different interfaces

I want a car mount with a good app that recognizes a NFC switch which then in turns activates "AutoMode" (sounds very transformers-y) which consists of activating BT (if your car has it), and has a built in Qi charger so it is always charging my phone as well. Even (Password lockable) setting like automatically turning Text messages off/silent/unable to respond/etc, while in Auto mode for teenagers (or wives) would be great. This way the device can just be put in the mount and it does the rest. Removed from the mount and it returns to phone/tablet mode.

how I connect my iPhone 6 with this app
Android Central Newsletter
Get the best of Android Central in in your inbox, every day!
Thank you for signing up to Android Central. You will receive a verification email shortly.
There was a problem. Please refresh the page and try again.