Google's new 'My Android' site suggests wallpapers, icon packs and more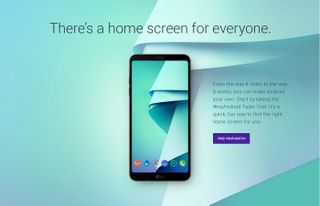 Android is all about customization, and there are so many ways to tweak the look of your phone that it's impossible for it to look exactly the same as someone else's. Google is hoping to foster this customizing spirit with its new "My Android" site, specifically launching a "Taste Test" system that asks you a bunch of questions and suggests wallpapers, icon packs, launchers, widgets and keyboards that fit your style.
Just go to the My Android Taste Test page to get started. The page will ask you a handful of questions that you're supposed to answer in quick succession to get your impulse thoughts. Google then takes all of your answers in aggregate and suggests a group of apps and theme components that not only fit your style, but work together as well.
Even though Android is immensely customizable, there is an issue with discovery that makes it hard to find all of the pieces that work together. It's why we regularly talk about themes, wallpapers and icon packs — and it's excellent to see Google itself taking on the theme world by suggesting components to get you started.
So go take a look at the My Android page from Google and see what it can come up with for you!
Get the Android Central Newsletter
Instant access to breaking news, the hottest reviews, great deals and helpful tips.
Andrew was an Executive Editor, U.S. at Android Central between 2012 and 2020.
They must see that this simple feature is greatly appreciated by Samsung users. Samsung beat Google to the punch w/the proper release of themes. Samsung has been doing well w/apps lately. If they could get some apps I would say they were ready

If the TW launcher had close to the features that Nova had I'd use the Samsung Themes on my Galaxy S6.

Oh look, a new way to advertise their Gboard..

Better than every other crappy keyboard. Also, nothing wrong in marketing their own products. People are better off using great Google stuff than the crap that OEMs put. Anyway there is choice if people want to use the subpar apps.

Yes I love Google's own apps to any OEM replica... And they get updates from the store and not via system update like OEM's do...

I've grown quite fond of the BlackBerry keyboard myself. Probably because I can swipe back from anywhere to delete a word. On Gboard, it takes more finesse to delete just one word..

Agreed a great keyboard the BlackBerry keyboard is.

Whats the wallpaper on the phone in the article?

So many click click clicks..... Gave up

It's 20 questions, probably less. What else do you have going on Saturday afternoon?

Is it the new s8 wallpaper

It's one of the default wallpapers on the Galaxy Note 5

Really? I don't have that on my Note 5. 🤔

Probably came/went with a software update.

There are too many questions, half way through I started to think I was being trolled by an infinite loop. And the sandwich was cut wrong in both pictures!

Took test. Was presented with 3 options but now way to download anything.

Scroll down each one had download links..
Kinfa dumb though it said download through zedge and opened my app but didn't direct me to the wallpaper

The page is buggy. At the end it might or might not display the download links. Or they might appear in disorder.
Any way, it points to the Zedge app for wallpapers but no way of finding the specific wallpaper they suggest. So that is useless.
Same with the icon packs. They suggest to download the Delta Icon Pack app but don't specify which icons are the ones they suggest, so now I would have to browse through dozens of icons to see if I find the ones I want.

I went with my instincts and didn't try to over think my choices but was very disappointed with the suggested themes. Guess I will stick with my own wallpapers and layouts.

I was also disappointed with the everything they suggested except the Gboard.

I really like this idea. I'm going to try it out.

I put a new launcher on because of this. Usually, I don't care to change things but I like it.

Agree with Edwin... took the test only to be disappointed they didn't give the NAME of the wallpaper or other suggestions... only links to the apps. Do you know how many "abstract green & blue" wallpapers they have? Ha, I did download a few I liked but never did find the one they suggested!

My results were terrible.. But I like the idea

Interesting and maybe useful for a newbie but..
It taught me that I'm much better at theming my phone for my tastes than Google..

I just did the my android thing as shown in the article... Don't waste your time, nothing it suggested was to my taste

Use nova launcher premium and play around, I have a different phone every week by tweaking this and that.

Ended up finding a new launcher thanks to this site. It's called "Evie Lancher". I love it.

I just get an error message:
[[ ctrl.content.headline ]]

People complaining about the "unending" questions, did you not notice there's a progress bar at the top of the page? It was a lot of questions, but if there weren't the final suggestions would be much less accurate.

It told this Florida boy that I want a picture of the grand canyon for a background. Um, no

Frusteratingly elusive results that are impossible to find seems to be a common theme in the thread here and that I've experienced as well. The site suggested a wallpaper that wasn't in the app it told me to download and the icon pack and launcher they recommended were not comparable with each other. This is the problem with android. Too many choices drive you to a obsessive compulsive disorder that can never be satisfied. 🙄

It actually suggested the same launcher and almost identical icons I was using anyway. Don't care for wallpaper as I have it randomly changed from 500px, every two hours.
Good algorithm.

They got the launcher right - I'm using Nova - but the rest was all just plain awful. Though considering Google has no taste in design whatsoever, it didn't surprise me.

Would be great if the page worked, all I get is ...
[[ ctrl.content.headline ]]
[[ ctrl.content.description ]]
[[ CTRL.CONTENT.CTA ]]
whatever that is ha.

Same for me on Opera. But worked on Chrome.

Disable your ad blocker. I got the same thing, but as soon as I disabled uBlock for the site, it showed correctly and the button worked.

This worked. Thank you very much!

I just got the weird button labels described by others above. No questions, no progress bar, nothing ....

I took the survey 3 times and got the same exam results just rearranged on the 3 choices of layout. Same 3 launchers, icons and wallpaper.