Google's 'Android Garden' at MWC: A place to hang out, have a smoothie and Androidify yourself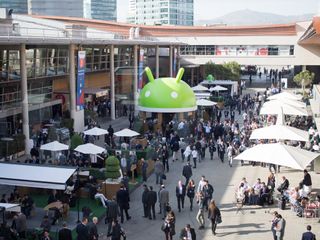 Trade shows like MWC are hard on people. They involve miles upon miles of walking every day, big crowds, questionable food, little rest and lots of monotony on the show floor. At the same time, by design, you're constantly being sold on something everywhere you turn. Trade shows are work, for sure. And while we love covering all of the new products, sometimes you just want a place to relax and unwind for a minute during the hectic days wandering the halls.
Enter Google's Android Garden: A place for you to relax, recharge and let Google show you just how cool Android is.
It's hard to go to a technology trade show that Google isn't involved in. Whether it's CES, MWC, Computex, IFA or a smaller show, Android is there — and though Google doesn't always have a huge booth space, you can bet your bottom dollar that there are Google representatives walking amongst the masses. MWC 2016 was different — Google had a presence that was impossible to miss if you were at the show for more than 15 minutes.
The Fira Barcelona Gran Via is a really great convention center. That's for a multitude of reasons, but one of the biggest is that it's not completely closed off — there are outdoor areas where you can get some fresh air and sunshine, breaking away from the show. This year, Google commandeered the entire outdoor area at the Fira between two major halls and turned it into what it calls the "Android Garden."
No, this garden didn't have any walls — it turned into one of the best places to relax during a hectic show ... and at the same time get the subtle hint that Google wants you to think Android is really cool.
The Android Garden ran the entire width of the Fira as a continuous 25-foot wide pop-up park of sorts, complete with an astroturf flooring, live shrubs, sculptures, park benches and cafe tables (with warm blankets if you're sitting in the shade). Pop music was playing on the speakers, and everything was open for anyone to spend time in — no restrictions, qualifications or sales pitches.
Head over to the giant Android-shaped and completely-free smoothie bar to pick up one of the day's clever creations (I was fond of "Marshmallow Madness") along with a powerful high five from the friendly person making the smoothies. Once you've picked a flavor you can also grab a Google Play Music card offering two months free for attendees. Pick a spot to sit down at a table with colleagues to work or pull up a bench solo and charge your phone with available micro-USB or USB-C cables (sorry, no Lightning here).
One of the main attractions bringing folks into the Android Garden at first was the Androidify area. Here you could pull up to one of eight stations and create an Android character of yourself — the same as you can in the Androidify app (opens in new tab) — and have it printed off a couple minutes later. The prints were sized perfectly to fit in a replacement conference badge holder, available for pickup when you received your print, so you could proudly display your Androidify character along with your MWC badge for the duration of the show.
If you happened to have a half-hour or so to spare you could queue up at the other end of the Android Garden to have your Androidify character printed onto a stainless steel water bottle, too — a nice functional gift that you're like to hold onto after the show is over.
The badge holder also had a new bright green lanyard dotted with Android logos — perfect for displaying the Android pins you were encouraged to collect throughout the week, which came from Android-related vendors around the convention center. Every participating company that was related to Android had a small location at their booth with an Android robot and a unique pin for the company — and with dozens of different pins out there, it turned into a neat nerd scavenger hunt.
Google has done the Android pins at shows before, but the addition of the personalized Androidify characters and badge holders was absolute genius. As the show went on it was clear who had made their way out to the Android Garden, as their bright green lanyard stood out in the sea of red ones provided by MWC.
The perfect example of a soft sell
The Android Garden area at MWC is the perfect representation of Google's marketing strategy for Android — an incredibly soft sales pitch for something they don't actually sell at all in the end.
Whether it's the cute and friendly Androidify characters, the well-received "Be together, not the same" ad campaign or just a place for journalists and sales reps alike to slow down for a minute at a trade show, Google just wants you to associate positive feelings with the Android brand — even if you don't learn anything about Android itself in the process. It's a brilliant move, and Google is executing it masterfully.
Re-live all of our coverage from MWC 2016!
Andrew was an Executive Editor, U.S. at Android Central between 2012 and 2020.
Was the whole garden a wireless charging mat, that would be sick Posted from my Nexus 6/Nexus 7 2013/Surface Pro 3

Sounds like the ghost of Thomas Edison lives on.

That would be more Nikoka Tesla. Edison was a dirtybitch. Posted via the Android Central App

+1, Edison was a hack. Posted via the Android Central App

I'd totally travel to an Android Land or Android World. Posted via TCP/IP

There would be open source Nerds and neckbeards everywhere lol. Posted from my Nexus 6/Nexus 7 2013/Surface Pro 3

I need some of that Android shwag... Posted via the Android Central App

Yup, this is how to do branding right (looking at you HTC)

It's almost like a small Android version of Disney World! Moto X 2014 XT1095
Nvidia Shield Tablet K1

A smoothie? Bloody hell....you gotta be a hipster posted with nokia 3310

It's just a shake. Chill. With a smoothie. Posted via the Android Central App

As far as im aware, there is absolutely zero correlation with drinking fruit smoothies and being a hipster. Not sure of the linkage, other than most people have just lost any sort of definition of what a "hipster" is. Posted via the Android Central App

I think calling people out for being a hipster is actually a hipster thing. Posted via the Android Central App

Looks like lots of fun, shame it's so far from here (Australia)...
Android Central Newsletter
Get the best of Android Central in in your inbox, every day!
Thank you for signing up to Android Central. You will receive a verification email shortly.
There was a problem. Please refresh the page and try again.