Google wants a $50 entry point for Project Ara devices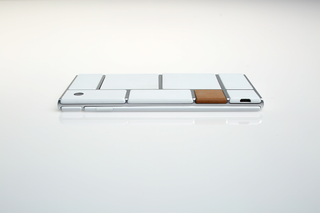 Even the price is modular, and it starts small
Project Ara is in the news today because of the big developers conference planned for April, but maybe the best news so far is Google's target price for the entry-level unit — $50.
Dubbed a "grayphone" the unit is pretty barebones. You have the touchscreen, a Wifi module, and the internals to run them both. Nothing more, but how much more can you expect for a measly $50?
Former DARPA director and current head of Google ATAP (Advanced Technology and Projects) group Regina Dugan and team have bold plans after the sale, as well. They want specialized kiosks where customers can purchase and customize their grayphones, complete with the tooling to add the needed modules.
While the goal of a $50 device may be unobtainable in the long run, Google is focused on making the product a great way to get another five billion people on the Internet instead of making the product profitable. Look for a working prototype soon, and there's talk of the retail version hitting the market in early 2015.
Source: Time
Jerry is an amateur woodworker and struggling shade tree mechanic. There's nothing he can't take apart, but many things he can't reassemble. You'll find him writing and speaking his loud opinion on Android Central and occasionally on Twitter.
Awesome. If this is what they are planning to replace nexus with I'm all for it. -------------------------------------------------------
Sent from inside a cave. Yes, T-Mobile covers caves. N5

+1 Spend money on what you like in a phone (screen, processor) save on the things you don't (camera). Best part is? even if your preferences aren't the same has mine, you can save on what you don't like! Can't wait for this.

Yep. -------------------------------------------------------
Sent from inside a cave. Yes, T-Mobile covers caves. N5

What i dont get is, who doesnt want a camera?? how else are you supposed to Snapchat inappropriate pics to your girlfriend/neighbor/mom??

Thank you, I thought I was the only one SMH. "How'd you get the beans above the frank?"

I'd be fine with a 5 mp rear facing camera and a 1.2 MP front facing. I have a DSLR, and only use the phone for occasional things like shooting the name of a switch in a network closet or scanning a barcode.

I want one, imagine being able to replace your CPU , GPU, camera, screen, Ram & soooo on as new chips are released Posted via Android Central App

I could go for something like this.

I'm more excited for this then glass. -------------------------------------------------------
Sent from inside a cave. Yes, T-Mobile covers caves. N5

+1 Posted via my oldie but goodie Nexii 4 using the Android Central App

Same here..especially if a new processor comes out that you would like to use but love everything else you have you don't need to buy a whole new phone. Better yet this will help environmentally as well. Basically like a computer upgrade this or that eventually you'll need a new master module entirely but shouldn't be no where near as much as we go through phones now. Posted via Android Central App

Sorry, I can't resist this... They'll provide connects for every conceivable function, but prohibit modules containing SD card slots!

If they do it right you can pick your own storage and upgrade it whenever you want - you won't need a microSD slot. But of course people will still complain about not having one. Posted via my G Pad which is much better than some silly Nexus

People are still going to complain about not having them because they make customizing, managing your files, and switching phones a whole lot easier no matter how much space is on your phone. They might not as necessary now as they were a couple years ago but they are still pretty convenient to have. Posted via Android Central App

Those who want the convenience can buy the Ara Media Importer hardware module.

+1.. I miss having an sd card..

Hey, maybe those few that need 128GB (for whatever reason) will finally have the option to pay for it (then complain that the module costs too much, ha ha)

128? Hell, I'd settle for 64.

Customize your phone for your needs. It may be ugly but maybe there'll be cases for that! I like the idea though. Posted via Android Central App

Ugly? Really? -------------------------------------------------------
Sent from inside a cave. Yes, T-Mobile covers caves. N5

There hasn't even been a prototype built yet but you already know it's ugly? Posted via my G Pad which is much better than some silly Nexus

Based off the renderings it is ugly to me, yes. Posted via Android Central App

I actually like the looks of it, especially the one pictured at the top of the article. Its different and very...um...modular, but I think there's definitely something appealing about it. Maybe just because its different from all the other rounded rectangles out there.

Love it! Can't wait to be able to upgrade my phone piece by piece as I see fit. Posted via Android Central App

It's all nice and everything, I just don't believe ETA for beginning of next year. We will be lucky if it gets done in next 2 years.

Ara and Phonebloks have been in development for quite a while. For all we know, the whole backend infrastructure is almost done. Obviously I could be wrong, but hey, it's possible!

The Nexus 5 will last me for a while, but this is great way to get a new phone IMO. Get parts you care about and not the useless ones you don't. Fantastic idea.

If its on Verizon I definitely would give it a try depending on price.

Now in the malls instead of phone case stands, you'll have stands selling all the different parts for these phones.

If anyone can make this happen, it's Google. Posted via Android Central App on my Ebony backed Moto X

Who will handle OS updates?
You know what would be cool? If every manufacturer made a ROM for it. That's be cool

Yes. And you could swap out Roms or oses -------------------------------------------------------
Sent from inside a cave. Yes, T-Mobile covers caves. N5

What if I drop my phone? You know how batteries explode from your phone when you drop it?

Nothing will happen, it has locking mechanism.

You'll break your screen and scuff your case. I don't suggest it.

This will come to Verizon, but all of the modules will be pre-installed and will be permanently glued in place so you can't add anything that might threaten the integrity of the network. (I refuse to make a Verizon logo joke....but we know that all the Verizon modules will have one).

a module wired permanently to the circuit board that is packed to the gills of bloatware! ha! VZW lg g2

And only has 3 GB of the 128 available. -------------------------------------------------------
Sent from inside a cave. Yes, T-Mobile covers caves. N5

It will have huge Verizon logos and all the pieces will be bright red and have 4g LTE on them as well. -------------------------------------------------------
Sent from inside a cave. Yes, T-Mobile covers caves. N5

Ha. Can you imagine if instead of one huge logo, Verizon branded each individual module in different sizes depending on how big the module is? You could potential end up with 8+ Verizon logos, and that's just the back.

or maybe it could be a puzzle, so you have to put them in order to get one big logo

But as some people have said, it can either be a huge success or a failure. Depending on how they present this to the common markets, i can see this being the most revolutionary device so far this decade.

My question is is that there is a base for this like a am2 processor doesn't support ddr3 unless you upgrade that which entails a whole new motherboard. Hopefully the base will be upgradeable for awhile since that will probably be the most expensive part. Posted via Android Central App

I'm just worried about people stealing my CPU, 64gb module, or camera module. That would stuck.

Wouldn't be any easier than stealing your whole phone. Less expensive to replace too. Posted via Android Central App

Good for you, Google. Way to stand up for the little guy. One more reason for me to live/love you. (Although we both know it's only to get another 5 billion people to view your ads once you've taken over the world. But I'll be dust and will enjoy and continue to contribute to what you are now.) Posted via Android Central App

Google is life. -------------------------------------------------------
Sent from inside a cave. Yes, T-Mobile covers caves. N5

Google is all. Posted via Android Central App

http://vividroid.com/sandisk-ultra-128-gb-microsdxc-big-sale-for-119-99/
SanDisk Ultra 128 GB microSDXC – Big sale for $119.99

Its good news we will finally be able to ditch fancy cameras and NFC / finger print scanners act for a bigger battery like people have been wanting for the last 3 years. Cramming NFC and other tech that's not picked up well if fine but phones are getting bigger screens and the battery's are getting smaller.

What a concept... I've been interested in this ever since I saw the Phonebloks video. If anyone can make this a success, it's Google. Posted via Android Central App

I am down for this to pay £700
oh such a great thing
my own choice of CPU, RAM, Camera and rooting will be a bigger thing than before.

Don't they put nfc in the battery? Or is that just Samsung? Either way I don't think a small chip will really give you that much more space to work with. Posted via Android Central App

Could you get one of a bigger size I wonder? I'd love a 4.7" beast running Windows Phone. Could stick a meaty camera in there etc and say like 128GB storage space. Credit to Google for this! Posted via Android Central App

Google should call it the Hershey phone.
http://tinyurl.com/k3eeh26

This will never work. There is no standardized driver system on Android to accomodate this.

So because one doesn't exist now then a multi billion dollar tech firm couldn't possibly create one for a year from now? Posted via Android Central App

Having drivers and firmware built into the modules would allow for the phone to keep pure Google OS and firmware updates provided via the module manufacture instead of carriers. (or cooked firmware for those of us who like to play)

It won't take long will someone starts offering combination modules. It would be nice having wifi, BT, NFC, accelerometer/gyro built into one of the smaller slots. Also won't be long before someone starts offering thicker modules with more storage, battery, speaker, improved camera and the such foe those willing to carry the bulk. And there's no reason you couldn't swap out moduals for thinner ones or grab you narrower chassis/shorter for a night out where you need to carry it in you pocket.

I remember wondering how good the phone would run after putting all of the pieces together like a puzzle. Wouldn't certain "blocks" interfere with other blocks (like the processor for example) if they're not in the right place? Posted via Android Central App

OK, now for the question everyone wants answered; Jerry, what have you been doing with the boss 6 time zones away? Leaving early, right? Oh, could you post a real picture of yourself: your avatar is scaring my grandkids. ;-)

Oh that's what he really looks like. Man has never shaved in his life.

Looks like it could have two camera spots, 3D maybe?

Huh I wonder how the radioband will work with this project. Would that be included in the module with specific radioband for the carrier?

I would buy into this just for kicks!

Google wants to rule the world and this how they'll do it. (Evil laugh) Ha Ha Ha Ha!!! I am all for it. 4k screen, octa-core processor, 10 Mg pix camera, 128 GB of storage (take a lot of photos) and 6 gb Ram.

When this thing gets more popular, I'm creating the ultimate phone.

The only way I can see this being remotely possible is if it is far more limited than they are leading us to believe. I don't see it as simple as popping off your Snapdragon 800 and popping in the 900. Those chips have integrated radios, which need antennas, which change. The issues with bad cameras on nexus phone isn't the hardware, it's software. Google doesn't license out expensive software for a nexus. And it couldn't go in AOSP anyway. Batteries usually take up the majority of the back of a phone, which kills the concept render right there. It would have to snap over the back or something.

What a wonderful idea! njo¡!

If those damn kids in China weren't demanding 75 cents an hour to build these things, you could probably make them even cheaper.

I want to see a strong 3rd party module business spring up around this.

Am I the only one here who thinks this will never catch on. I personally would love this. But almost everyone I know, (high-end or low-end device) doesn't even know what processor their phone has. Heck most don't know the difference between ROM & RAM. They certainly wouldn't want to build their own when you can just buy something ready to go.

This is why I love Google!!! This is clearly not for the tech morons! See, you can be a major company and not sell out, they haven't forgotten about us geeks... The ones who build the ecosystem of software... Forget about us, and we'll forget about you! Google takes care of their geeks no matter what! Samsung should take a page out of their book. I'm just waiting for someone to call me an idiot, and try to explain how Samsung is king... Let's not forget who Samsung's Daddy is... Nexogen

nice idea still.i will give it 2-3 years before there is anything realy usable actualy for sale.
others are working on the same idea as well,but google will probably buy them if they start doing better than ara do.
Android Central Newsletter
Get the best of Android Central in in your inbox, every day!
Thank you for signing up to Android Central. You will receive a verification email shortly.
There was a problem. Please refresh the page and try again.