Google Voice adds transparency to international calls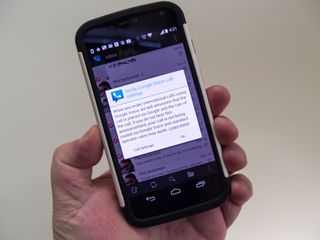 Google has just pushed out an update to Google Voice on the Play store. At the moment, it appears that the change log for the app hasn't been updated but a quick glance reveals that Google is making international calling a little more transparent. With the update, if you call an international number, Google Voice will alert you of the international calling rate.
In the past, customers may think that they are making international calls through Google Voice rather than their local phone carrier. To avoid this confusion, now if international calls are made by Google Voice, you'll hear from Google that the call is routed through Google Voice and the per minute rate charge. If not, then calls may be routed through your local carrier and you may be assessed a higher international toll rate.
If you're a Google Voice user, have you seen this update? Anything new or different about your Google Voice experience since the update? Be sure to sound off on the comments.
Thanks, Ben, for the news tip.
Get the Android Central Newsletter
Instant access to breaking news, the hottest reviews, great deals and helpful tips.
May not be good news for the rumored integration into Hangouts at I/O if they are releasing a minor update now to the Voice app. If the app was being end of lifed in a month then why would they bother working on it?

Meh. It's not like they'll need to toss all the GV backend code.

Wouldn't bother me. Integrating an app means we probably lose previous functionality in some way. It always happens. Those of use who don't use hangout have no reason to want the two integrated.

Maybe Google just wants to "beta" test it in Google Voice before rolling it into rumored Hangouts+GVoice

well hangouts had text support for a while before it fully replaced the messenger app maybe they wanna make sure its a fully capable substitute before they axe it off completely

I've uses G-Voice in the past and always had a "female operator" tell me the rate of the call I was making. Nothing new for me here. Posted via Android Central App

Agreed
Posted via Android Central App
BTW doesn't kill my hope of integration

Yeah, I've always had the notification as well.

Same. I use GV once a week.

is it a ton cheaper than making a call using your local carrier? if so i need to download this asap because my last bill was outrageous calling people overseas

It's definitely much cheaper than using AT&T. https://www.google.com/voice/rates

wow thanks, that is good. and yep, im on at&t and its been killing me. and at the bottom is says 1 cents from everywhere else. does that only apply to when someone from say south america for example calls you? or is it both ways?(you call them and vice versa)

Yes, its rates are really competitive, and calling Canada is free. Posted via Android Central App

It's even cheaper if you use Hangouts.

Nothing to see here, move along, move along.

If only Google Voice was available in Canada!

It says more short codes added and bug fixes in addition to the call announcing thing in the change log now. Every time I see a hangouts or gv update I get excited, but then always let down...

This has been in effect since at least last Friday. At that time I made an international call on my S4 and after dialing, Google Voice stated a) GV was handling the call and b) the cost per minute.
I did not see any pop up and hope we won't be bothered with that. . .GV works well for me as is. Don't need any G+ or hangout diversions. In the past, all I heard was the voice stating the cost per minute. . .

Not sure if anything is cheaper than Skype.. It's literally pennies per min to call all over the world - to land lines or mobile. It's all I use when I need to make international calls (which is very rare) Nexus 4 - CM10.1.3

Just curious but how come the app is available in the UK but the Google Voice service is United States only. Am I missing something? (Galaxy Note 3) Posted via Android Central App

Seems pretty cool.
Posted via Android Central App

can i use GV to receive calls on my Wifi Tablet (N3 2013)? my GV number is not attached to any phone number, so everytime i want to make a call, i have to use a PC, go to Gmail inbox, then make the call. I would love to receive and make calls using GV app on my tablet. Thanks.

For me, google voice allways announced the rate at the beginning of a call for years now. They just recently added the routed through google thing. But that also was before this update... Not dure what the update is doing, but none of these touted things. Already wete thete for a while. Posted via Android Central App

I've called internationally before and always heard the rate per minute - I don't understand how this is new.