Google+ update lets friends see your +1's, here's how to hide your +1 history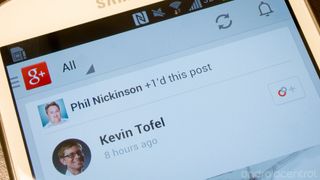 The latest update to the Google+ Android app doesn't have the most exciting changelog, but the one feature it adds is a user-facing one that brings up a larger question of the service. With the latest version, the Google+ app will now show content in your "stream" that wasn't shared directly by someone in your circles, but instead was +1'd by someone. In reverse, this means that things you +1 on your own will be shown to your friends as well, assuming you keep the default +1 settings.
Now this is far from a privacy alarm -- you have these people in circles and use Google+ for a reason -- but rather something that needs to be kept in mind. When there's an app update to specifically highlight this new content type, it's important to focus on. Stick with us quickly after the break to see how to change your settings.
By default, Google+ assumes that you're willing to share posts and items that you +1 with Google itself (for advertising purposes) but also with your "friends" circled on the service. If in light of this new +1'd content being shown on Google+ you would like to change the settings for what is shown to friends on Google+, follow these (unfortunately difficult) instructions.
From the Google+ homepage on the web, slide your mouse to the left edge to reveal the slide-in panel, and click on "settings" at the bottom. Scroll about half way down the page to "Apps & activities", and click on the "Manage apps & activities" button. There will be three tabs at the top of the page -- click the one labeled "Google" and click the "edit" hyperlink under "Visible to". You'll see the box displayed above, explaining what the setting does and giving an option to ratchet down the visibility of your +1's all the way to "Only you" if you'd like complete "privacy" from sharing with your friends.
Presumably if you select the "Only you" option here, none of your +1's on Google+ will be available to be shared with friends, and therefore will not show up in their stream with this latest Google+ app update. If you'd like to obscure your +1 activity further, also consider going back to the main settings (first step above) and un-checking the "+1" box under "Profile", which turns off whether or not they are viewable on your Google+ profile, regardless of your sharing preferences. Additionally, under the "Google +1" heading in the settings, you can edit whether or not to have +1 buttons on non-Google sites personalized with your likeness to friends, and vice versa.
Given the default settings and how unfortunately difficult it is to change them, you can see what +1 preferences Google would prefer you use. But not everyone wants to be 100-percent "out there" on Google+, and it's good to know that these settings can be tweaked -- not just "on" or "off" -- to your comfort level.
In the end, let's all remember that no matter what you think you have your settings set to, if you put it on the internet, you might as well assume that it's publicly accessible. It's a good rule to live by that may save you some headaches later.
Get the Android Central Newsletter
Instant access to breaking news, the hottest reviews, great deals and helpful tips.
Andrew was an Executive Editor, U.S. at Android Central between 2012 and 2020.
Will they still see that I've +1'd it, and it just won't show up in everyone's stream? Or does it make it completely hidden? People have been using +1 as the equivalent to Facebook's "like" and now it seems as though that's not at ALL what Google has in mind. I have friends who are upset. I'm not using G+ much so I don't really know, to be honest.

I thought it always did this. I always see apps that says "So and so you know +1 this" Or, maybe I'm just misunderstanding the extent at which it advertises you "like" something. Either way, I've always assumed they were public...it seems to kind of be the point.

They were public, but they weren't in your stream. You actually had to go to a person's profile page to see their +1s (or use the API, as the Play Store does).

Location services still doesn't work. Bring back Latitude Posted via Android Central App

between G+ and Facebook you really have to be vigilant to keep your shit private. they keep changing shit making things public by default and make you drill down deep for these arcane settings. very annoying.

Yeah like automatic photo uploads. But Google is really forcing Google + down everyones throats, you already have to have a Google + account to use Hangouts.

This is just a stupid addition and should have never been put on google+ to begin with. It's always one thing I've hated about Facebook. Posted via Android Central App

+1 Posted via Android Central App

What about hiding the crap that your friends +1? I don't know if I'm just missing that one somewhere...

I also want to hide others +1's. I don't want to see anything in my stream except for what I select.

Or just open the G+ app go to settings, click on sharing click +1s from posts and select your sharing. Posted via Android Central App

Cheers for the info, that seems a lot easier. Posted via Android Central App

what is the point of this. If you don't want people to see what you have +1'd why did you do it in t he first place.

Because a lot of people don't want everyone in the world to see everything they do. Shocking I know...

Also it can be a private list just for yourself, sort of like a temporary bookmark at the click of a button. You can privately access your list whenever you want.