Google Play launches summer sale with discounted app subscriptions, $0.99 movie rentals and more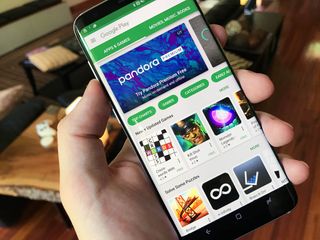 Google Play is launching its first-ever storewide sale for the summer, with wide-reaching discounts on all kinds of items for the next two weeks. The deals are broken into two categories: apps, games, books and music deals running through July 6, and deals on movies and TV shows running through July 13.
Here's how the deals break down for apps, games, books and music from June 29 to July 6:
And for the longer-running deals on movies and TV, from June 29 to July 13 (Google says these will vary by market):
Those are some pretty great deals, and you don't have to do anything special to get them other than click the links above to the specific sale pages. If previous sales are any indication, there will be more deals added over the coming days as well. With wide-reaching discounts, you're likely to find something that will stand out to you.
See anything else great on the Google Play Store (opens in new tab) in this sale? Let us know in the comments!
Andrew was an Executive Editor, U.S. at Android Central between 2012 and 2020.
It would be nice if the Play Store app would have something in it about this sale.

its there... on the front page if u scroll a bit down

It does. At least in the entertainment section.

Just make a USA Gmail account pretty simple

YEp. I was disappointed when seeing discounted games on appnaz.com but see no change in my Google Play prices, I learnt that the discounts were only available in some countries. Canada is not included.

this is why piracy is still a thing.

The link to the play store is play.google.com. Not what you have in www.play.google.com.

Good snag. Formed the URL improperly, should be all resolved now.

Oh great, Final Fantasy Tactics is on sale. Time for me to get absolutely nothing done for the next week or so.

Pretty limited selection of books.

You mean "dreadful". It's appallingly bad. The only one that was mildly appealing to me was the Bar Book -- and it was cheaper on Kindle.

Google shows 2 months of free music for me.
Too bad for me. I am on Spotify 3 months for 99c with 2 months remaining.

Has Google stopped it's 10p app too

Does this include YouTube red too?

yes, play music include red

To answer my own question, yes! Awesome deal!

"Your account isn't eligible for this offer." ???

In trying to take advantage of 50% off a one year subscription to tunein radio, I have been having a hell of a time this morning. I've spoken with two supervisors at Google and been in email correspondence with Cerise frome tunein support. Cerise has told me that tunein is aware of the 50% sale but that I must contact google to get it. Google has been far from helpful, insisting that I must contact the developer to get the discount. So i guess I'll just keep making posts around the web about this until one of them pays attention enough to the situation to do something about it.

"Your account isn't eligible for this promotion..." Um, okay.

I guess there's a one-movie limit to the 99 cent rentals. Bummer. I should have chosen more wisely.

I wish more developers would make their games compatible with Android TV/Shield TV. Especially fighting and arcade style games.
Android Central Newsletter
Get the best of Android Central in in your inbox, every day!
Thank you for signing up to Android Central. You will receive a verification email shortly.
There was a problem. Please refresh the page and try again.