Google Play Store adds a 'People' section, shows what you and your pals like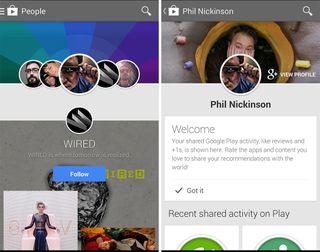 Google Play today added a "People" section to the Play Store app. Apps and other content that you've hit the +1 button on and have left reviews for will now be visible to friends you have circled in Google+. You don't have to do anything to see this new feature — just open the sidebar in the Google Play Store and it's there, at least for us on version 4.6.17.
Google also gives suggestions for other folks to follow, and other content recommendations that you might like. You'll also get recommendations "From familiar faces," and see who's making the recommendation, so you know who to give a hard time if something suspect shows up.
All in all, it's a nice integration, and should be a good source of discovery for when you're looking for new music, movies and apps.
Thanks to everyone who sent this in!
Very interesting, I have that update but I'm still waiting for the #trollout for the Keep and Play Movies app. I'm gonna sit here and wrap my head around that.

I got the play movies but still waiting for keep and newstand

I don't see it on 4.6.17 on my Nexus 5. Posted via Android Central App

Showed up late last night. Posted via Android Central App

this is awesome. i have been wanting this feature for a long time. Play only showed few apps based on +1 and rating. now i can see everything

I don't see any people section on my play app. And I have the same version 4.6.17. Why is that?

batched rollout. wait for a few hours

Here in India, store version 4.6.17 on all my devices, Lenovo k900, Xperia Z1 and Nexus 7..no people tab...may be its rolling out slowly country by country Posted via Android Central App

I still don't have it on my Nexus 5, Nexus 7, Moto X and Droid Maxx. I live in the land of #Merica
Android Central Newsletter
Thank you for signing up to Android Central. You will receive a verification email shortly.
There was a problem. Please refresh the page and try again.