Google Play Music updated, includes UI overhaul and All Access subscription service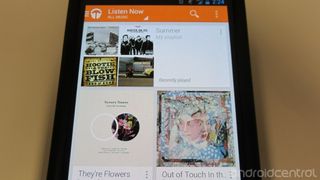 Google announced a music subscription service today called Google Play Music All Access. It provides unlimited access to music for $9.99/month (or $7.99/month if you sign up for the free trial before June 30th.)
The Google Play Music Android app has been updated to reflect the All Access subscription service, but also provides an entire UI overhaul that is very slick. It's simplified and much easier to navigate, in my opinion. There is a navigation pane to the left that allows you to select between Listen now, My Library, Playlists, Radio and Explore. You can quickly swipe it away to view your choice, which will be taken over by larger album art.
The update is available via the Google Play Store. If you don't see it just yet, sit tight, you'll see it soon. Follow our Google Play links for the update.
This is seriously awesome. Able to put in anything in your "library" as well as hard download any music that you didn't actually "buy" per album? Awesome.

I don't like how it says "illegal" even when it's not. That Pissed me off. Other than that.... I love it.

This was the biggest thing people were asking for in the last post. Google got on this quick lol

Yeah...not sure why, but it crashes when I open it on the Evo LTE. I even tried clearing all the data and force closing it and it still crashed as I tried to sign in on the first page.

This works great on my Samsung Galaxy Nexus. Loving it..

Try uninstalling and reinstall.

I did and it lets me use the app for like five seconds and crashes again.

Crashes for me too (only since the update) I'm on the Galaxy S4

Wow! Android is so far ahead of Apple its not even funny anymore. I love it!

So is our 20,000 songs cloud storage no longer free?

As far as I know, yes. The payment stuff is for streaming anything they have.

But the price for streaming is ridiculous. And its on top of any bandwidth charges and caps.

If you get in early and pay $8/month, it's cheaper than Spotify and Rdio.

YESSSSSSSSSSSSSSSSSSSSSSSSSSSSSSSSSSS

App is awesome on the S3, looks like I'm out 8 bucks a month for the foreseeble future!

I've got the update. SO MUCH BETTER! Now...if only I had a way to categorize by album-artist tags, and separate my pinned cloud music from what's on the SD card. Beyond that...I'm MUCH happier with this update. Might actually use this more than GonemadMP.

It still has some problems if you ask me. Start playing an Album and the next/prior track buttons don't show. All you have is pause button. You are supposed to Guess that sliding that Pause button left or right is a next /prior track. Not Obvious. Tap the album name in bar that has the pause button, and you get all the buttons on ont bar, plus your scroll bar and this annoying album cover blown up so big it has to jump back and forth. The interface is obtuse. But then, so was the prior version. As for all your categorizations, you can do that on line, and there is a LABS feature on-line that adds a comment to each song if you want to get crazy.

@Sean Brunett Thanks for the cool post.

Already subscribed...app updated....and Slacker cancelled. Loving it. And the month free the cheaper rate for early adopters is seriously awesome!

It crashes on my Dev Edition HTC One at startup.

Nowhere near as good as Rhapsody or Spotify, and the radio feature can't hold a candle to Pandora.

Wow, with reasoning like that, who can argue?

do you have any actual reason why? I have a hard time believing the app is anywhere near as bad as Spotify's on Android. Does anyone know if we can offline songs to SD card with Play Music? This is the only thing that I'm worried about. I don't want to have to stream everything and the inbuilt storage on my phone is minuscule.

I don't see an option to move cached music to the SD. I think this is one of the reasons Google has been pushing internal storage phones. Spotify won't do it now unless you roll-back the app first. I'm not sure how this is worse than Spotify either. It manages playlists much better and does everything else Spotify does for a lower monthly rate. It seems like an easy choice.

Spotify will use an SD with the current version. Just install/update it, clear your cache/data, set quality to extreme, and it will silently and automatically store on your SD. That said, I just uninstalled it because the app is so flaky it irritates me at every turn. Google's player is also an unnecessarily obscure UI, but at least it does what it says it will. Hoping for additional improvements soon.

The radio on Spotify is better but not as good as Pandora. Rhapsody had a better layout in my opinion.

Loving the combination of my library and the new albums i save from All Access/all music in one location. Haven't used GMusic in awhile though and now it wants to re upload my whole library instead of just adding in my new music. Janx..But how can I complain, Its Free

It works fine on my Sprint HTC One but I wonder, are we able to download music for offline listening, sort of like Pandora?

Yes, you just pin what you want to offline. It's super simple.

Exactly. I'm using it like Spotify. I'm creating a playlist of the music I listen to and then pinning the whole playlist to my phone. It works like a charm.

Sweet...trying it out now and loving it. Looks like my Spotify membership may be ending.

This app is so pretty. <3

Still the lousy widget remains the same.

Just updated the app on my S4. Now it crashes every time I start the app. Anybody else having this issue?

I don't have an S4 but it works on the Nexus 4. Try uninstalling and redownloading it.

Well, since it's a system app, you can't uninstall it. I can however uninstall the update and reinstall it. Is that what you meant?

Haha....thx. I just tried it. Still doesn't work. Guess I'll continue to use spotify until they fix it :/

I know we are in the minority, but if you use a Nexus Q, do not update. Q support has apparently been removed. I know it was overpriced for what it does, but the Q does it well. I loved being able to queue up a bunch of music to stream through my stereo. Without the limitations of Bluetooth. Boo google, give us Q users a little love!

Does anyone know if it streams at 320kbps? It sounds good so far, but I'm not entirely sure. Also, are there any plans to make it cross platform? I own an iPad and listen to music from it occasionally. Otherwise, the app is great and it's exactly what I wanted out of a streaming music service when I began searching and settled with Spotify, which I like, but it isn perfect. If the quality is 320kbps and it becomes cross platform, Google Music will be perfect.

This is just SO full of awesomeness!

$120/year? Why? Do you seriously buy music that often that this is a bargain?

dude, that's ten cds. that's expensive?

Um yeah. I have't heard a band worth buying in a few years, let alone to continue buying them throughout the year. I guess if you're into pop and hip-hop which seems to produce tons on them, I can see that. Maybe I'm just getting old.

Funny part about this here discussion is I write for an entertainment magazine...

Proof?It's just i could say the same thing but it doesn't make it true

It's Creative Loafing in Tampa, FL. I usually do a technology article but I have covered shows and interviewed a few acts. Yeah it isn't Spin or Rolling Stone granted.

Music subscription isn't for everyone, I agree. I look at it like this. I'm 41 and still love new music, especially indie and counter-folk. I have more CD's and purchased digital music taking up space than anyone ever needs. So, I'd rather upload it all in the cloud, have a service figure out what new stuff I might like based off that music and throw new music at me. That's worth the ticket price for me. I don't want to own every TV show I watch, but I will pay someone a subscription fee to have access to it. I feel the same way about music, and radio doesn't cut it because I don't want someone telling me what I should listen to.

Part of my problem is between my girlfriend and I we have about 120GB music collection not counting vinyl, cds, and yes a few cassettes here and there. So much of it collects dust (even the digital tunage) that I can't justify buying much more. There are about three total big acts I like that are actively recording. I do however go to every show I can, even if I'm the only one that is there. It's actually more fun that way. When I write I fall into a rut. It's Leonard Cohen, Dylan, Warren Zevon, and the like. When I write creatively it's hard core and metal from Black Flag to Fear Factory, all of which I already own. Don't get me started on the new "Black Flag."

So true about Black Flag. Loved Zevon. He was a great song writer. That man could be so sarcastic and tragic at the same time. I totally understand about the overwhelming collection. That's why I let the digital gods manage it now, and I feel like a weirdo with my cubicle dweller bald head and beard at a concert lol. Is that look cubicle-dweller or middle-aged biker? I think the only thing that separates them is tattoos.

I fortunately still look fairly young. The only give away is a few grays in my beard. I think I look like a hipster who about to age out.

Check your inbox. I didn't want to get into it here in front of everyone.

You clearly haven't been looking. I hope you don't think that "artists" such as One Direction and Katy Perry are the only current music out there. Hell, even Mumford and Sons suck. I'm guessing you haven't listened to bands such as The National, Arctic Monkeys, Bon Iver, Fleet Foxes, Kevin Devine, Silversun Pickups, Sufjan Stevens, etc, and are just making a general judgement on today's music even though it's clear to anyone who knows anything about current music that what's good isn't spoon fed to you. And even then, it's not like you can't find old music on streaming services. For example, I downloaded a few early Leonard Cohen albums the other day just as easily as I would have download something released in the last year. I was against streaming services for a while, but now I'm completely for them. They essentially give you access to all the music you want online or offline. It's the future of music and one that I support unlike the purchasing of single MP3s for 99 cents each which was always ridiculous.

I'm having the same issue with my Samsung note 2

App crashes on you too since the latest update?

Google Music --
1) Can I specify a location, like an SD card, to store offline music?
2) Does it support replay gain tags? If no, 2 non-starters for me.

Working just fine on my Note 2

I wish they would make an ios app for Google music. I have two iphones and would love to move everyone!!

THEY ROMOVED NEXUS Q SUPPORT WITH THE NEW UPDATE. NOOOOOOO. NOW MY Q IS USELESS. PLEASE TELL ME THEIRS A WAY AROUND IT.

THEY ROMOVED NEXUS Q SUPPORT WITH THE NEW UPDATE. NOOOOOOO. NOW MY Q IS USELESS. PLEASE TELL ME THEIRS A WAY AROUND IT.

Go to settings, then apps, switch to the all tab, find Google play music, click button to unistall updates, answer yes when asked if you want to revert to system version. This of course will only work until a new version of android comes out.

Ten bucks a month for a service only I can use? At least with Rhapsody, Mog, whatever you have, you have a password and anyone in the family can logon and use. With Google, you need to use your Google logon which I ain't ready to share with the rest of the family.

This is some sexy code! Awesome job, Google.

How can I search for music? I do it and can't find anything? Do I need to have a subscription to be able to search. How can I subscribe?
Is this all because I live in Portugal?

Still crashing for me. Any solutions yet guys I'm using Verizon galaxy note 2

I am really like it, free up hard drive space with not having to have local music on my laptop. So for I am liking it. Few issues not enough to make me stop using. Any word on SD card support?

I hate the new format because it has ugly white background and cartoon ugly colors. You can no longer scroll through your albums, which was nice and easy to find music you wanted to listen to. It is bug ridden and the complaints on Google play are numerous. If they could have added new features without ruining the old ones, like the scroll and the edgy look to the music app, that would have been great. They must have gotten a new designer, who must have been a cartoon artist in another life, rather than a designer of edgy, attractive apps.

Yea, love it except the album art jumping around is giving me seizures. :P Please reassign whoever thought that was a good solution to toilet cleaning duties.
Android Central Newsletter
Get the best of Android Central in in your inbox, every day!
Thank you for signing up to Android Central. You will receive a verification email shortly.
There was a problem. Please refresh the page and try again.