Google Play Music not showing up in the Play Store for some people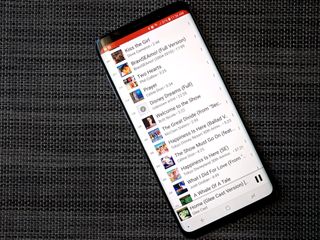 (Image credit: Android Central)
What you need to know
Some users are reporting that Google Play Music no longer shows up in the Play Store.
The app is showing up fine on our end, so it's unclear what Google is up to.
Play Music is no longer pre-installed as a default Google app starting with Android 10.
It's been over a year since the revamped YouTube Music launched as Google's new defacto streaming service, and following that launch back in May 2018, it's been a confusing period for long-time Google Play Music users. It's been clear from the beginning that YouTube Music would replace Google Play Music at some point down the road, and today, we're seeing another effect of that transition.
In the r/GooglePixel subreddit, user u/Nickkel71 reported that searching "Google Play Music" in the Play Store on their Pixel 2 turns up no results for the Play Music app. Opening a direct URL to the app still works for them, but Play Music refuses to show up when doing a search.
A lot of people are responding to the post indicating that Play Music shows up just fine for them, but other people like u/bobdmv can't find it either on their Pixel 3. For what it's worth, I can search for Play Music on the Play Store on my Note 10 and it shows up just fine.
It's unclear why Play Music is disappearing from Play Store searches for such a sporadic group of people. It's possible that this is nothing more than a bug, or Google could be trialing this with a small group of people before hiding Play Music from more folks.
In fact, it wouldn't be all that surprising to see a move like this happen sooner rather than later. Just last week, it was confirmed that YouTube Music will replace Google Play Music as the default streaming app on new phones that are released running Android 10 and Android 9 Pie.
Get the Android Central Newsletter
Instant access to breaking news, the hottest reviews, great deals and helpful tips.
Joe Maring was a Senior Editor for Android Central between 2017 and 2021. You can reach him on Twitter at @JoeMaring1.
I have nearly 20,000 songs in my GPM library. Until I can get to them in YouTube Music I'm going to be sticking with Play Music. It's not perfect software but it does many things very well, and I've already gone through the trouble of uploading this entire collection to it (which exists in my house as roughly 500GB of FLAC files on a Linux server in my basement ripped from the original CDs). I've added some albums that I never bought to the library, and I do still buy CDs or downloadable FLAC to extend my collection. YouTube Music in comparison is a wasteland. If my library were there I'd begrudgingly move over, but until then I'll be kicking and screaming. I guess I'd go back to Spotify if this keeps going since they also have the $15 family plan (and my kids use GPM extensively as well.)

Oh, and everyone sucks at metadata.

Very little you can do if they decide to close the service, though. "You don't have to go to YouTube music, but you can't stay here!"

I thought at some point they said uploaded music would transfer to YouTube Music. Has that really not happened yet?

No but a Weird Al interview video I must have liked 8 years ago is the only thing in my Favorites.

I can access my ripped music in VLC and other players, but what do I do with music purchased in GPM if I don't want YTM?

I download all of my GPM purchases to my PC and can use it anywhere after that. The only service that gives me any issue with that is GPM when I try to upload to another account. Cutting and pasting the metadata fixes that.

Obviously Google intends to transition GP Music users to YT Music. Here is the link to GP Music for anyone who needs it. But who knows how long Google will continue to support it.
https://www.apkmirror.com/apk/google-inc/google-play-music/google-play-m...

Appreciate your generosity. Thanks!

If GPM will soon be no more they need to hurry up and add "Auto-Download" to the Google Podcast app.

I've been having an issue with GPM that may be caused by Goog's impending switch to YTM. I had a Galaxy S8 for a while, which increased the song upload limit to 100,000 (Believe it or not, I need it. 62k+ to date). About a month ago my limit dropped to 50k, the norm. Surprisingly, I've had about a dozen emails from support. They appear to be trying to fix it. But I assume some sort of code change for the upcoming switch-over had something to do with it.

That is a big fat load of clickytibait nonsense, good job for the clickbait, but what a nonsensical article. Did you ever even compare the two services in the article? Nope. Ain't nobody got time for that?