Google Play Music gets a huge redesign on Android TV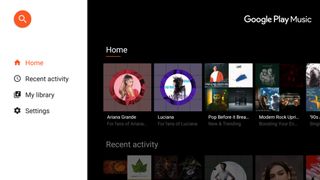 Android TV tends to get placed on the backburner for not only third-party app developers but Google's own applications as well. The YouTube Android TV app finally got an update earlier this summer after radio silence for over a year, and following that, Google Play Music is now receiving a complete overhaul with a brand-new UI.
Android Police initially spotted the changes, and although the core functionality of Google Play Music on Android TV remains mostly unchanged, the updated interface looks much more modern and a lot cleaner.
The new look comes as part of the v8.1 update for Play Music, and upon opening it for the first time, you'll see that Google has ditched the grey background in favor of one that's pretty much pitch black. The bright orange navigation panel has been replaced with a white one, a new search button makes it easier to find your favorite tunes, and the available navigation options have been greatly simplified.
Google also updated the now playing and playlists screens, and while the changes do strip away some of the Material Design elements that were previously available, the end result is one that looks tremendously better than the same basic interface we've had for around three years at this point.
There are a lot of other smaller changes here and there throughout the app, and although you won't find any new features or functions, this fresh coat of paint is one that we're really happy to see.
The update should be rolling out now to the Google Play Store, but if want to get the new look on your Android TV device right now, you can download the APK here.
NVIDIA Shield TV vs. Amazon Fire TV vs. Roku Ultra vs. Apple TV: Which 4K streaming box should you buy?
Android Central Newsletter
Get instant access to breaking news, the hottest reviews, great deals and helpful tips
Joe Maring was a Senior Editor for Android Central between 2017 and 2021. You can reach him on Twitter at @JoeMaring1.
Looks good, but the new UI appears to prevent the backdrop (Art, Featured Photos, Earth & Space etc) from appearing. Also the sidebar icons on the left don't seem to align correctly with the content on the right hand side, which is weird. Maybe it's Sony's implementation that is borked.

I have a Sony Bravia x900e. This new update has really borked my app. I do not subscribe, I've just uploaded my digital collection. None of my music will play, and my library shows other albums that I don't own by artists in my collection. On the phone with Google for two hours tonight. Had to uninstall update to get GPM to work. Ugh.

Well if it's a consolation ta you. Your not the only One with that problem. Sitting here in front of an nVIDIA Shield (Android TV), with the exact same problem. Me thinks that Google doth flog their Pay for Service too much! As I have about as much interest in any such subscriptions. I do however have been know to buy stuff their. But, lol even this has refused to play on this Craptastic Update... So the good news is I was able to uninstall said "Update" and, revert back to the Stock version of the App.... And you'll never guess... Everything suddenly working again. Oh well it's kinda the same story with the YouTube App. The new version has some good points. But, alas still has years to go to just catch up with the last version. Example using multiple accounts, and being able to adjust the quality settings up to full 4k. From 480p.

I have the same issue as well, all artists are empty and the album sections only has albums that are not in my library. One thing that I was momentarily excited to see was the Thumbs up Playlist is now included but my joy soon turned to dismay as I noticed the songs within it are in a jumbled up order and not as it is on my phone or through the web client. And it doesn't fix the issue at all with recent activity on your phone or web being matched with the TV app. I mean seriously why is the TV app accessing a different back end system? Why does Google even have two sets on info for this? Surely if I play an album on my phone it should be reflected on the TV app, not what I last played on that app. Looks gorgeous though, that black is proper black on my OLED, which makes this update even more disappointing.

I've sent in a system report and opened a ticket. Hope they fix soon. It's really annoying. Glad to know it's not just me.

Are you BLEEPING kidding me? Android TV gets the major overhaul? What about the overhaul for the laggy buggy Android App? No need to show album art in playlist (especially four random album covers). I have over 200 curated playlists and scrolling through them is a pain on my phone in the car because of the artwork. It also takes more time to load. I understand YouTube, GPM and YouTube Music are getting rolled into one application. I sure hope it is WAY more streamlined.

I agree....love the subscription service but the app leaves a lot to be desired ....too many menus...too much going on ...even search is kind of a mess and that's a huge surprise coming from Google....and ... it's also buggy...you are right about that too. Still haven't cancelled though so I guess I only have myself to blame

I've never had bugs, but it's definitely choppy.

Yeah, but this is the FIRST update that GPM has gotten on Android TV. I've been using Android TV since the Nexus Player came out, and the lack of attention to this app (which I use every day when I'm home) has been so frustrating.

Yah, exactly. GPM is something I use daily AND I PAY for it. The updates to Google apps/software have been coming steadily (Calendar looks very nice). I'm hoping we will soon be wowed by Google's new all-in-one video/music app.

Yeah buggy, slow AF and just awful. You hit the 3 dot menu and it takes literally 3 seconds to open. Also the sound quality mostly sucks!!! Really need an advanced built in EQUALIZER. Would love an option to add station or playlist to que so that I can listen to an album then have it move onto a station, list or felling lucky option afterwards.

Looks great. But when is the YouTube TV coming to Android TV?

Yes and how about Youtube Music ?

It's out and it kicks ass!!

I won't be able to check this out till I get home on Friday night. Does it support podcasts finally?

[drunken, angry screeching]

Still no Podcast section.

Sorry to be the rebel here, but the new UI is terrible in my opinion.I found the album artwork was an important part of the experience. The basic black background is so boring.

I HATE the new interface. It takes away a lot of functionality. No more auto playlist available on the home screen. No more starting a radio station from a random song in a playlist. Not to mention that I can no longer search for songs with voice unless I navigate all the way to the top! Now if I click the speaker button on my remote it always opens the assistant!!!!!!!!!!!!!!!! Totally pissed and disappointed

There's no option for"shuffle" on all songs category

The main reason we subscribe to Google Play Music is for the suggested listening that came over with the Songza acquisition. It allows you to select playlists based on time of day etc. Ex. "Fall" or "Focussing (No Lyrics)". That feature appears to have been removed from this release of the Android TV app. It's still available if I sign in from a browser on my PC, just not on the TV app . Lame. Anyone know why they removed it?
Android Central Newsletter
Get instant access to breaking news, the hottest reviews, great deals and helpful tips
Thank you for signing up to Android Central. You will receive a verification email shortly.
There was a problem. Please refresh the page and try again.