Google Play highlights photography with free eBook, notable apps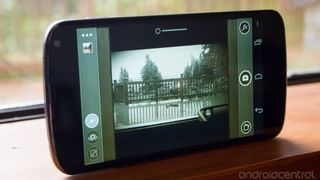 As it regularly does, Google Play is highlighting a specific subject with a content promotion and this time the focus is on photography. This week's focus is kicking off with a free eBook from the Play Store -- "Android Photography" by Colby Brown is a 104 page book focusing (pun, I know) on the basics of controlling your phone's camera, which settings to use and how to shoot in different situations.
The book also gives tips on which third-party apps to use to help your photography skills, and Google Play is helping out by offering a full list of popular apps for "shutter bugs". Popular apps like 500px and Camera Zoom FX make it into this list of 8 apps focused on viewing and taking photos.
When you go to "purchase" the book from the Play Store at the link above, don't be alarmed if you're asked to enter your Google Wallet information or get GW set up, it's a necessary process for having the book linked to your account. Happy shooting!
More: 'App Focus: Photography' (opens in new tab) | 'Android Photography' by Colby Brown (opens in new tab)
Andrew was an Executive Editor, U.S. at Android Central between 2012 and 2020.
That Android Photography book saved my ass with taking Photo Spheres. Best $0 I've ever spent. Posted via Android Central App

Region-locked (not available in Japan). Geez, Google!

Region locking rarely is straight from the companies providing content and have more to do with outdated international trade law. Sucks but there is tons of red tape for each country. Posted via Android Central App

You're lucky to have books at all. Or magazines. Or music. Or movies/tv. Or devices.
Here (small country in Western Europe), Google Play equals Android apps, and nothing else, whatsoever. Posted via Android Central App

Would have loved to have a look at this book. Posted via Android Central App

Wij hosten onze eigen domein op google apps en het vandaag waren we niet in staat om
stuur e-mails naar elkaar. de fout die we kregen was Dit is een automatisch gegenereerde Delivery Status Notification Levering aan de volgende ontvanger is mislukt permanent: pravinseller @ ******. com Technische details van permanente mislukking:
PERM_FAILURE: Google geprobeerd om uw boodschap over te brengen, maar het was
verworpen door de ontvanger domein. Wij adviseren contact opnemen met de andere
e-mailprovider voor meer informatie over de oorzaak van deze fout.
De fout die de andere server terug was: 553 553 sorry, het doorgeven
ontkende vanaf uw locatie [209.85.198.242] (# 5.7.1) (staat 14). "" Kan iemand mij helpen met dit?
Android Central Newsletter
Get the best of Android Central in in your inbox, every day!
Thank you for signing up to Android Central. You will receive a verification email shortly.
There was a problem. Please refresh the page and try again.