Google Pixel XL vs. Galaxy S7 edge: Battle for the best!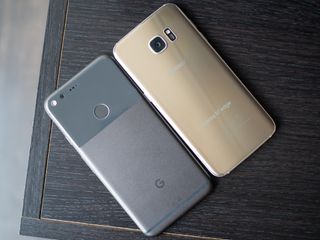 The Galaxy S7 edge is over seven months old now, but that doesn't mean it has wavered in importance or dropped off the radar of people looking for a high-end phone today. Particularly after the demise of the Galaxy Note 7, where the GS7 edge had to step back in as the top-of-the-line phone from Samsung. But of course Google is also here to play with its new Pixel XL, which goes toe-to-toe with the Galaxy S7 edge in terms of screen size, specs, camera and price.
Google's latest phone effort is fighting for the exact same potential consumers that Samsung has been selling to en masse over the past few years, and it's doing it with a phone that can actually hit the right points with general phone buyers. So how does Google's new Pixel XL compare to the Galaxy S7 edge? We're here to discuss just that.
Hardware, specs and features
Samsung continues to have an extremely unique look to its phones, particularly with its curved "edge" models. The metal frame accents two huge panes of glass that are sleek and perfectly manufactured, and the design still holds up several months into the GS7 edge's life. On the opposite end of the spectrum, the Pixel XL is much more subdued — its metal build likely has broader appeal, and is built just as well as the Galaxy S7 edge.
Which one works best for your hands and design taste is obviously personal preference, but the two things to keep in mind here are the Pixel XL's overall larger footprint, but also the Galaxy S7 edge's tougher-to-grip curved screen. In total the two come out to be about the same — the Pixel XL's "wedge" shape helps counteract its large size, while the Galaxy S7 edge's display is tough to hold onto at this 5.5-inch size. The Pixel XL has less glass to scratch up over time, but then again the Galaxy S7 edge is waterproof, saving it from a catastrophic watery death while you own it.
Image 1 of 4
On the front, the Galaxy S7 edge stays in the lead in terms of display performance, though Google's latest effort is far closer to Samsung's AMOLED displays than in previous years. The Pixel XL's screen is vibrant and gets very bright, but it just isn't quite as capable in direct sunlight as the Galaxy S7 edge.
Now, the full spec comparison:
Swipe to scroll horizontally
Category
Google Pixel XL
Galaxy S7 edge
Operating System
Android 7.1 with Google UI
Android 6.0
Processor
Qualcomm Snapdragon 821
Qualcomm Snapdragon 820
or Octa-core Samsung Exynos 8
RAM
4GB
4GB
Display
5.5-inch 2560x1440
AMOLED
Gorilla Glass 4
5.5-inch 2560x1440
Super AMOLED
Dual edge screen
Gorilla Glass 4
Rear Camera
12MP f/2.0
1.55-micron pixels
PDAF, LDAF
4K video, 240fps slow-mo
12MP f/1.7
1.4-micron pixels, OIS
4K video, 240fps slow-mo
Front camera
8MP, f/2.4
5MP f/1.7
Battery
3450 mAh
Non-removable
3600 mAh
Non-removable
IP rating
IP53
IP68
Charging
USB-C Rapid Charging
Quick Charge 2.0
Qi wireless
Powermat wireless
Connectivity
USB-C
Bluetooth 4.2, 802.11ac Wi-Fi, NFC
Micro-USB
Bluetooth 4.2, 802.11ac Wi-Fi, NFC
Fingerprint sensor
Yes, back
Yes, front
Storage
32/128GB
Non-expandable
32GB
microSD card up to 2TB
Dimensions
154.7 x 75.74 x 8.6 mm
150.9 x 72.6 x 7.7 mm
Weight
168 g
157 g
The Galaxy S7 edge has the overall win in terms of raw specs and hardware features. Though the GS7 edge only offers 32GB of internal storage, many see its microSD card slot as more important. It also offers more charging options with its wireless charging and industry-standard Quick Charge compatibility. The Pixel XL's slightly newer processor and USB-C port are the two big wins internally.
Software, performance and battery life
As it stands, the Pixel XL is (expectedly) the prime example of Android software today. While it doesn't pack in quite the volume of features the Galaxy S7 edge does, that's actually a strength. Everything it does, it does darn well and with purpose — and the GS7 edge in turn does more things but they often get in the way or are altogether unused.
In terms of interface and design, it's more or less personal preference at this point. Both phones are cohesive, though the Galaxy S7 edge may be a bit busier — but if you've used Samsung phones before you may be more comfortable with the GS7 edge in that regard. But there is something to be said for the Pixel XL's latest Android 7.1 software being more advanced and secure than 6.0 on the GS7 edge, with far better prospects for being updated over the next two years.
More: Camera comparison: Pixel XL vs. Galaxy S7 edge
When it comes to performance, things are quite a bit closer. Samsung has spent a considerable amount of energy to smooth out its software experience to focus on the core of what most people do. The Galaxy S7 edge is extremely fast throughout the launcher, camera, settings and apps, and just as importantly is consistent in its performance as well. High-powered processors and extra work has made gaming super smooth as well. As I found when I looked at the Galaxy S7 after six months of use, the phone can hold up over time as well.
Nobody has had nearly as much time with the Pixel XL to look at its long-term performance prospects, but it's clear after the few weeks I've had mine that Google has seriously focused on general speed and consistency with the Pixels as well. Be it the internal hardware, the software tuning or just some special sauce throughout, the Pixel XL is quite easily the smoothest and fastest Android phone ever made.
You wouldn't ever call the Galaxy S7 edge "slow" (or anything approaching that), and when you're using it on its own it's snappy as any other high-end phone, but there's something extra happening with the Pixel XL that just makes it a bit quicker. Apps open faster, multitasking is a hair quicker and the phone just never slows down. Both of these phones represent the speed and fluidity that every other manufacturer should aim to offer.
Things are a dead heat in terms of battery life, and that's not surprising when you consider the near-identical battery capacities, screen sizes and internal specs. For my use, both phones make it through a day comfortably without worry, though the Galaxy S7 offers the additional feature of wireless charging to help you casually top up the battery throughout the day if you invest in charging pads.
Bottom line
There's no denying that in the high-end, top-dollar portion of the Android market you're going to be considering both the Pixel XL and Galaxy S7 edge. Both offer a unique but well-executed design, comparable high-end specs and lots of features, with the top-end phone from Samsung having the minor lead thanks to its waterproofing and wireless charging. And as previously discussed, the cameras aren't far apart either.
What the Pixel XL loses in raw hardware features it makes up for in software simplicity, though, with deep integration of Google's services and no cumbersome or duplicative apps. Google gets a little more out of its software as well, with an extra bit of speed and polish you don't see on any other Android phone today. And you can't look past the fact that it is — and always will be — on a newer Android version than the GS7 edge.
If you're one who prefers simplicity, speed and the latest software over all else, the Pixel XL is the phone to get at this price and size. But if Samsung's extra features, familiar interface and striking design hold weight for you — or perhaps you used to have a Note 7 — then give the Galaxy S7 edge a look, even several months removed from its launch.
Android Central Newsletter
Get instant access to breaking news, the hottest reviews, great deals and helpful tips
Andrew was an Executive Editor, U.S. at Android Central between 2012 and 2020.
Sooooooooo......the V20 doesn't exist?

I played with a V20 yesterday and really liked it. I never really liked LG phone's build quality, as they seem just steps away from looking all dinged up. But this one was solid. It had a snappy performance, screen was good, and that camera...wow. it reminded me of the Note 4 in the sense of looking like a multi media monster. I'm not sure why it's not being more celebrated. It should be!

Would you ask LG why they made the "Unlocked" US996 version of the V20 so it would work on AT&T, T-Mobile, and Verizon but __not__ Sprint?

I got a V20. I love it. It does feel remarkably more premium than the V10. I only wish the color options had been a little different. Other than that, perfect phone.

This post is called "Pixel XL versus Galaxy S7 edge" not "These are the only two phones that exist" Just because we compare 2 popular phones doesn't mean we're ignoring every other phone. If you haven't noticed, we write a LOT of articles — yes, even ones that include the LG V20 :)

people will ***** about anything...
Next they will demand a Pixel vs iPhone 20.

Andrew, to be fair it says "The best phones battle it out". It's written in vaccum, I think they have a fair point, Sir.

Or maybe in his opinion these are the best phones.

No it doesn't say that anywhere in the article? Are you trying to say"If you'd claimed something incorrectly that you didn't, it would have been wrong"? What's the point of your comment?

Will there be a Pixel vs. S8 review in 5 months time?

You can always come back with a clapback. +10

Well you did say battle of the best which implies that the V20 is not in contention. Two major phones have been released within a week of each other and you didn't include one of them. Readers will automatically dismiss the V20 because you aren't including it when you mention the best. It's yelling them that the s7 is better than the V20. I just feel like it's an unprofessional journalistic move....unless you are encouraged to push the pixel and s7 since the note 7 is recalled. All I'm saying is the v20 should be included in the conversation. I would say the same for the pixel if it was s7 versus v20

The V20 is made by LG which IMHO makes it s POS out the box.

Well, you said it, it may as well not!

I hate to say this...but I was a casualty of the Note 7 debacle. first of all let me say i started with Samsung Note 3, then went to G5, G6edge. I LOVED my Note and went out swinging, but since I travel as part of y job and the FAA got involved, I was forced to swap. After weeks of research I decided the LG V20 was my phone. I worked a deal with my local Verizon store and got one before it was officially launched. I had it a week, and I just didn't get used to it. Call it to used to the Samsung platform, but the home key on the front vs. back, the tweaks I had for night clocks, that damn 2nd screen....I turned in back to Verizon after 10 days. What did I go back to you ask? Galaxy S7 Edge....a 7 month old phone. Hated to do it but I am hoping (after hearing rumors) that Note 8 is going to happen in August and Samsung is saying at a discount for us poor Note users. So...here I sit on day one and already I like the familiarity of Touch Wiz, the size of the phone itself (the LG was HUGE), and the power home button in front. Come on Samsung...I am betting on you for the Note 8 even BETTER than the Note 7 and with non-sizzling batteries!!

The other big problem I had with the Note 7 (besides the fire explosive issue) was the curved screen. What exactly is the point of this ridiculously stupid design? No possibility of a tempered glass screen protector and a much higher likelihood of breaking or scratching its glass screen...I hate the curved screen!

I would have made the same choice too mate ,
some of the very cool features on the galaxy, like the always on display which is a great feature didn't get much of a mention(or I missed it) , but these goodies just add to list convenience features you do not get on the pixel.
And some of the edge features that are very cool also.
And to some of us having an SD card on its own is worth extra brownie points.
Again simple features that most smart phones offer , you just do not have on the pixel.
I think if you delved into the features list you would find even more features you just do not get on the pixels .
Having looked at both pixels myself with a view to buy, I put them back on the shelf.
Not enough boxes ticked for the money.

I came from Note 4 -> Note 7 -> iPhone 7+ -> S7 Edge and I'm testing out a V20 right now. Problem I have with the S7E is that is feels insignificant (smallish) vs the N4 & N7 5.7" screens so the V20 has no such issue. I have Nova launcher loaded so its the exact same screen on the V20 and that's a HUGE help....but yes I am very familiar with TouchWiz so there's a bit of learning curve.

Good decision as the discount is only for those who switched from note 7 to s7/edge. And it's 50% note 8/s8/s8 edge

Just a few days ago they did an article on the Pixel XL vs. V20 camera shootout. This leads me to think that the V20 likely does exist.

Do you see it listed in the title?

Can i have the S7 Edge wallpaper?

Pure Google over Samsung TouchWiz anytime all the time.

At Least you said pure "Google". So many people think Nexus and Pixel phones are pure Android which they are not.

Wait, what? There is no Google OS. It's Android. Can you clarify what you mean?

Android itself does not include any Google apps or services. Therefore those asking for "pure Android" are (unknowingly) asking for open-source Android with no Google additions — the best way to describe what they actually want is "pure Google" i.e. Android + Google's apps and services.

But isn't Google responsible for developing Android? Therefore Android IS Google?

Indeed. Even if Android is open source and doesn't *need* Google apps, nobody can deny that Google's flavoring is the most used and known of any other. It's reasonable to say 'pure Android' and mean 'pure Google Android'.

Think of it like this, if you ever visit XDA you might notice that they have ROMs that are tagged as simply AOSP aka, the Android open source project (not the ones that are based on AOSP and have been tweaked). Then you have Google's Nexus line or pixel which includes extra google apps like search and gmail and the play store, or the Google assistant. AOSP has none of these additions, not even the chrome browser. that is what pure Android is. The nexus/pixel line is designed to showcase google apps and services. Pure Android alone fulfills none of this.

No one knows what the hell AOSP is. Nexus/Pixel Android = Pure Android in the world outside of XDA.

OK thank you Andrew, but aren't the Google things just apps? How is that anything to do with Android OS? Android would still work fine without any Google apps right?

I may well be mistaken on this, but if memory serves, Google requires a core suite of their apps (such as Chrome, etc) be installed atop the AOSP in order for the 'package' to be allowed access to the Google Play store. Which is why you see a lot of app duplication on a number of skinned devices. So if an OEM were to use the raw Android OS and not use any Google apps, they'd be fine to do so - but would not be able to provide access to Google Play.

Interesting, thanks Jeremy.

Kalvin, aside from the Google apps that come with every Android device with access to Google Play, these devices also include the "Google Play Services" that act as a background service and API service needed for the rest of the apps to properly work and communicate with each other. That's why Google Now can learn from your Chrome history, or your daily route from home to work, remind you of your flight reservation via Gmail, and so on. heyjohnnybravo, every thing that Google does to Android isn't AOSP. Some of their apps are propietary and not included in pure Android. Google is responsible for developing Android, but it's not obliged to turn every app that creates into AOSP.

What the others said. Like with the Pixel the launcher, navigation buttons, browser and a bunch of other stuff are not really Android things but rather Google things just like how LG or Motorola have their own apps.

No. It is pure Android. Adding Google services to it doesn't change the OS UI or anything. So when they say Nexus is pure Android, they are absolutely correct. Because they're comparing it to Touchwiz or similar. If you meant AOSP, that's what you're defining as pure. That's not what anyone is ever referring to when they say pure Android. Pure means unskinned. You could split hairs all day, you'll be correcting everyone.

The Pixel IS skinned compared to AOSP, just like the S7E.

They both look good to me. If they're going to use a scratch prone glass back the least they could do is put wireless charging in. It's nice Samsung does that. A retail wireless add on card is like $5 so it's probably an extra $1 for a manufacturer to add it... I hate that Google removed that from their phones. However, with Apple rumored to be inventing wireless charging for the iPhone 8 I am guessing the Pixel 2 will copy it so that's a good thing.

Totally looking forward to a third competing wireless charging spec... :P I agree tho, partial glass back without wireless charging seems like a missed opportunity.

Not so much a third spec but the fact that wireless will go mainstream will push Google to use Qi again.

Maybe, one can hope (I'll miss it on my Pixel, and keep using it on my Nexus 7 for now!)... But even Apple can't always make people want things or reinvent things, their watch strategy hasn't panned out any better (and I wear a 360 btw).

Lol, I love how you passed that. "inventing". They're probably going to come up with their own unnecessary standard.

Google presented in their product launch back on Oct. 4 that the back was Gorilla Glass 4 like the front. Too many are complaining of it's being easily scratched for the claims to be dismissed out of hand, which has me wondering if the glass sourced either (a) wasn't GG4 as originally anticipated, and maybe someone forgot to tell marketing, (b) the glass for the back wasn't manufactured properly to spec or had some other defect in production at Corning, or (c) something else went wrong along the way that led to it not delivering the rated performance.

Gorilla Glass, whether version 3, 4, or 20 isn't impervious to scratches, just resistant. Generally you don't scrape your screen with anything but your meat digits, so the scratch resistance is enough against the occasional glancing blow. The glass on the back, if not using a case obvs, is in CONSTANT contact with anything and everything unless you only lay down your phone on your bed and pocket... Seems like the different usage cases the front/back are exposed to are more than enough to explain why people would spot scratches, specially on the darker model which has a painted surface underneath making it easier to see the scratches than on a transparent screen or a light background. In my experience it's usually not the big things which are most likely to scratch glass, i.e. not your keys, a random drop, etc. It's fine particulate, including but not limited to sand, and all it takes is one pesky grain stuck against the glass surface... This based on years of using phones sans screen protectors and decades of using camera lenses with and without filters in a tropical island.

I agree 100% that people often mistake scratch resistance for scratch proof (much like they mistake IP68 for meaning guaranteed to resist and think they can go swimming with such rated gear). But with this, there seems to be more to it. One youtube torture-tester noted how a utility knife left fully visible scratches on the back but left no marks whatsoever when he immediately flipped the device over to try to score that side. That, more than the forum posts, is what led me to be concerned over whether the back glass is actually meeting rated spec.

Pretty sure that the Pixel also records in 240FPS @ 720p

You're right — I made a mistake in the differentiation between its ability to do 1080p @ 120 vs. 720p @ 240.

for all the Android Central hype about "more" with the Pixel XL, there's one deal breaker that people who live in Google dreamspace, that space which has perfect 4G all the time, everywhere, so that 32GB isn't a serious limitation on how going forward, we can use our devices simply won't get.
For everyone who lives in the world of 2016 with crappy mobile signal, there's the micro SD card slot.
Pre-empting the genius who thinks to mouth those magical letters OTG, don't.

Jebus...what did I just read?

I'm trying to work out myself what that was all about as well.

OTG baby, always got a 64-128GB OTG duo drive the size of a fingernail on my keychain... In all seriousness, having lived with several phones with removable media for just as long as one without, I'd take more/faster internal UFS storage + OTG over 32GB or less of internal + mSD & OTG. That being said, I'm not against removable storage at all, as an added option, I'd just rather have more of the much higher end solutions being deployed internally. Eventually mSD cards/ports will get phased out for external UFS solutions and removable media will once again approach the kind of performance that internal solutions currently achieve... My point will be kinda moot then. I also think they're milking us hard on the upgrade to 128GB, a la Apple. I think the storage pricing is much less justifiable than the phone's base price. $50 to jump to 128GB or 64GB as base would've been much easier to swallow IMO and would've given them a decent hardware win for very little.

I keep two 64gb OTG drives in my phone case at all times. They cost next to nothing these days, but they're still an imperfect bodge to compensate for a design that is inadequate to the current needs of consumers in the real world of today. Google is imo prematurely attempting to determine end of life for a still relevant technology, much the same way Apple is dictating to the world about the headphone socket.

Um, $20 is not really "next to nothing" when 0 is nothing.

Lol, and have that thing sticking out of the bottom of my phone all the time? No thanks. Adequate internal storage for apps and micro SD is much better. Though I wouldn't want only 32GB of internal only either.

huh? Buy a 128GB phone and chill out.

huh? Buy the big Audi with the V12 and chill out.

Exactly. If you need the space get the 128. 128gb internal storage > 32gb internal + micro sd.

I have 75 GB of music and plan to get more. I also do have about 20% that's still in mp3 and need to be in at least 16 bit flac or WAV. 128 GB won't cut it for me. That micro SD is still needed.

Yeah I just don't get the need to have an entire music collection locally on a phone. With 100+ gigs of music I'm pretty sure I'm not going to run out of stuff to listen to (even if they are large files). This is overkill for 99.99% of people so it's easy to see why they don't include micro sd. I do understand that some people need (want) more storage but you have to understand that it's a niche feature and will limit your phone choices.

I really don't think nice feature is quite accurate: Samsung, HTC, LG to name a few include expandable storage on their flagship phones. It's really Google that's making waves with this.

I meant niche. Swype keeps in-correcting my typing :) and the edit button on this web page isn't working.

Just because phones have it doesn't mean people actually use it (or would use it if their phone had more internal storage!). Internal storage is faster and more reliable than an sd card. I'll take more internal storage any day over a slower sd card that will eventually fail.

It's that whole crap 'iPhone moron logic' at work. Just because Apple does something doesn't mean it's something good.

Can't tell if you are replying to me or the other guy... I hope you are replying to Aethandor because by his logic since Samsung includes sd cards then it must be good. LOL. If you're replying to me then your analogy doesn't hold up because I wasn't saying no sd card is good because Google does it. LOL. I was saying it is good because it is faster and more reliable. Those are objective facts. The only logical argument in favor of an sd card is if you need more storage than what is available internally. And I will argue that's a minuscule potion of users.

Well the point is, it's there any time you want it if you have an SD card ,
you don't need an internet connection for it, and you don't have to use your data up uploading and downloading,
And you have a choice what size card you put in it, plain and simple is a convenience you don't get on the pixel.

So your first point is that if you have an sd card it's there any time you want it. *Claps hands* Well that surely is a great point. Can't argue with that one. Your second point is you don't need an internet connection for it. Yeah...pretty sure you don't need an internet connection to use internal storage. This bring us to your third point which is you have a choice what size card you put in it. Well if that isn't plain and simple I don't know what is. My point was that it's something most people won't use and that if you have plenty of internal storage you don't need to rely on inferior storage.

I don't know why it's inferior storage, it's there when you want it, you can partition it, you can remove it and put it in another device, or you can just remove it and put in another card , as for being slower, if you have a good quality card in 99 percent of the time you won't notice a difference.

Yes, I know how sd cards work. No, they are not as good as internal storage. They are slower in just about every case. Even if it's a fast card. They are more likely to fail. Even if its a high quality card. Not to mention that every phone handles sd cards differently when it comes to adoptable storage vs. media storage. This makes a difference in how you can use the card and the user needs to know this. For some, these disadvantages are worth the trade off but for most they are not. You see, if you have enough fast internal storage you don't need to rely on slower and less reliable removable media.

love the idea. Now convince the manufacturers. Google have been trying for the last couple of years and they're not buying into it, heck, even Google themselves aren't buying into it. 32gb ? what use is 32gb to me ?? 128gb would be swallowed immediately and leave me wondering what to delete.
No-one seems to be adopting more internal storage.
Foreseeably enough internal storage would be fine, then people like me who are underwhelmed with the best offerings British mobile service providers can offer will stop demanding expandable storage, non-negotiably.
Sorry, but it is a non-negotiable requirement for me in my current physical location as a best solution. It may not be yours.

Again, you are in the minority. 128gb is overkill for most users and many can get away 32 (see the article Alex recently wrote). There are other options for those that need sd cards but its not hard to see why google doesn't include it.

I'd like to see Google's pertinent sales figure to back up that claim - for Europe, not America.
That's kind of rhetorical. Google cannot back this up with proven sales in Europe because they're pants.
I think you're somewhat over-stretching your license with some of these claims ;)
Google IGNORE Europe. Not totally, obviously, but when it comes to product sales, and more importantly, pertinence they are marketing American products abroad. Maybe they do when people learn to cross the road; stop, look, listen.

I am guilty of having an American perspective so excuse my ignorance but why does Europe have a bigger need for more storage? Because the data networks are not as good? On your other statement, you do know that Google is an American company. Not to mention the US is a bigger market than europe.

yeah, basically. I'm on the so-called best network with significantly faster data speeds than anyone else, with massive mobile data allowance and claims of the best coverage. I live pretty centrally in the largest city in Scotland and I'm still struggling to get a viable data signal at work (at the top of a hill) and lose data connection about 6 times and complete mobile connection 2-3 times on my 10 minute overland train journey into town. Says it all really. It's crap. :-/

do you not have wifi at home and work? I would think 128gb should get you by when you don't have a connection for what maybe a couple hours a day at most.. I get that you want more storage but even in your country most people would be fine with 128.

Yeah that sucks. It's crazy how much we take our high speed internet connections for granted. Still, 128 is enough for almost anyone anywhere in the world. I get why cheap android phones have sd card slots...sd storage is cheaper. But on the high end it's making less and less sense. I'm all for Google make a mid to low end offering with 32gb storage and sd card slot but there isn't any reason to include it in the Pixel.

No. Don't make that blanket assertion. It is not enough for many of us.

Yes but you are in the minority. You're not wrong for wanting it. But also Google is not wrong for omitting it for all the reasons I have laid out.

aye, work Wi-Fi is very limited, I usually flit between it and mobile data to do much online, and with mobile data being patchy literally just up the road from a major university, it doesn't say much.
Providers are selling capacity they can't both honour and continue to provide a complete reliable service to all subscribers.

I can tell you're a salesman! well so am I and I'm not buying lol
You may be exactly right about the average consumer and their learning processes, and about the agreed weaknesses of the micro sd format but for now I'm sticking with my uSD card. It's not broken. Plus, I like having a good selection of music and video available because the mobile connections are so poor and I get seriously wound up by endless buffering.

Not a salesman. IT professional here. I'm glad OEMs still make phones with sd cards for the folks who want them. I'm sure someone will continue to include them for years to come and that's a good thing. Google has shown for a while what their view is on the subject and it makes a lot of sense.

Only if they included more internal storage. Without doing that, it makes zero sense.

Without doing that it makes zero sense for the minority of people who require more than 128gb of storage. FTFY

maybe they should do what do when they learn to cross the road, was what I meant to say.
for some reason the dang edit button wouldn't work

Exactly. This has been my issue FOR YEARS. They simply do not install enough internal storage. 256 I could work with now. Sadly, only Apple offers this.

If you don't mind me asking, what do you store on your phone? I'm using a little over half of my 128gb. I have thousands of high quality music file, dozens of HD movies, a ton of apps, and several gigs of pictures. I don't ever worry about running out of space

sure, from memory, I'm not adding this up it's just based on the last time I looked, I have about 90gb in music files, about 23gb in music videos, about 15gb for apps and games and associated storage, about 12gb in pictures, videos and a few backup files and I've still about 75gb free including internal memory

yeah I just don't have the need to store that much music locally. I have my favorite albums stored as lossless. Several hundred more albums cached in high quality in GPM and I have an internet connection 99% of the time for streaming. If I really want to sit down and seriously listen to music I'm not doing it on my phone. I'm not saying you are wrong but even if you don't stream music, 128 is still plenty for most people.

Yes, sadly the Pixel doesn't have the critical "enough fast internal storage". Even Apple knows that 256 is what a pro user needs in 2016.

I would buy a 256 in a heartbeat but 128 is still overkill for most people. Calling it now...Pixel 2 with 256gb storage and waterproofing! People will still complain...

64gbs is the sweet spot. It's odd that Google doesn't provide such an obviously perfect choice...

For some of us, 128gb isn't enough. And the OP is right, most of us don't live in a perfect coverage area and a lot don't have unlimited data plans so cloud storage is still inferior to a microSD slot. If only Google offered a 256gb Pixel like Apple did with the iPhone 7. Only then would no expandable storage be acceptable.

Hear, hear! Totally agreed. 256gb I could have lived with. 128, bye Felicia. Google is so dumb with is storage options.

This isn't as big of a deal breaker as you make it out to be. The general population doesn't care/know about expandable storage. Does that make it okay that Google didn't put one in? Eh, it's Google's phone.

"The general population doesn't care/know about expandable storage." Now I understand why the next President will be Hillary or The Donald.

Yes. The general population is much less knowledgeable about any given topic.

Just call it the stupidity of the American people....but at this point, what difference does it make?

I'd like to imagine that anyone forking out £720 for a flagship phone is going to have *some* concern about storage. I have the technical background to understand why Google is keen to phase out expandable storage, I don't happen to agree with them, nor, more importantly with their timing. I think they're at least ten years premature based on the state of mobile networks in the UK.

Really, they don't. I recently worked at an AT&T store selling phones for two years. They will only ever think about it if you're (the salesperson) the one that brings it up. Of course there are outliers, though.

In my experience the average consumer doesn't care about it until they fill their phone with photos and haven't figured out how to backup/export them (which happens a ton)... At one point there was a bug in iMessage that had phones filling up with old message threads full of pics even if you deleted them (which didn't really delete them), that probably prompted a few unnecessary upgrades. As an enthusiast I'm not really carrying full video libraries on my phone, more power to those that do tho... OTG seems perfectly viable for that or even quickly offloading a lot of recorded video tho. 128GB is a room for music/games otherwise but to each their own. I'm not a fan of the weaker random i/o and storage controllers on mSD. Just because the average consumer may be unwittingly pushed towards streaming and consuming more data doesn't mean they don't have any options still, even on a phone with removable media. It's not quite as severely limiting of choice as taking the headphone jack away IMO. Sure there's a Lighting to audio adapter, so that's one option, but what if you also wanna charge?

The frequency with which you would need that solution is far less when you have the option of a 128GB model offering nearly 500% of the available storage provided by a 32GB model, which the Pixel offers and the Samsung doesn't. Internal RAM is far, far faster than removable MicroSD cards. Pre-empting the genius who things to mouth those magical letters MicroSD, don't.

my moto Z play eats both batteries for breakfast :P

S7 edge and Pixel eat the Moto Z cameras all day.

That is indeed very true, having used both a Note 7 and currently, a Moto Z.

Sammy all the way for me. Toyed with a pixel the other day and there were some strengths but I don't like the look ( massive bezels with even more screen lost to on screen buttons) and the only feature of interest to me right now is google assistant. I already get monthly security updates and I upgrade every year so new os updated mean very little for me. Especially because the last two were just meh for my needs. Key features that I need were already in place in in Sammy.

Well, you should mention that you are using the Snapdragon version of the phone, at least when you make comments on the performance of the S7 EDGE. Why? Because, against what you state on the article, S7 EDGE EXYNOS version is faster than Pixel XL: https://www.youtube.com/watch?v=okDtNUbKK5M
The link is regarding 5" Pixel and normal S7, but the specs are the same as Pixel XL and S7 EDGE (SOC and ram wise)

Eh. I was using the Exynos variant of the S7 Edge and I can attest that the lags, microstutters, and inconsistency are still there. Now I won't argue that the Exynos opens apps faster, but in everyday usage, I don't notice the difference. Where I do notice the difference, though, is that the Pixel does not have the lag, microstutters and it is incredibly consistent across the board. So, in my opinion, while the Exynos is theoretically faster than the Pixel/821, it is not faster in everyday usage. Edit: Of course this is all anecdotal, but I'm hardly the only one to call the Pixel "faster." What matters is what the end consumer sees, and they will see the Pixel as being faster and smoother.

Agreed. On skinned phones, you're going to get some stutters and greater inconsistencies in performance. That's just a well known fact. On the whole it doesn't bother me, and wouldn't stop me from using any device (I like choice, not being strapped to one phone), but there's no question that Google optimization trumps heavily skinned phones over the long haul.

We'll see how it plays out in the long run!

The Pixel is skinned. The 821 in it isn't even a real 821. Its clocked at every single thing the same as the 820. Even the GPU and DSP. It comes up as an 820. Could it be...naaahh, no,one would ever lie, right?

Good article, nice comparison.

People tend to understate the software support on Samsung devices. The s7 was the first device with vulkan and I think the only one to get it on marshmallow. And even the s5, released two and a half years ago, has the October security update after having received two os updates (but no nougat). OS updates come later on Samsung than other oems though, but overall they are more stable and by the time Samsung gives it, apps are optimised for it too.

my old note 5 was in 6.0.1

Ummm... Samsung Pay? For me (in the US) this makes it no contest between the two.

Came here to post this. I can't ever use another vendor until they get something comparable, or until the US has moved away from mag strip payments. Samsung pay is just too good.

Or perhaps you want/need better water resistance and expandable storage, infinitely superior Samsung Pay, brighter screen, larger battery, integration into Samsung's online ecosystem like find my phone which works a lot better than stock Google, work in an enterprise environment that only supports Apple devices or Samsung Knox (which is most enterprise shops) buy an Edge....otherwise yeah, get a really expensive Nexus.

Or perhaps you would rather have a better software experience when "advantages" of the S7 are only marginally or subjectively better. EDIT: Except for waterproofing of course. That was a big miss by Google and the main reason I will be holding onto my 6P for another year.

Some of those features are only marginally better yes...but in my opinion Google basically released a phone that is only marginally better than the HTC10 which was panned by critics months ago when it came out. Samsung Pay and Wireless charging and expandable storage and waterproofing. Once you have those features, buying an overclocked HTC10 with an OS that everyone is going to eventually have just does not justify the flagship price point. The Pixel would have been a WONDERFUL device at the $499 range, I would have bought one. Why would I shell out this kind of price for a phone when I have a perfectly good OnePlus 3 that is running Nougat and has 99% of the features as this $800+ phone and I paid half that for the OP3. And the fact that 7+ months after the S7 edge is released, we are comparing Google's brand new flagship to it should speak volumes. I guess I (and a lot of other people) was just expecting something more from Google. This phone should not have been the Pixel, it should have just been the next Nexus and they should have saved the Pixel brand for a phone that deserved it.

Your comparison to the HTC 10 is appropriate but I contend that the improvements are more than marginal. The HTC 10, beautiful hardware hampered by less than stellar software (still better than Samsung's. Sammy's software is literally the only reason I won't buy a Galaxy. But I digress...) and a mediocre camera. The Pixel improved on these shortcomings and made them advantages. I think the Pixel justifies its price just as well as Samsung and Apple's high end. That's not to say any of these phones are a good value or "worth" the price but that is subjective. Google is now competitive in the high-end space and that is a good thing for enthusiasts (I still wished they also offered a mid to low range option). The S7 has aged very well and Samsung is doing great with updates so far (two things that cannot be said of previous Samsung's). The Pixel will push Samsung and Apple to step up their game and that's good for everyone. Choice is a good thing and there are three (four if you count the V20) phones right now that a legitimate argument for "best" phone can be made.

They are both 2016 phones so of course you compare. This has been done EVERY YEAR. It's not b/c the S7 is "special". And as someone stated above, most of your reasoning is completely subjective. Waterproofing is the only big thing missing.

For those that are saying that they don't need an SD slot, fine, don't use it. But if ASUS can figure out how to give 256 GB of internal storage plus an SD slot then it is obvious that it is possible for Google and others as well. They just won't do it for obvious reasons, such as them wanting to sell us cloud storage solutions.

Obviously it's not a technical limitation. You are right that don't include it because they don't want to but it's not because they are trying to sell you cloud storage LOL. It's because internal storage is faster and more reliable and thus a better user experience. SD cards are a clunky solution that very few people need. They don't want to waste the engineering effort and physical space in the phone for a niche feature that can be a bad experience. If SD is a need for you then don't get a Pixel....there are plenty of other options for you.

Yep, they want to sell cloud storage solutions...like the free unlimited storage i just paid for with my Pixel. Wait, what?

lol exactly what I was about to say

Samsung for me as well.
I tend to buy new releases right away from Samsung and Google but decided to hold off this time.
IP68 and Samsung pay is what keeps my interest more than Google assistant. I deal with wet environment all the time.

Good reasons. Can't blame ya although I do love Google Assistant over Google Now. Much better.

For some android enthusiast. Installing pixel launcher on your s7 makes it pixel os speed levels with even faster launching of larger apps. All in a better package with better options and an even lower price.

That's what I did. Then I put it side by side with the Pixel at Verizon. I don't quite understand why they say image is just as good. No way Jose, the S7 screen is much brighter and richer in colors. Also the design is plain boring. I can understand why everyone was across the room checking out iPhone and Galaxy phones. There's nothing appealing about the Pixel. But of course some will argue, updates and speedy performance. But haven't we heard that before hehe

I did that too. At a verizon store. Side by side with my exynos s7 edge pixel launcher next to a pixel xl. I quickly realized it would be downgrading in so many ways to go to a pixel. Funny thing no one was near the pixel area. All the customers were looking at iphones or galaxies too. Certain media are praising this phone because it runs as smooth as an iphone (for now). It makes me think have all these android reviewers secretly always wanted an iphone?

Seems like a a marketing job trying to convince people that the Pixel is a great phone because it does less, quicker than the Samsung S7 Edge, Assuming that the Edge will upgrade to 7 at some point what we really have is an overpriced phone that is a already inferior to a 7 month old model. And what will Pixel owners have in 4 to 5 months? They'll wish they'd waited for the S8, assuming they do not explode

So doing less but doing it faster is a bad thing? Only if the things it doesn't do are important to the user (and granted, they maybe - but then again, the Pixel does things the S7Edge does not). Let's assume that upgrade for the Edge - still each has different strengths. Now... what will Pixel owners have in 4-5 months when the S8 comes out? Realistically? A phone that may have lost some of it's unique attributes it had at launch, shoudl the S8 pick them up, and may be missing a few new items Samsung comes out with. But what about a year later? That Pixel will have been updated to 'O' and guaranteed 'P' where the S8 (and certainly the S7) may or may not see either. I respect both devices. Were I buying one for a friend, I might choose either depending on what I knew they would value more. Me? Pixel. You? S7 Edge. Who's right? Only the buyer.

True, I just don't respect the writer of the article for such a biased article. What unique features does the Pixel have outside of N? Its butt ugly and expensive. It has no microSD slot, no wireless charging, not waterproof etc. Its not a bad phone but its over hyped and far too expensive. However, I fully accept my opinion is subjective though not without support elsewhere

To be fair, a similar list could be made for any phone, substituting other features, services, and valuehands that they lack. Other unique features: Daydream compatibility, FPS swipe, unlimited cloud media backup, first to get OS updates, 2 years guaranteed updates, 3 years guaranteed monthly security updates, USB-C PD charging, advanced AI, compatibility with all major domestic and foreign network technologies, compatibility with Project Fi, available with unlocked bootloader... I'm sure there's more but that's of the top of my head. Individuals may vary in opinion, but the market - including many opting for it to replace their iPhones and Note 7's - has made it clear is not overreaching it's value.

I dunno, once you get used to wireless charging every day and using Samsung Pay regularly, you're hooked.

S7 still "edges" ahead of Pixel in most tests... pixel is especially slow at gaming which is tough... iPhone 7 blew it away and S7 definitely has it by a notable mark: https://www.youtube.com/watch?v=QWBkfW6yE9E Could of course be that the games aren't yet optimized for nougat... which also begs the question on whether or not nougat is a worthwhile upgrade at the moment as there have been other MM vs Nougat videos showing Nougat to be slower overall on the same hardware https://www.youtube.com/watch?v=_a7AC2UXpYg Pixel is still probably a great phone.... at a $499 Pixel and $599 Pixel XL price point. Don't think it is worth $649/$769 they are asking at this time.

If the S7 Edge had a USB-C port, I'd probably buy one but I'll never own another device with micro-USB. Every one I've ever owned has developed a problem with 6-8 months affecting the reliability of the connection. It's a shame - I really like the S7 Edge but it's looking like the Pixel XL for me.

Be more careful with your phone plugged in then. I've never had any problems with any of the microUSB ports on my phones.

Pixel really has nothing but smooth animations. The S7Edge is actually faster in day to day use

Prefer my S7 Edge to pixel....and in india 57000 for 32gb is a joke...

Not buying another phone without built-in wireless charging, so it's the Sammy, for me. Plus, I love Samsung Pay, so I'm kinda stuck with them anyway.

I see nothing here that convinces me to give up my Blackberry Priv. It is still one of the most beautiful and most secure phones out there. I would still like to have somebody give me a good, solid reason why I should switch.

SD808 is crap especially for a QHD display. Performance stutters and heating issues.

Really wish the pixel had wireless charging, better speakers and water resistance. That might make it worth the money. For now I'll stick with my s7 edge. I think I can handle a little lag here and there until the price drops a little.

No sd card no water resistance no wireless charging. 3 strikes right there Pixel.

I'm rather unhappy with how AC has overrated the Pixel in all of its reviews. When you read this review, they do mention the attributes of the Edge, but there are so many "but's", then raves for somewhat meager advantages of the Pixel. I, honestly, come to this site for honest reviews, which I don't believe I am getting with the Pixel.

I know one has to wonder what their motivation is. To be fair it's not just AC. I just feel like those doing this assume people are idiots and wont do their own research.

Maybe they think the Pixel is the better overall package as a phone? Just a theory.

I have a question. Is the GP camera really that good or is the software post processing that only makes it seem good and can you get the same type of photos off another phone with Photo Shop? I fell that most tech sights are really pushing the GP as something special and I'm just not seeing it...at least not for the money they're asking. What fun is vanilla Android for $900? Nothing pure Android has ever sold very well or held it's value...why is this phone being touted as anything different?

C'mon let's cut the crap out. No one cares about unlimited cloud storage or vanilla Android. Put it this way people think Android is Samsung lol. The Pixel is butt ugly and ridiculously overpriced. Get a damn iPhone or even better the S7 Edge along with a SD card according to your needs. They come in all sizes, plus with its better specs and most likely getting Nougat soon, it'll be future prove.

The Pixel is everything you need for a perfect, clean stock Android experience #madebygoogle. Not everything we want.

Yes , that's the rub isn't it , nice and clean ........ with minimal features ,
I truly don't know what Google is thinking, they talk the device up in their advertising ,
it is like they actually want to sell some phones , but want to keep it the most poverty equipped model on the planet.
In recent times I have had a quiet thought that for apple iPhone to kick on , it will need to become more like Android hardware,
and we are starting to see iPhones getting better in hardware features, finally a 1080p screen on some models , this year brings dual speakers on the flagship model I think ?
look closely at the pixels , they look more like iPhones and are actually losing features compared to last year's model .
Maybe I'm not seeing it right , but that's what it looks like .

I still say these two phones need to have a baby.

Samsung wins this hands down.

The only reason I agree is the pricing. You flatly get more for your money with the S7 edge.

Note 7 would have won, no contest. Sigh.

I guess the post is meant to suggest that the two phones stand hand in hand to each other. But when I compare the two phones I don't really like Pixel look and I would still say that Samsung Galaxy S7 still stands ahead of Pixel in most cases like no wireless charging and water resistant feature in Pixel so I would better invest money where I get advanced and beneficial features. My vote still goes for S7 Edge (y).

You say battle of the best but then put one of the best Android phones - the S7 Edge - against an absolute piece of sh*t like the iPixel. That doesn't make it a battle of the best. It makes it a bloodbath with the S7E straight out murdering the iPixel.

I have to say.....this comparison reads like one of those IPhone Vs "current top android phone" puff pieces that get written by CNET, The verge and other sites that are in the tank for Apple...except in this case AC is in the tank for Pixel.

If I had to choose I'd go for Sammy's hardware running Google's version of android...

Ok, the Amoled on the Pixel is "closer" to Samsung quality because it IS a Samsung display. smh. It's older generation but still not bad. Pixel has NO flagship features and is not a rival to S7 Edge. The only phone worthy of that title is the LG V20, a phone that is far and away better than the Pixel. Pixel is an extremely mediocre phone that's pricedc$200 too much. It will be a flop and will only sell to the few geeks as with every Nexus,probably less as they're not stupid and won't pay $900 for it. Nexus 6p is a better bet.

I think at the end of the day the sales numbers will tell the truth about which phone is better. My expectation is maybe...maybe they will hit the projected 4 million sales number this year. Still far below the big two and no better than typical Nexus sales. That being said since the phone cost more if they can churn the same number then they have proven that price is not a deciding factor. They have also proven that no one except geeks will buy a android stock phone. Not knocking the phone, just the leadership team at google who thought this was a good idea.

The idea that the better product will sell better is not realistic. Customer perception, curb appeal, retail availability, and marketing effectiveness are some of the many factors that impact sales without being tied to product quality. I personally own and love the s7 edge. I purchased it a few weeks ago used for around $400.
Regardless of my personal phone preference, I think that even if google had released a vastly superior phone, they would not be able to suddenly match Samsungs sales numbers without many other factors changing as well.

BadMojo69 Excellent points well put. I'm in agreement with you.

I haven't held the Pixel in my hand. But frankly, Google has not offered me a compelling use case with the Pixel to care enough to switch from my GS7 Edge, unlocked Exynos. The fact that this article basically has to parse out differences in a brand new google phone versus a 6 month old phone tells a lot about the fact that the PIxel is underwhelming.

The only "feature" the pixel has is a smooth UI, if you want to call that a feature. Regular buyers surely won't consider that a feature. The camera seems awesome, but no RAW support and it's silly not to offer an SD card. I know quite a few people who now take most of their photos in manual RAW mode and you can't do that with the Pixel. These reviews need to be written from the perspective of consumers. While the pixels are ugly phones, they'd be great buys at $200 less. At the prices Google wants, I don't see how any sane reviewer could suggest them over the S7. It's almost like Google is giving you $400 hardware and charging you extra for the cloud storage.

The S7 is the clear winner, sooner or later it will get the 7.1 update and that combined with the features it offers, makes it the best against the Pixel.

Simplicity is the reason I refuse to ever use an iPhone.

Samsung's Hardware - screen, waterproof, design wireless charging - all clear wins for the S7. The one thing the Pixel is better - The OS. Sorry Samsung, but Touchwiz still has bloatware and is ugly. I can't stand your bloatware. Samsung Hardware + Google Pixel Software = Best Phone on Earth.

My pixel beats my s7 in battery life easily. I've had far more battery left on my pixel at the end of the day then I ever have with the s7.

battery life worsens the more charge cycles you go through, so, obviously, after months of use your s7 is not going to last as long as a brand new pixel; also, android generally improves in terms of energy efficiency with every build, so with the pixel shipping with nougat and samsung still being on marshmallow, you end up with another slight discrepancy...also google's vanilla android UI should be using fewer resources than samsung's touchwiz UI, so it all comes back to simplicity vs aesthetics in the end
Android Central Newsletter
Get instant access to breaking news, the hottest reviews, great deals and helpful tips
Thank you for signing up to Android Central. You will receive a verification email shortly.
There was a problem. Please refresh the page and try again.