Google Pixel XL vs. Galaxy S7 edge: Battle for the best!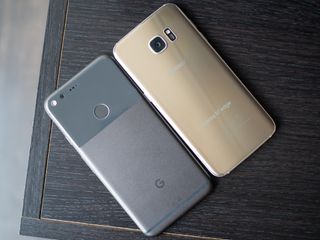 The Galaxy S7 edge is over seven months old now, but that doesn't mean it has wavered in importance or dropped off the radar of people looking for a high-end phone today. Particularly after the demise of the Galaxy Note 7, where the GS7 edge had to step back in as the top-of-the-line phone from Samsung. But of course Google is also here to play with its new Pixel XL, which goes toe-to-toe with the Galaxy S7 edge in terms of screen size, specs, camera and price.
Google's latest phone effort is fighting for the exact same potential consumers that Samsung has been selling to en masse over the past few years, and it's doing it with a phone that can actually hit the right points with general phone buyers. So how does Google's new Pixel XL compare to the Galaxy S7 edge? We're here to discuss just that.
Hardware, specs and features
Samsung continues to have an extremely unique look to its phones, particularly with its curved "edge" models. The metal frame accents two huge panes of glass that are sleek and perfectly manufactured, and the design still holds up several months into the GS7 edge's life. On the opposite end of the spectrum, the Pixel XL is much more subdued — its metal build likely has broader appeal, and is built just as well as the Galaxy S7 edge.
Which one works best for your hands and design taste is obviously personal preference, but the two things to keep in mind here are the Pixel XL's overall larger footprint, but also the Galaxy S7 edge's tougher-to-grip curved screen. In total the two come out to be about the same — the Pixel XL's "wedge" shape helps counteract its large size, while the Galaxy S7 edge's display is tough to hold onto at this 5.5-inch size. The Pixel XL has less glass to scratch up over time, but then again the Galaxy S7 edge is waterproof, saving it from a catastrophic watery death while you own it.
Image 1 of 4
On the front, the Galaxy S7 edge stays in the lead in terms of display performance, though Google's latest effort is far closer to Samsung's AMOLED displays than in previous years. The Pixel XL's screen is vibrant and gets very bright, but it just isn't quite as capable in direct sunlight as the Galaxy S7 edge.
Now, the full spec comparison:
Swipe to scroll horizontally
Category
Google Pixel XL
Galaxy S7 edge
Operating System
Android 7.1 with Google UI
Android 6.0
Processor
Qualcomm Snapdragon 821
Qualcomm Snapdragon 820
or Octa-core Samsung Exynos 8
RAM
4GB
4GB
Display
5.5-inch 2560x1440
AMOLED
Gorilla Glass 4
5.5-inch 2560x1440
Super AMOLED
Dual edge screen
Gorilla Glass 4
Rear Camera
12MP f/2.0
1.55-micron pixels
PDAF, LDAF
4K video, 240fps slow-mo
12MP f/1.7
1.4-micron pixels, OIS
4K video, 240fps slow-mo
Front camera
8MP, f/2.4
5MP f/1.7
Battery
3450 mAh
Non-removable
3600 mAh
Non-removable
IP rating
IP53
IP68
Charging
USB-C Rapid Charging
Quick Charge 2.0
Qi wireless
Powermat wireless
Connectivity
USB-C
Bluetooth 4.2, 802.11ac Wi-Fi, NFC
Micro-USB
Bluetooth 4.2, 802.11ac Wi-Fi, NFC
Fingerprint sensor
Yes, back
Yes, front
Storage
32/128GB
Non-expandable
32GB
microSD card up to 2TB
Dimensions
154.7 x 75.74 x 8.6 mm
150.9 x 72.6 x 7.7 mm
Weight
168 g
157 g
The Galaxy S7 edge has the overall win in terms of raw specs and hardware features. Though the GS7 edge only offers 32GB of internal storage, many see its microSD card slot as more important. It also offers more charging options with its wireless charging and industry-standard Quick Charge compatibility. The Pixel XL's slightly newer processor and USB-C port are the two big wins internally.
Software, performance and battery life
As it stands, the Pixel XL is (expectedly) the prime example of Android software today. While it doesn't pack in quite the volume of features the Galaxy S7 edge does, that's actually a strength. Everything it does, it does darn well and with purpose — and the GS7 edge in turn does more things but they often get in the way or are altogether unused.
In terms of interface and design, it's more or less personal preference at this point. Both phones are cohesive, though the Galaxy S7 edge may be a bit busier — but if you've used Samsung phones before you may be more comfortable with the GS7 edge in that regard. But there is something to be said for the Pixel XL's latest Android 7.1 software being more advanced and secure than 6.0 on the GS7 edge, with far better prospects for being updated over the next two years.
More: Camera comparison: Pixel XL vs. Galaxy S7 edge
When it comes to performance, things are quite a bit closer. Samsung has spent a considerable amount of energy to smooth out its software experience to focus on the core of what most people do. The Galaxy S7 edge is extremely fast throughout the launcher, camera, settings and apps, and just as importantly is consistent in its performance as well. High-powered processors and extra work has made gaming super smooth as well. As I found when I looked at the Galaxy S7 after six months of use, the phone can hold up over time as well.
Nobody has had nearly as much time with the Pixel XL to look at its long-term performance prospects, but it's clear after the few weeks I've had mine that Google has seriously focused on general speed and consistency with the Pixels as well. Be it the internal hardware, the software tuning or just some special sauce throughout, the Pixel XL is quite easily the smoothest and fastest Android phone ever made.
You wouldn't ever call the Galaxy S7 edge "slow" (or anything approaching that), and when you're using it on its own it's snappy as any other high-end phone, but there's something extra happening with the Pixel XL that just makes it a bit quicker. Apps open faster, multitasking is a hair quicker and the phone just never slows down. Both of these phones represent the speed and fluidity that every other manufacturer should aim to offer.
Things are a dead heat in terms of battery life, and that's not surprising when you consider the near-identical battery capacities, screen sizes and internal specs. For my use, both phones make it through a day comfortably without worry, though the Galaxy S7 offers the additional feature of wireless charging to help you casually top up the battery throughout the day if you invest in charging pads.
Bottom line
There's no denying that in the high-end, top-dollar portion of the Android market you're going to be considering both the Pixel XL and Galaxy S7 edge. Both offer a unique but well-executed design, comparable high-end specs and lots of features, with the top-end phone from Samsung having the minor lead thanks to its waterproofing and wireless charging. And as previously discussed, the cameras aren't far apart either.
What the Pixel XL loses in raw hardware features it makes up for in software simplicity, though, with deep integration of Google's services and no cumbersome or duplicative apps. Google gets a little more out of its software as well, with an extra bit of speed and polish you don't see on any other Android phone today. And you can't look past the fact that it is — and always will be — on a newer Android version than the GS7 edge.
If you're one who prefers simplicity, speed and the latest software over all else, the Pixel XL is the phone to get at this price and size. But if Samsung's extra features, familiar interface and striking design hold weight for you — or perhaps you used to have a Note 7 — then give the Galaxy S7 edge a look, even several months removed from its launch.
Get the Android Central Newsletter
Instant access to breaking news, the hottest reviews, great deals and helpful tips.
Andrew was an Executive Editor, U.S. at Android Central between 2012 and 2020.