Google Pixel 3a vs. Pixel 3a XL: Which should you buy?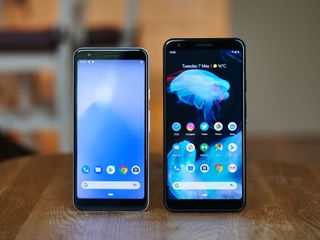 (Image credit: Alex Dobie / Android Central)
Best answer: Most people will be best off with the Pixel 3a XL purely based on its larger screen and longer battery life. The standard Pixel 3a is compelling as a compact phone, but it may feel cramped for many people and its battery life is questionable — you can get so much more for about $20 extra in the Pixel 3a XL.
What's the difference between the Pixel 3a and 3a XL?
Image 1 of 4
Just like the original Pixel 3 and 3 XL, there isn't much that differentiates the two mid-range Pixel 3a models other than size — but that is, of course, a difference that requires some thought when choosing which one you should buy. Both the Pixel 3a and Pixel 3a XL are built with the same materials and design touches and operate on the same platform internally with the same specs and capabilities. There are just a few different line items that are different to align with the differences in size.
Swipe to scroll horizontally
Category
Google Pixel 3a
Google Pixel 3a XL
Operating System
Android 10
Android 10
Display
5.6-inch OLED
2220 x 1080 (18.5:9)
6.0-inch OLED
2160 x 1080 (18:9)
Processor
Qualcomm Snapdragon 670
2.0GHz + 1.7GHz
Octa-core, 64-bit
Qualcomm Snapdragon 670
2.0GHz + 1.7GHz
Octa-core, 64-bit
RAM
4GB
4GB
Storage
64GB
64GB
Rear Camera
12.2MP Sony IMX363
1.4μm pixels, f/1.8
OIS + EIS
76° field of view
12.2MP Sony IMX363
1.4μm pixels, f/1.8
OIS + EIS
76° field of view
Front Camera
8MP
1.12μm pixels, f/2.0
84° field of view
8MP
1.12μm pixels, f/2.0
84° field of view
Connectivity
Wi-Fi 2.4 + 5GHz 802.11 a/b/g/n/ac 2x2 MIMO
Bluetooth 5.0, NFC
Wi-Fi 2.4 + 5GHz 802.11 a/b/g/n/ac 2x2 MIMO
Bluetooth 5.0, NFC
Ports
USB-C
3.5mm headphone
USB-C
3.5mm headphone
Audio
Stereo speakers
AptX HD
Stereo speakers
AptX HD
Security
Rear fingerprint sensor
Rear fingerprint sensor
Battery
3000 mAh
18W fast charging
3700 mAh
18W fast charging
Dimensions
151.3 x 70.1 x 8.2 mm
147 g
160.1 x 76.1 x 8.2 mm
167 g
At the base level, both phones will operate basically the same in your daily use. They have the same processor, memory, storage, screen resolution, cameras, ports, and so on. They also don't have any differences in configuration options and are available in all of the same color choices. Retailers will be carrying both phones side by side, too.
It's all about the size... and then price
The biggest thing that you're going to make your decision on is size. The Pixel 3a has a 5.6-inch display, whereas the Pixel 3a XL steps up to 6 inches. That doesn't seem like a lot, but when measured up diagonally it leads to a notable difference in the amount of usable screen real estate you have and in-hand feel.
The other side of the equation with that larger screen is the reduction of one-handed usability. The Pixel 3a XL is about 6% taller and 9% wider, as well as 13% heavier than the smaller model. If you have trouble managing modern smartphones in one hand and are craving something small, the Pixel 3a is the better choice — the 3a XL is right in line with being as big and heavy as modern flagships.
If you're somehow indifferent to the size of the phone you buy in terms of how much room the screen gives you to get things done, the other big reason to go with the Pixel 3a XL is battery life. The Pixel 3a XL's battery is 23% larger than the smaller Pixel 3a, and because the rest of the phones is identical that translates directly into prolonging battery life by that amount. If you're a heavy phone user at all, the Pixel 3a XL's larger battery will basically be a requirement unless you're willing to spend time charging midday.
The Pixel 3a XL is the no-brainer pick now that both phones have been discounted as they aged and the 3a XL is just $20 more than the regular 3a. The only question is whether you decide to buy the new Pixel 4a instead, considering the 3a series is now a year old.
Our pick
Unless you have a strong desire for a small phone, the 3a XL is the better phone
Even though it's hitting a mid-range price point, the Pixel 3a XL is a solid phone that doesn't skimp on size or capabilities. It's flagship-sized, and most importantly has a 20% larger battery than the 3a — you'll want that extra screen space and battery longevity.
Compact pick
A more compact phone with all of the capabilities — and one big caveat
There's absolutely something to be said for wanting a smaller phone that you can more easily use one-handed and fit in your pocket. The 3a offers that, but the downside is a 3000 mAh battery that brings worries about battery life. It is absolutely a trade-off that should be kept in mind when buying.
Sign up for Black Friday email alerts!
Get the hottest deals available in your inbox plus news, reviews, opinion, analysis and more from the Android Central team.
Andrew was an Executive Editor, U.S. at Android Central between 2012 and 2020.