Google Pixel 3 + Pixel 3 XL specifications: Better displays, wireless charging, amazing cameras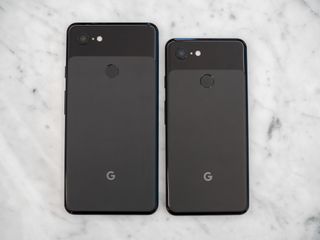 No, your eyes don't deceive you — the specs inside the Pixel 3 and Pixel 3 XL are very similar to last year's Pixel 2 lineup. But we know Google's never played the game of having new specs just for the sake of the numbers — it likes to build phones that have enough specs to accomplish its goals. That isn't to say the Pixel 3 and Pixel 3 XL are bare, though — there's plenty in here to compete with the latest high-end phones, and it's of particular note that the Pixel 3 has all of the same internals as the larger version, aside from battery and screen size of course.
Here's the complete spec sheet for both the Pixel 3 and Pixel 3 XL.
Swipe to scroll horizontally
Category
Pixel 3
Pixel 3 XL
Operating system
Android 10
Android 10
Display
5.5-inch OLED, 2160x1080 (18:9)
Gorilla Glass 5
6.3-inch OLED, 2960x1440 (18.5:9)
Gorilla Glass 5
Processor
Qualcomm Snapdragon 845
Pixel Visual Core
Qualcomm Snapdragon 845
Pixel Visual Core
RAM
4GB
4GB
Storage
64/128GB
64/128GB
Expandable
No
No
Rear camera 1
12.2MP, 1.4-micron, f/1.8, OIS, PDAF
12.2MP, 1.4-micron, f/1.8, OIS, PDAF
Front camera 1
8MP, f/1.8, auto focus
75-degree lens
8MP, f/1.8, auto focus
75-degree lens
Front camera 2
8MP, f/2.2, fixed focus
97-degree lens
8MP, f/2.2, fixed focus
97-degree lens
Connectivity
Wi-Fi 802.11ac 2x2 MIMO, Bluetooth 5.0 LE, NFC, GPS
Wi-Fi 802.11ac 2x2 MIMO, Bluetooth 5.0 LE, NFC, GPS
Audio
Stereo speakers
USB-C
Stereo speakers
USB-C
Battery
2915mAh
Non-removable
3430mAh
Non-removable
Charging
18W USB-C PD
Qi wireless
18W USB-C PD
Qi wireless
Water resistance
IP68
IP68
Security
Fingerprint sensor
Fingerprint sensor
Dimensions
145.6 x 68.2 x 7.9 mm
148 g
158 x 76.7 x 7.9 mm
184 g
Colors
Just Black, Very White, Not Pink
Just Black, Very White, Not Pink
Android Central Newsletter
Get instant access to breaking news, the hottest reviews, great deals and helpful tips
Andrew was an Executive Editor, U.S. at Android Central between 2012 and 2020.
And still no headphone jack or widespread carrier availability..what a shame.

Works on every carrier, don't even try and act like you didn't know...

I did know, but the fact that it's not directly available means that you can't subsidize it. Since there's no headphone jack or dongle with a good dac I wasn't going to get it anyway. But in order for it to be adopted on a mass scale it has to be on every carrier officially.

Google financing is just that, no interest. There are no carriers that subsidize the price anymore, they just spreaad it out for the 2 years of payments. It is 0% interest just like the other carriers, but if you dont pay in full by the time it ends you will be hit with full interest for the 2 years at 29.99%

$1,228 when all is said and done. No Google... No.

Seriously, I put the 128GB 3XL in Not Pink (🙄) in my cart and added preferred care to my order. $100.10 of that order was for NYS sales tax! Are you friggin kidding me?! Google, you ain't Apple, trying to peddle your crap at asinine prices. You have neither the history of "it just works", nor do you have the "It's not just a brand, it's a lifestyle" status. Better you should work on finally releasing one cohesive messaging app and getting rid of the hundred useless ones. No. Google died with the Nexus 6P, which I'm still typing this on. Back to Samsung I go next year. At least they try and justify their stupid prices by throwing everything but the kitchen sink at you.

WOW!! Did Google spend anytime at all designing this phone? Slightly new body and a new CPU, oh and let raise the price 150 bucks so a Pixel 3 with 64 GB and Pixel Care is $980 out the door. How about an iPhone Xr with 128GB and I can get it tomorrow. WHY GOOGLE!!!!!!!!!

I know. Whoever thought it would be okay to have that ugly big notch and only 4gb of ram should be fired.

4 GB RAM is perfectly fine if you are running 720P like Sony XZ1 Compact. 4 GB on 2k display is a joke. Android every year gets hungrier for space and people want to consume more of the ever richer apps. I don't understand why is Google so ignorant and decided to release a phone which they promise to support for 3 years w major OS updates. At this price it ain't future proof at all.
Battery sizes should be way bigger.
Storage sizes and pricing are laughable. Apple stopped skinning their customers last year, but Google figured this is the time to double down. Can't wait to see their sales "growth" year over year. -20% at the most.

Incremental SOC bump
8% bump in battery capacity.
0% bump in RAM
23% bump in price Sticking with my P2, thanks.

Don't forget about the 0% increase in the storage

That 8% bump is to cover larger and brighter display, so there is no gain for consumers. P2 after the initial price drop was somewhat easy to swallow and worth the money, but this is a joke.

It's very meh. What justifies the price increase?

Zero, nothing, zippo, yet there will be those who go from the Pixel 2 to the 3. Why? Dunno.

How about 50% better speakers, way better screens, new very useful and practical camera features, and wireless charging? And headphones in the box is a nice touch.

The specs here list the water protection rating as IP68, but Google's product page lists it as IPX8. From what I've read, IPx8 is a fairly loose rating, just better than IPx7. Are there specifics on the rating? Also, do headphones come in the box as the leaks suggested?

I don't even know how to feel about the pixel devices anymore lol

iOS works very well with 3GB. You really need to be running Android 4.3 and a FHD screen for 3GB to work well on Android, u less you're running Android One and using "Lite" versions of popular apps. There's a reason why those apps don't exist on iOS. They aren't needed there. Android also multitask differently than iOS.

Amazing. Excuses made from almost the beginning for the similarity in specs to last year's models. Double standards??!!

No headphone jack again. What is the reasoning behind that "feature"?

The reason phone makers are doing this is so that you cant prevent the phone from listening to your conversation. When you put a peg in the jack hole it prevents the microphone from picking up sound. You know like when your talking about something and pick up your phone and some advertisement or search is there about something you were talking about? Also you grant apps permission to your microphone and putting the peg in prevents them. I was gonna post links to what Im talking about but I cant post links So go on Amazon and search these two items just copy n paste into Amazons search bar...... 1) My MIC Audio Blocker - Blocks Audio Hacking on Computers, Tablets and Smart Phones, Easy Carry Key Chain and....... 2) Webcam Cover- Web Camera Cover for Laptop, Desktop, PC, Macboook Pro, iMac, Mac Mini, Computer, Smartphone, Protect Your Privacy and Security, Strong Adhensive by EGRD. Beieve me theres someone always watching AND listening. Its why I have camera covers n the little peg. Its happened way too often to me. Its the one thing that pisses me off with new phones is that its wireless and bluetooth so now you are completely vunerable.

Does Pixel 3 have WiFi Calling?

The Pixel 3 /3XL will be a disaster for Google. Think of Samsung Mobile about 10 years ago when Samsung thought it could sell plastic phones at premium prices, while iPhone was all glass and metal. What has the HTC design team contributed? Nothing. They should be fired. Why would you build a larger screen and use the same size of battery? That is what HTC did with its HTC Evo 3D about 10 years ago. Unacceptable. Regarding the 4GB of RAM. Disappointing. Last year's Pixel 2 was lagging and many reported that same issue. Most recent and high-end Android phones are loaded with 6GB and 8GB to avoid lagging. Yet, Google stays with 4 GB of RAM. I view my spreadsheets on the go with my phone and I would hate to see lags. The design team(s) who made these recommendations should be replaced. That are destroying the reputation of the Pixel phones. I am very disappointed!

It is funny how users complain about the storage and ram. I understand about the price increase I understand complaints there. I have had the pixel 2 xl since release this has been the best phone I have had. I have had many different phones over the years from most manufactures. I am not into the gimmicks that Samsung sells. The phone does just work and works great at that. I have friends with other phones that have hiccups or issues and mine just keeps on going. When comparing pictures with the newer phones mine seems to be the winner. Yes it may be a little more bland of features compared to other phones but you are not lacking in power and performance. I see that apple now when releasing new phones gives it features that the others do not get. You can see the differences in them. Samsung is the same way and then look at their update history terrible at best. The pixel line gives you a great experience for the phone over the 3 years. My phone will get the same features as the new one so I have to wait a month that is ok. I will still get them and that makes my phone still relevant.

No sd card only 4gb ram. Will stop me from buying shame i had really been looking forward to this its the Sd slot i can't do without. I want my music with me and i can't rely on internet while out in the country for other things like photos stored on G drive. Shame i was not sure i would like Android coming from windows phone so bought cheap ish huawei honor note 8 i love it over 6.5 inch but it has 64gb internal storage and i use 128gb external. Google has to be careful. The Chinese will take over Android without having to have Google play store their own store is pretty good .
Android Central Newsletter
Get instant access to breaking news, the hottest reviews, great deals and helpful tips
Thank you for signing up to Android Central. You will receive a verification email shortly.
There was a problem. Please refresh the page and try again.