Google Pay now supports transit passes and tickets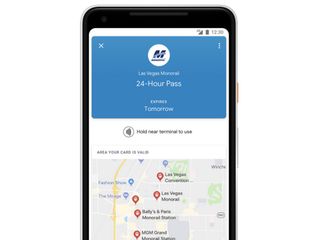 When Android Pay was re-branded as Google Pay, it didn't come with any new features. The app was given an updated look with a slightly tweaked UI, but that was about it. However, today Google's taking advantage of the new name by adding support for transit passes and tickets.
Starting first with the Las Vegas Monorail, you'll be able to add tickets right to the Google Pay app on your phone and travel around the Las Vegas Strip without having to worry about using your debit/credit card.
To make this work, all you have to do is buy a ticket or pass from the Las Vegas Monorail website, save it to your phone, and then hold your phone to the NFC terminal at the fare gate. You don't have to open the Google Pay app, as it'll automatically know to bring up your pass when it makes the connection.
Once the ticket is added to Google Pay, you'll see locations it's accepted at, where the nearest station is, and a breakdown of your recent trips.
The Las Vegas Monorail is the first travel/transit company to adopt this new feature, but it's expected that more will follow suit shortly. Obviously the big requirement from the start is having a transit system that accepts NFC, but after that it should be a simple transition to allowing the passes to be virtualized on phones.
If you live in (or more likely, visit) Las Vegas, is this something you'd use?
Android Central Newsletter
Get instant access to breaking news, the hottest reviews, great deals and helpful tips
Joe Maring was a Senior Editor for Android Central between 2017 and 2021. You can reach him on Twitter at @JoeMaring1.
Considering I'm going there in a couple months, this is awesome!

I'm not holding my breath, but it would be fantastic if SEPTA (Philly's mass transit system) would implement this. I'm posting this from a bus, which I paid for with a coin token, because we only just launched an NFC key card system, and mine hasn't arrived yet.

At least you're getting NFC to use to take transit. Here in NYC we still use the magnetic stripe..... Should be getting NFC starting in 2020

At least you guys have magnetic stripe cards. Here in Calgary Alberta (Canada), we don't even have a card solution.

TransLink in Vancouver, BC has announced that Google Pay and other tap options beyond the Compass Card will be available in the coming months.

As a daily bus/ train rider in Southern Cali, this would be an amazing feature to have, especially adding fare to my Tap card.

I second that. The whole tap card system is horribly outdated. The last time I tried to add value to my card on the website (after I got past the expired security certificate warning) I received a message that it would take 48 hours to add the amount to my card.

Get Google pay connected to the CTA and Metra systems in Chicago. No more preloading value on the Ventra cards!

Be nice to be able to integrate it with clipper card

Here in Dallas our transportation authority already has an app it's been pushing. It's not developed in house so significant investment was likely made by DART to the 3rd party for development and support. I would think the same scenario for most of the TAs around the country. That's where I see this breaking down

MTA/LIRR/NICEBus.... **Looks at yall**

MTA I think will have it starting in 2020

Can't wait for TfL to be added, they already accept payment via contactless.

This should be standard. Google pay has started to eclipse Samsung pay. SP does nothing like this.

This is pretty awesome! Sydney transport currently have an NFC card for transport and have slowly started rolling out the ability to pay via mastercard also via smartphone and smart watches in some areas. Really looking forward to this!

The title should be that Google Pay supports Las Vegas Monorail as opposed to saying it supports transit in general.
Android Central Newsletter
Get instant access to breaking news, the hottest reviews, great deals and helpful tips
Thank you for signing up to Android Central. You will receive a verification email shortly.
There was a problem. Please refresh the page and try again.