Google Maps updated to v6.11.1, runs short on changelog information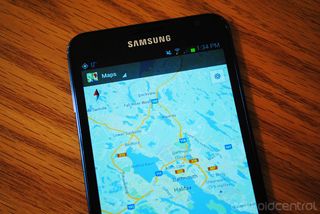 The latest Google Maps update has now appeared in the Google Play Store and shows the app has been bumped up to v6.11.1. After the last update, many HTC Rezound users had issues and were forced to downgrade to an earlier version so this might be a fix for that given Google hasn't really posted a changelog for it as of yet. In fact, it looks like they simply reworded the last one:
See borders of cities, postal codes, and more highlighted on search.
Browse a day-by-day display of where you've been using location history.
Improved transit information layer and added the ability to browse by mode of transportation.
If you happened to have any issues with the older build, go ahead and give this one a shot and see if there is any changes. We'll keep an eye on the changelog and see if Google adjusts it in anyway and update if necessary.
Looks like Google blogged the changes - http://googleblog.blogspot.com/2012/08/half-gigameter-of-biking-navigati...

I miss my miles to the moon. I was close like 2500 miles away from the moon.

anyone figure out how to show postal codes?

I started to type B4A and it suggested NS B4A, when I tapped it it showed Bedford in a red-ish outline. It doesn't appear to show it though if you have some layers enabled.

"If you happened to have any issues with the older build, go ahead and give this one a shot..." I love how this is our method for dealing with software problems.

The change log mentions that city boundary lines are displayed on search.
If you search for a City name, or a zip code from within maps, you are shown boundary of that city or zip code area. But this also worked on several prior version 6.10, (and less distinctly on version 6.9). So its not at all clear that this is new other than by simply making them stand out more clearly.

So far it hasn't crashed on my Rezound. It seems to be holding it's own again. The last update had it crash & reset the phone in about 20 seconds.

Same on my Rezound as well. I think they actually fixed it.

Rezound owners will rejoice. The 6.10 version made our phones reboot within a minute of opening Google Maps. The only way this didn't happen is if you manually updated to the new Global RUU that VZW has yet to offer OTA.

The Global RUU has been out for a couple of weeks now, but very limited distribution. Does anyone know when the rest of us are going to get it OTA?

The biggest thing I've noticed since the upgrade to ICS is that fact that it takes 3-5 times longer to get a GPS lock. RAZR maxx.

That and the Location indicator arrow head wanders around. Mine has wandered down the street half a block, the arrowhead (compass) is wrong pointing the wrong way, and it knocked me off wifi immediatly, then re-connected.

Hmm I think I better talk to Google about the city border thing as they are using outdated border info since my city had expanded it's borders significantly since 2007.

Exciting times in Nebraska, huh?

Finally updated... it did fix the crash and rebooting issues on my rezound

I can't focus on this article... All I see is that incredibly blue tinted Samsung screen above. It drives me nuts!

lets hope this sorts out the random resetting of my htc sensation, every few minutes when the app is launched.
Android Central Newsletter
Get the best of Android Central in in your inbox, every day!
Thank you for signing up to Android Central. You will receive a verification email shortly.
There was a problem. Please refresh the page and try again.