Google Maps updated to v5.8 - Adds photo uploads, my Places and more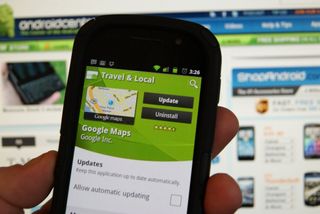 Another Google Maps update is now available in the Android Market bumping it up to v5.8. This update according to the change log covers some requested features surrounding the use of 'Places'
Upload photos for a Place
My Places as a simple way to manage the Places you've starred and recently viewed
Descriptive terms for Places in search results
Add a new Place on-the-go when checking in
Having the ability to add photos to places is great, you can snap a pic and share with everyone what it looks like plus, the ability to add a place just makes a whole lot of sense considering not all places will be covered. In addition to those things, Google also added 'Bigger text' to Labs features and 'Download map area' has been renamed 'Pre-cache map area.' You can find the download past the break.
Source: Twitter; via: Google Mobile Blog
Love the bigger text option.

I must not know my maps very well cause I don't see anything different.

Maybe ... just maybe, Google will one day make it easy to rename your starred map items from the phone.

Has anybody else had trouble getting this to load after updating? I'm running CM7 RC 1.3 on a Thunderbolt. I tried rebooting and clearing app data.

I had hoped they wouldnt let you add places...soon youll search for a place and get a bunch of nonsense places that dont make sense like you do facebook /foursquare

I just realized, my contacts aren't available in navigation anymore after the update!
EVO 3D

Hadn't noticed this before you pointed it out, but I've got the same thing. "Contacts" is in the list of places from which you can choose a destination, but if I hit it, I get a message that says "You don't have any contacts with addresses". I most certainly do, and navigated to many of them in the previous map release. FWIW, if I instead choose "type destination", results from my contacts appear in the search results, right below starred items.

"The request item could not be found" :( Nexus One, CM7, any idea?

I would like to request a feature. The "pre-cache map area" is extremely useful, but it´s not possible to get directions without an Internet connection. Since the map is already offline, it would be very interesting to get directions, using the "Navigation" part of Maps, without 3G or WiFi. Please consider this in the next iteration of Maps! Not everybody has a 3G connection available. I live in Brazil and 3G here has a max speed of 1 Megabit and a cap of 20 Megabytes (my plan at least)! I know, it seems to be a lie, but it´s true!!!

My aging eyes are loving the bigger text option. I do a lot of rural driving, and I'm wishing there was a similar option to pump up the contrast of how minor roads are rendered; unless the lighting is just right they're often hard to pick out of the background. I also very much like having the My Places functionality exposed on the mobile app, but IMHO it's still very much a work in progress. It needs sort options (alphabetical, distance from current location, recently used, recently added, etc). Custom names for locations are incredibly useful, but 1) there's no way to add/edit them on your phone and 2) much of the time they're not displayed in either mobile or desktop applications. Just doesn't seem well integrated at this time.

I have an idea for the next update. How about updating with speed limit posting. That would be great considering their hidden at times while driving.
Android Central Newsletter
Get the best of Android Central in in your inbox, every day!
Thank you for signing up to Android Central. You will receive a verification email shortly.
There was a problem. Please refresh the page and try again.