Google Maps soaks in some culture with indoor guides to museums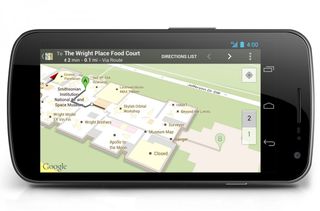 Google Maps for Android was recently updated their indoor location database with over twenty popular museums across the U.S, including the de Young Museum in San Francisco, the Philadelphia Museum of Art, Cincinnati Museum Center, the Indianapolis Museum of Art, the American Museum of Natural History, and 17 Smithsonian museums.
Indoor maps originally launched in November, allowing users to set routes within buildings, navigate by floor, and sort through points of interest. It's an awesome feature, and a sensible extension of Google's current walking directions. Who knows, maybe indoor maps will expand to include audio guides that are sensitive to where you are within a building.
A full list of indoor Google Maps is available here, and if you're really into art, be sure to check out the Google Art Project. If you have the latest version of Google Maps for Android, you should be ready to start planning your next museum trip. Do you go often? Which buildings would you like to see with full indoor maps?
Source: Google Lat Long
Simon has been covering mobile since before the first iPhone came out. After producing news articles, podcasts, review videos, and everything in between, he's now helping industry partners get the word about their latest products. Get in touch with him at simon@futurenet.com.
Lots of shopping malls in the US have indoor maps as well. The first thing you lose when entering a mall is reliable data connection, and GPS is hopeless. Even if you cache your maps, unless the Mall or Museum has big windows the usefulness of indoor maps is questionable at best.

Couldn't be farther from the truth IMO... It's not hard to look down a hallway or at the biggest corner store to orient yourself without GPS, and running to a corner of the mall to cache a map or download it on Point Inside (far better database of malls and airports) beats the hell out of finding one of the mall's own map displays then finding the store you want then tracking it's number down on the map... Point Inside has search for stores and food locations inside airports, it's really really useful.

Philadelphia Art Museum should be there and the Barnes Foundation would be nice.

I wish they had more detail in the Smithsonian museums. Most only give names of rooms which *might* give a clue as to what's in them. Air & Space (the one downtown) has outlines of some of the displayed aircraft with labels. Udvar-Hazy (the Air & Space annex by Dulles) names the large sections with no detail (Discovery's not an outline, or a label, or even mentioned in the Space Hangar). The Zoo has almost no detail in any of the buildings.

Museum of Science and Industry (Chicago) should be there. Maybe the folks doing the floor plan for Goog got lost.
Android Central Newsletter
Get the best of Android Central in in your inbox, every day!
Thank you for signing up to Android Central. You will receive a verification email shortly.
There was a problem. Please refresh the page and try again.