Google Maps gets Wi-Fi only mode, ability to save offline areas to SD card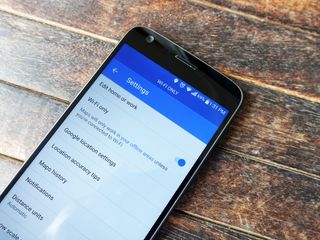 Google is rolling out a sizeable update to Google Maps that brings a new Wi-Fi only offline mode. Once enabled, Maps will go offline when there's no Wi-Fi signal, with navigation limited to your areas you've downloaded to your device. As soon as you connect to a Wi-Fi network, the app regains full functionality.
Wi-Fi comes in handy when you're traveling abroad and don't want to incur exorbitant data charges, or in situations where you can't get a reliable cellular signal in your area. Google is also rolling out the ability to download offline areas to an SD card, freeing up the internal storage of your phone.
To enable Wi-Fi only mode, you'll need to head into the Settings in Google Maps. As soon as you activate the feature, you'll see a notification to save areas offline, and that a small amount of data may still be used while in Wi-Fi mode. The update is now live, but if you're not seeing the offline mode just yet, try again in a few hours.
Harish Jonnalagadda is a Senior Editor overseeing Asia at Android Central. He leads the site's coverage of Chinese phone brands, contributing to reviews, features, and buying guides. He also writes about storage servers, audio products, and the semiconductor industry. Contact him on Twitter at @chunkynerd.
Offline maps which require a "small amount of data" to work??? errr ok then! Guess I'll still be needing here maps for proper offline navigation.

Offline maps do not require a data to use once downloaded. I've been using them for a while without a data connection, and they don't use any data. That screenshot says if you have Maps in Wi-Fi-only mode, it might still use some data. Wi-Fi-only mode is not required to use offline maps.

Ok but googles offline maps implementation still sucks compared to other apps, I'll be interested once i can download whole countries at a time.

What other apps allow you to download countries, and how much storage space is needed? At least for the US, a complete offline map would use a ton of storage.

Here Maps consume about 2GB for US, meanwhile Google Maps consume about 500MB for Austin, TX area alone

But Google maps have way more data and links than Hear maps. Hear is all about navigation, some minimal links. downloaded google maps are about the full maps experience. I use them both, because I got Here for free.

I agree Google's offline map implementation is garbage, but as for the space thing, in their defense, their POI database is on point. My main app, Sygic, still has multiple banks listed in the database when they have long moved 1+ years ago. I haven't found an offline gps app that has gotten the location names right YET outside of Google Maps. But in my opinion, Google Maps isn't a real offline gps app (Well no joke, Sherlock).

I'm from the UK and I use here maps , the entire UK map takes up 750mb. Posted via the Android Central App

I used Here in Switzerland and Hungary last year offline, it was good! I'm not interested in a navigator constantly telling me where the nearest MacDonalds is or the museum....

True.
Compared to Here or Sygic, Google Maps is obnoxious for downloading offline areas. But I found a new way last night (on a motorcycle trip) to do downloads with Google Maps... Create a single point route (point A to point B). Then choose to download that route to your phone for offline use. That is considerably less in the total download size. That works for me. But I still have the new HereWeGo??? And Sygic on my phone for viewing offline areas as a map. I'll use Google Maps only within cell tower range. Posted via the Android Central App

Windsailer. Can you be specific in how you downloaded a point route to your phone?
Thanks

I have it set to download maps on WIFI only. So I have to be connected to the internet via WIFI. On the main page hit the blue button (get driving directions shortcut) bottom right... Fill in your start and finish locations. After you finish your destination, a black banner should show up just below the blue dialog box with your destination. In the black banner... It will say "Tap to download offline directions for spotty connections on your route". I should say too that I am running the new beta version of Google Maps. To become a beta tester just go to Google Play, Apps, select Google Maps and choose to become a beta tester. Posted via the Android Central App

Ok, how about getting some perspective. If you're a trucker, you may want the whole country downloaded. But most people will only really need a state at a time.

Wouldn't a dedicated GPS device be a better choice for that use case?

Not for me. I do a delivery/service route that changes every week. I have a Galaxy Tab Pro 8.4 mounted to the dash. I use Road Warrior to plan and auto optimize my route at home. Then when on the road I simply press the next location on the screen of RW and the destination is sent to my default navigation app (Here, Gmaps, Sygic). If I have to deviate from my planned route I simply hit re-optimize in RW and the next quickest stop is chosen for me. So far Google maps is the quickest most up to date. But when I go through Kentucky I'm without mobile data 80% of the time. So I must switch to Sygic or Here. Not many GPS can do that.

Yea, I thought offline maps meant OFFLINE as well until the other day I as out of cell range and Android auto became dumb as a stump as to navigation (even though I had previously downloaded my entire region including that area). Luckily my truck has built-in navigation too and not just Android auto

I believe the data is used to update on traffic and what not, which requires going online for real time sourced information.

I received my notification, if I remember right, it uses about 50 mb? of memory.

I have t-mobile and this feature will come in handy when driving in no coverage areas.... Posted via the Android Central App

Great if you have a smartphone with microSD slot! If you have a Nexus, then this is a slap in the face! My guess is that Google wants you to store data in cloud and use internet access more than just a simple fix of providing a microSD slot to their Flagship devices.

Great to those with MicroSD and even better for those getting an Note S7 Edge with 320 GB!.. Everyone else will have to worry about filling up their measly 16 or 32 GB...

Until Google Maps can download entire states and countries to the SD card, like Here (To Go) can do, it's really not a serious competitor for offline navigation. I used Here in half a dozen different countries last month, with no data connection at all. I couldn't rely on Google at all in that situation.

I don't want this on my SD card, I keep music only on it strictly.[200gb card], I have plenty of room on the internal storage still. nexus users must love this feature from Google! :)

This is actually good news! I've been travelling a lot for work and racked up 320MB of data in a two week period recently. It's not that I don't have enough data (thank you AT&T rollover) it's just that I'd rather not trust that the cell network is working in strange areas. I loved HERE maps up until the point that they got rid of the voices telling you street names and freeway names/numbers. HERE was an amazing offline mapping program and on a vacation to Hawaii, it was able to read Hawaiian street names with no problem and was great in areas where cell signal was only a thing of science fiction. But then they removed the ability for it to do more than just say "Turn right" or "Turn left" and I got lost. A lot. (Bad/no sense of direction and all). I will try this new download-to-SD-card feature this weekend! Google please please please please please let us be able to download entire States/Countries. I have plenty of room on my SD card, even with all of my photos and music. I don't need all of the detailed info that you give with your maps, just a way to get from Point A to Point B without needing too much or any data. I'll gladly take offline maps with online traffic, or no traffic at all, that's ok too.

Store offline areas to an SD card
Offline areas are downloaded on your phone or tablet's internal storage by default, but you can download them on an SD card instead. 1. On your phone or tablet, insert an SD card.
2. Open the Google Maps app maps.
3. In the top left, tap the Menu Menu and then Offline areas.
4. In the top right, tap Settings
5. Under "Storage preferences," tap Device and then SD card.
Use offline areas. These ate the directions for storing offfline area to SD card. I ger to step 5 and NO storage Preferences shown. I am using Galaxy S4, Android 4.3, Maps 9.33.1, 32GB micro SD (has been sinstalled for year) Have restarted phone, it appears app is not detecting SD card. Any help?

Wait- I KNOW I did this back in Feb of this year. I remember googling how to do this since I wasn't sure if I would get signal where I was going...
Just added?
Android Central Newsletter
Get the best of Android Central in in your inbox, every day!
Thank you for signing up to Android Central. You will receive a verification email shortly.
There was a problem. Please refresh the page and try again.