Google launches game design contest to inspire female developers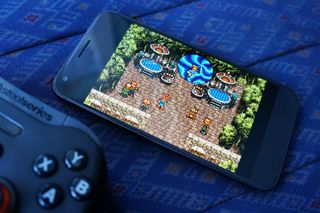 In early December of last year, Google launched a new program called "Change the Game" to help shed some light on the female gaming community. Google reports that 49% of people that play mobile games on the Play Store are women, but even so, a mere 23% of video game developers identify as such.
To help bring a renewed focus to this conversation, Google's now launching its Change the Game Design Challenge (opens in new tab).
Partnering with Girls Make Games and the ESA Foundation, the challenge asks teenagers across the United States to design a game they'd enjoy playing. By creating this and talking about what they'd like to see for the future of the gaming industry, contestants will have a shot at winning a $10,000 college scholarship and $15,000 donation for the technology program at their school/community center.
Along with this, the top five finalists of the challenge will win an all-expense paid trip to E3 in Los Angeles where they'll have their game design put on display for the entire convention to see. Additionally, the top five will also receive a VIP of Google's L.A. campus, a free scholarship to attend the Girls Make Games Summer Camp, and a "celebration of women in gaming."
Google's Change the Game Design Challenge starts today, and you can find more information here (opens in new tab).
Google launches 'Change the Game' to celebrate female gamers
Joe Maring was a Senior Editor for Android Central between 2017 and 2021. You can reach him on Twitter at @JoeMaring1.
Nice Chrono Trigger screen shot. One of the greatest RPGs ever!

I get the whole premise of this and it's great but flawed. If game companies or any company for that fact just treated everyone equally things would be different. Now if I made more money than a woman and I have more experience in that field she's not getting paid less because she is a woman. This is the type of misinformation that is allowed.

Google has a strong political leaning which is why they seem to care more about diversity than experience. I would be very offended if Google only liked me for my uncontrollable qualities like my sex, race, or sexual orientation.

Imagine the shitstorm a headline like: "Google launches game design contest to inspire male developers" would ensue.
I guess true equality does not go both ways.

Ah love that misogyny guys.

This may sound stupid but can only girls/women enter this competition or can anyone who's a teenager?

People working at Google headquarters are 25% women yet the headquarters were built by crews that were less than 3% women. Why doesn't Google screen their construction contractors for gender diversity? Misogynists! (was that a little too sarcastic?)
Android Central Newsletter
Get the best of Android Central in in your inbox, every day!
Thank you for signing up to Android Central. You will receive a verification email shortly.
There was a problem. Please refresh the page and try again.