Google is kicking Apple off my TV, and I couldn't be happier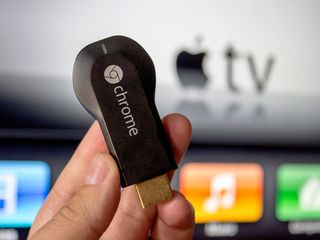 It's no secret that I'm a cross platform kind of guy. It's also no secret that I use – and enjoy using – Apple devices day in, day out. Like the Apple TV. For about 18 months now I've had a happy relationship with the Apple TV. It's small, it's easy to use and it works like a charm in conjunction with a Mac, iPhone or iPad. But that happy relationship is about to come to an end, I fear.
Google might be about to step in and take over the TVs in my house with Chromecast, and eventually no doubt Android TV. I already own a Chromecast – you need to have one lying around, right? – but it doesn't get used as much as the Apple TV. Mainly because the Apple TV doesn't need my phone or tablet to operate it. None of that matters anymore, though. It's Google coming to the rescue.
It all centers around content. Unless you're an American, Apple TV has barely received any additional content channels in that 18 month period I've owned it – not even the damned WWE Network! Every time there's a new channel added, it's a U.S. only affair it seems. It's got to the point where my £99 expenditure is now being used exclusively for Netflix and MLB.TV. Both of which are available through Chromecast.
I've been hesitant to use Chromecast more because of its reliance on another device to control it. But if I need to use AirPlay to get the most out of my Apple TV, then why not? Better yet, my wife who rocks an iPhone won't be disadvantaged either. Chromecast works with iOS apps just as well as Android apps. Win.
Yes, Google and Apple have very, very different models for the TV. But with my nerd head off and my consumer head on, all I see is a glaring difference in what I can use where I live. Apple TV has no BBC iPlayer, no support for any music services other than iTunes and relies on its own Podcasts app. Chromecast by contrast offers BBC iPlayer – as well as BT Sport – support for the likes of Google Play Music and Deezer among other audio applications, and you're free to choose from a variety of podcast apps. Even then that only scratches the surface.
I don't want a set top box to beam that I need to 'beam' content to in order to view it on the TV. I want a set top box that's going to help me get the online provided content onto my TV. 18 months ago Apple TV was that solution. And despite my – often stubborn – support for it, it's starting to grow stale. For only £10 more than its asking price in the UK right now you've got three Chromecasts, which will be perfect. One downstairs, one in the bedroom, one in my office. When Android TV arrives, there's a stronger than average possibility that one or more of those boxes will replace the Chromecast.
And since Google is letting developers get in on the act, I honestly feel like there's going to be less disappointment going forward. At least, here in Blighty, anyway. I completely understand that content deals are tough, they ultimately affect us all at some point. But as a consumer it's time to vote with my wallet. If Apple won't provide it, then I'll give my money to someone who will. It's been a nice ride, but it's a time for a change.
A little update from my last column, too. The weekend just gone saw the realization of a dream and taking part in a motor race for the first time. It was tough, there's much, much still to learn, but it was also quite emotional. I finished, classifying 16th overall in the end. Approaching 30 years old, finally I've realized a lifelong dream.
And Lloyd came along for the ride. He even just about survived...
Be an expert in 5 minutes
Get the latest news from Android Central, your trusted companion in the world of Android