Google is kicking Apple off my TV, and I couldn't be happier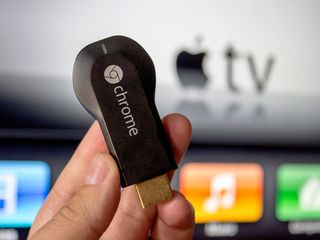 It's no secret that I'm a cross platform kind of guy. It's also no secret that I use – and enjoy using – Apple devices day in, day out. Like the Apple TV. For about 18 months now I've had a happy relationship with the Apple TV. It's small, it's easy to use and it works like a charm in conjunction with a Mac, iPhone or iPad. But that happy relationship is about to come to an end, I fear.
Google might be about to step in and take over the TVs in my house with Chromecast, and eventually no doubt Android TV. I already own a Chromecast – you need to have one lying around, right? – but it doesn't get used as much as the Apple TV. Mainly because the Apple TV doesn't need my phone or tablet to operate it. None of that matters anymore, though. It's Google coming to the rescue.
It all centers around content. Unless you're an American, Apple TV has barely received any additional content channels in that 18 month period I've owned it – not even the damned WWE Network! Every time there's a new channel added, it's a U.S. only affair it seems. It's got to the point where my £99 expenditure is now being used exclusively for Netflix and MLB.TV. Both of which are available through Chromecast.
I've been hesitant to use Chromecast more because of its reliance on another device to control it. But if I need to use AirPlay to get the most out of my Apple TV, then why not? Better yet, my wife who rocks an iPhone won't be disadvantaged either. Chromecast works with iOS apps just as well as Android apps. Win.
Yes, Google and Apple have very, very different models for the TV. But with my nerd head off and my consumer head on, all I see is a glaring difference in what I can use where I live. Apple TV has no BBC iPlayer, no support for any music services other than iTunes and relies on its own Podcasts app. Chromecast by contrast offers BBC iPlayer – as well as BT Sport – support for the likes of Google Play Music and Deezer among other audio applications, and you're free to choose from a variety of podcast apps. Even then that only scratches the surface.
I don't want a set top box to beam that I need to 'beam' content to in order to view it on the TV. I want a set top box that's going to help me get the online provided content onto my TV. 18 months ago Apple TV was that solution. And despite my – often stubborn – support for it, it's starting to grow stale. For only £10 more than its asking price in the UK right now you've got three Chromecasts, which will be perfect. One downstairs, one in the bedroom, one in my office. When Android TV arrives, there's a stronger than average possibility that one or more of those boxes will replace the Chromecast.
And since Google is letting developers get in on the act, I honestly feel like there's going to be less disappointment going forward. At least, here in Blighty, anyway. I completely understand that content deals are tough, they ultimately affect us all at some point. But as a consumer it's time to vote with my wallet. If Apple won't provide it, then I'll give my money to someone who will. It's been a nice ride, but it's a time for a change.
A little update from my last column, too. The weekend just gone saw the realization of a dream and taking part in a motor race for the first time. It was tough, there's much, much still to learn, but it was also quite emotional. I finished, classifying 16th overall in the end. Approaching 30 years old, finally I've realized a lifelong dream.
And Lloyd came along for the ride. He even just about survived...
Congrats on the race. I'm interested in the Chromecast, but I've already got a Roku hdmi dongle (which does have the WWE Network). As a BlackBerry user, I'm not sure either Chromecast or Apple TV provide anything too compelling at this point. If I move to iOS or Android I'll have to re-evaluate.

it is not needed, Bubble UPNP Android App can stream almost anything 1080p 3D DTS subtitles etc via wifi/direct, to another Android device etc
you do not even need chromecast or lmited Apple "TV"
SGS5 with 144GB is enough (+NAS for more storage if you need)

Really wish the WWE Network would add chromecast :( only reason I keep the Fire TV around.

I just open WWE Network in Chrome on my PC and cast the tab to my chromecast then maximize the video stream. Works perfectly. In fact you can cast anything to a chromcast using Google Chome from any PC/Mac/Chromebook Just use this extension put out by Google https://chrome.google.com/webstore/detail/google-cast/boadgeojelhgndaghl...

Exactly... the fact you can stream ANYTHING from your PC running Chrome browser to the Chromecast is huge. I test drove Roku Stick for a weekend and realized bad move. 1000's of channels but 95% are useless or redundant in my opinion.

WWE Network doesn't work on Chrome OS because of the flash that's on it. If you have figured out how to make it work please let me know. I have the original Samsung Chromebook and an Acer c720 w/4gb ram and it doesn't work on either. Posted via Android Central App on my BlackBerry Z10

He didn't say Chrome OS. He said the Chrome browser on his PC. You just need the Chrome browser and the Chromecast plug-in for the Chrome browser (a separate install).

I couldn't respond to the correct comment from the app for some reason - but the person I was responding to said "using Google Chome from any PC/Mac/Chromebook" and it won't even load on my Chromebook (or anyone's as far as I can tell). Maybe you can still cast it and the Chromecast can play the video, I'm not sure since I don't have a Chromecast to test it with.

2 separate thoughts I think. If it can load in the browser you can cast it. If not you are SOL. Is WWE really using flash? Wow..

Yep. And that's the one thing preventing me from getting the network, which by all accounts is amazing. You'd think for a company as large as they they would update their site/network. Posted via Android Central App

Yes! Congrats on the race. ADS

If you don't have an Android device - why do you lurk around here?

I'm not lurking. I'm an avid reader and sometimes commenter on AC. I've been reading it for years and always try to watch or listen to the AC podcast. I'm interested in all things mobile, and if I decide to switch to Android I'd like to not go into it as a total noob.

Wow brilliant. Since when do you have to have an Android device to read Android Central? I also use BlackBerry, but I still read AC regularly too.

Good for him, he reads AC and uses an Apple. Nothing wrong with that. Chill out on the snobbishness... Posted via Android Central App

I am sure you meant this in a different way than it came across, but seriously, the obvious answer is because he *wants* to. Or maybe it's d'uh..

You restore my faith. I probably should have put a serious tag in my question. I was trying to find a logical connection between not having any Android devices and then choosing to comment and spend time on an Android blog. I would imagine that if I wanted to be 'abreast' of Android for future considerations, following generic tech blogs would have bee sufficient enough as opposed to following a dedicated Android blog. That's all, I mean I follow news for iOS as well but at generic sites rather than iPhone blogs.

You are looking for logical connections between 2 things that don't need any logical connections. He reads it because he is interested in it. It doesn't need to make logical sense to you for him to enjoy it. "he *wants* to" is about as serious an answer as you're likely to get.

I have had a passing interest in both but so far nothing has replaced my Roku 3. For my money it has the content that I want.

What still boggles my mind is that my old M7 supports the new Chromecast update which allows screen mirroring, but my shiny new M8 does not. It's my only gripe, at present, with Chromecast. Stream and beam.

I refuse to feel bad for someone that has has an M7 as their backup device to the M8.

+1 Posted via Android Central App

+2 Posted via Nexus 7 2013 or Galaxy S5

Waiting for Moto X screen casting, too.

I don't see a reason to buy Apple TV, its has limited apps(about 20). Chromecast wins Hands down.
Phone screen mirroring was the one feature i was looking for and now i have it too.

I stopped using my Roku.. Chromecast is faster and I can rent from the playstore. It's frigin awesome Nexus 4 - CM10.1.3

You must not actually know Richard very well. He is known for being very crossplatform and liking them all...

come'on Joe it is Zig. he gets pissy about this kind of stuff

How's he a fanboy if he was a staunch user and supporter of Apple TV?

That word doesn't mean what he thinks it means.

Still waiting for the European launch auf Amazon's Fire TV... That said, the Chromecast is an awesome product and will be at least the good second choice in my personal to-buy-list, as soon as my CRT TV finally decides to die...

I can't ditch the apple TV until there is an option for getting amazon instant video on the TV with the Chromecast or Android TV. iPad mirrored to the Apple TV with the amazon video app works great. I would love to be able to do it all with Android though.

yeah, i wish amazon'd stop being babies and release the app.

They need to do something soon or I will be cancelling my Amazon Prime membership and move to Netflix. I don't want to have multiple devices to stream to my TV and the PS3 takes longer to boot up then unlocking my phone and hitting the chromecast button! Never mind the better experience of looking for movies is better on a device with a keypad!

I still have my roku going, but only in my bedroom. I haven't really watched prime since I got my chromecast on launch day.

One of the reasons I got a Chromecast is because of how slow Netflix was on my Xbox 360 Posted via Nexus 7 2013 or Galaxy S5

Idk about I pad screen mirrored for I pad but there's a growing list of android devices that do the screen mirroring. And you can cast from a computer as well simply have the chrome browser and get the cast extension

I use a second gen Sony GTV box (for Amazon Prime) with a Chromecast (for everything else) plugged into the HDMI IN port. Click 'TV' on the Sony remote and the Chromecast is ready to go!

There was an article a month ago stating that Amazon Instant Video was forthcoming very soon for Android, but of course, they didn't give a release date. Could be just their attempt to appease the masses and have them not jump ship, and then of course, delay the release for as long as possible. Might be time to email Amazon and ask exactly when it's going to be released. In the meantime, my Chromecast gets more use than my Roku. I only use the Roku for Amazon. Otherwise, Netflix, Google Play, Plex, Crackle, etc all are used via my smartphone and/or tablet now. Plus, packing up my Chromecast is easier due to the small form factor (I have a Roku HD, not a stick).

I agree that it should work with android, but at least Amazon Instant Video can be streamed from the Chrome browser.

I really enjoy my Chromecast with my OnePlus One and N5. I can even cast YouTube from my Lumia 1520, since the developer(s) of TubeCast took the initiative to implement this into the app. Chromecast rocks!
Congrats, Richard! Posted via the Android Central App

I've never used an apple TV but it sounds like in the UK market chromecast beasts it in every single way. Controlling it with my phone has never bothered me, in fact I think I prefer it. My phone is usually closer to me than any remote, and it's a lot less likely to be misplaced. Posted via Android Central App

I have been heavy Chromecast user... Stream everything from my Mac via the chrome browser. Posted via the Android Central App

It's all about content! Just wait until the Chromecast gets mirroring for (almost) all Android in the fall...

My G2 is supported. It works pretty good.

My question is why haven't there be more Chromecast receivers? There's not a single Home AVR by Yahmaha, Denon, Sony, Harmon-Kardon, etc that support Chromecast builtin. Why? They all seem to support Airplay at this point. Has Google licensed the technology for companies to produce their own Chromecast capable "dongle"?

Chromecast is $35. It's so easy and cheap to get, it's not going to be a differentiator for consumers. Posted via Android Central App

I don't think you understand. I don't want to have to grab my AVR remote control to change the input to HDM3 to watch something on Chromecast, and then when i finish change the input back to HDMI1. I want to take my phone, and when i cast something, it just starts playing on my TV. No other remotes needed to complete the task. This is functionality that a receiver can handle. It's not something that a $35 dongle can fix unless they came out with a dongle that had HDMI passthrough.

When you cast something, it should automagically switch to the appropriate input (at least it does on my TV's). Won't solve the problem of switching back, but it should work.

https://www.youtube.com/watch?v=bwvlbJ0h35A I am sorry but this is just not an issue. I know you don't want to reach over, and push buttons, but c'mon.

So you're saying that no other receiver should have Airplay, because people can just buy an Apple TV? No DVD/Receiver/PS4/XBox should support DLNA beacuse some other box supports that technology as well? Are we really supposed to be limited to one specialized wireless technology per device? If so, why? It's a feature that should be open to be implemented by any company that wishes. It shouldn't be a Google Exclusive. It limits innovation.

wow talk about putting words in people's mouths. No I never said any of that, I just called you lazy.

One thing though is that I prefer a wired connection for streaming, especially for video. Apple TV has an Ethernet connection, which is great. Posted via Android Central App

Title is a bit disingenuous, as it's you doing the kicking, and screaming. I say plug them all in. Watch what you want / can afford / are region locked to receive. Posted via Android Central App

I still don't understand why Chromecasts were given out at the WWE event announcing the WWE Network? I was hoping they would eventually bring casting support to the WWE Network app, even if not at launch.

Same here, Tab casting WWE Network is too laggy/stuttery for me. I'm relegated to using the HDMI from my laptop to my TV at the moment.

Chromecasts were given out at the launch event? If I'd have known that I'd be doubly annoyed that I can't use it to stream.

Yea, they were given out in the WWE press bags androidcentral dot com/wwe-lays-smack-down-ces-247-network-999-month

Congratulations on your first race! Finishing uninjured and undamaged is big for any first-timer. Kudos! I agree with your assessment of the Chromecast. I was a "late" adopter; I didn't buy one until the device hit brick and mortar stores in Southern California. The price and performance are phenomenal, and its durability--compared to the Roku 3 that it replaced--made it a house favorite. I'm making it my goto gift for every new cable-cutter in my family!

I have a Roku3 and a Chromecast. I still use my Roku3 much more as I am a Prime user and I can only watch Prime/Amazon movies on the Roku, along with a dedicated remote., honestly it comes in handy as the only time I have time to watch TV is when I am eating, and like last night, I would rather get a little pizza sauce on my remote than my smartphone. Hopefully the Android TV will change this with a dedicated remote.

I like my Chromecast , my fiance and I use it all of the time in the bedroom, mostly with Plex and Netflix. Apple TV is overrated. We have a roku 3 in the living room and that's the best of the lot. Using a set top box is nicer than Chromecast , but Chromecast is a perfect quick and cheap fix and that's why it's so popular. Chromecast one week ness if amazon prime streaming, though I know that's not there fault.
Still when you go with a platform agnostic player like the roku 3 you get everything and that's why it's my favorite.
Posted via Android Central App

"Mainly because the Apple TV doesn't need my phone or tablet to operate it." But it's so much easier to operate just about every one of these TV streamers with a phone or tablet. My Roku came with a thin remote, but I can't even tell you where it is. Using arrows to navigate a keyboard is so 2000... Posted via Android Central App

I'm with the writer the roku or apple set top box with a simple remote is a nicer experience for me. I use both on a daily basis. But to reach their own. Posted via Android Central App

I always know where my phone is. TV remote? No clue. Posted via Android Central App

I don't understand the "complaint" about needing a smartphone/tablet to control Chromecast. Don't we all have a smartphone or tablet? The fact that you can browse content on a smartphone/tablet and cast it to the Chromecast what makes Chromecast so superior to other media boxes.

It comes down the user preference. One use case that's nicer with a set top media box is deciding on a show or movie with my fiance. Plus you can see a lot more shows at once on my HDTV than on my smartphone. Posted via Android Central App

That was my first thought too. I have small children who don't own phones it their own tablets, so controlling our Chromecast is not really an option. On the other hand it is very easy for them to use the apple remote and navigate Netflix on our Apple TV.

I'm wondering if this is one of those first world problems aggregated by the fact that Richard (like most of the Mobile Nations ) writers is changing phones regularly lol

I am still trying to find a reason to buy a Chromecast, but haven't found one. My Panasonic Viera TV has built in all of the basic apps, Netfliks, YouTube, etc. In addition I have a Tivo box that has Amazon Prime and other services, and of course, DVR support. My AV receiver does all of your media streaming (Spotify, etc) and DLNA. Any thoughts?

How easy is out to type a search on your tv remote compared to searching in your phone? I also haven't bought a Chromecast as my ps3 had all the media options I use, especially south sky go coming shortly. Posted via Android Central App with my Nexus 5

The TV remote is definitely clunkier than the Nexus 7 for searching. But, not hugely so since it starts matching as soon as you type. Upstairs on another TV I have a Logitech K400 keyboard/trackpad connected to Minix Neo X7 running Android. That keyboard/trackpad combo is much easier to use than either the Nexus or the TV remove.

Showbox moved from nexus 5 to HTCm8

The TiVo Amazon app does not support Prime movie streaming. I know. I'm a Prime member and have two TiVo Premieres. The app that comes with TiVo only supports the Amazon download service where you buy or rent a movie and then download the whole thing to your box. I was hoping that the summer TiVo update would include a better app for Amazon but it doesn't appear to have been updated.

Hi Scott, You are correct. I was mistaken. The TV's software, Panasonic Viera, does the Amazon Prime. I use the Tivo when we buy a movie from Amazon since we can rewatch it for again for 24 to 48 hours.

I hear you. I have three ways of watching Amazon Prime on my main TV: Panasonic Blu-Ray
Samsung Smart TV
XBox 360 If TiVo and Chromecast supported Amazon Prime streaming I'd have five! That doesn't even count casting a tab from my laptop.

Aw heck, I have an XBox and a Panasonic Blu-Ray also. I did not even think about those. Too many devices.

@Jerrycur Casting the screen of your phone / tablet. Chromecast does this better than any Miracast device... Google Earth on my 42" TV is really awesome! Posted via Android Central App

I have the same tv connected but I much prefer the Chromecast/tablet combo. I found the tv remote too clunky to use even before Chromecast became available. As a matter of fact I was one of the lucky few that got a Chromecast from Amazon during the 4hr period they had them. Got free Netflix for 2 or 3 months as part of the deal. I now subscribe to Netflix. Mirroring my Nexus 7 works great too.

Another cool feature of Chromecast is that you can browse for more content while your video is playing on the TV. My wife and two teens all have Android phones and the 6-year old has a Nexus 7. In lieu of watching TV we often engage in Web video marathons with the Chromecasts (I have three). Each person can cast at will to the screen. The only problem is when one person casts in the middle of an existing video, it immediately switches to the new content. This has resulted in a few arguments between the teens as they have divergent tastes in video content. Now that I think about it, that would be a welcome feature: queuing. Instead of a cast immediately being played it could be queued instead so you could quickly build a playlist. Ideally, all devices could add to the queue.

If you use the YouTube app, Queueing is easy. It would be a LOT more complicated between different apps. Not impossible, but probably infeasible. Posted via Android Central App

Love my Chromecast's... But having to use ur phone or tablet is the best thing about it. Posted via the Android Central App

Question to the author of this article. How many people do actually sit watching TV, without their phones on them or next to? At least no one i know, specially us Gays and grindr going off every other second. Two. I have a smartv and have used Apple TV, the chromecast way is the best! I can find the content I want 3xs faster on my phone or tablet than on my smartv... I use chromecast for everything! Nothing beats the one button philosophy. Posted via Android Central App

2 Chromecasts, a Roku 2, a Wii, a bluetooth audio receiver and a PS3 on the 2 TVs. The chromecast gets the most use by myself and my oldest kid. The PS3 or the Roku probably by my wife and youngest kid. Middle kid prefers her laptop and doesn't use the TV at all. We have netflix and amazon prime and no one watches amazon prime at all - I can't find one thing to watch over netflix. I'll be getting at least one andoid TV as soon as they come out.

Prime does have one big advantage over Netflix. They have started to show HBO original programming. They are the only provider that does as they've struck a deal with HBO. Of course, this benefit hinges on whether you like HBO's programming.

The HBO original programming they show is never the really good stuff though (I.e. Game of Thrones). It's their 'B' lineup. Posted via Android Central App

I ordered two Chromecasts on day one and have been happily casting to both my family room A/V setup and my bedroom TV (through an HDMI switch) ever since. Not only is it dead-simple to use, and it uses your smart phone or tablet as a controller, but since Google released an SDK to the public there has been a continuing stream of new apps coming out, and there have been many more services cast-enabling their streaming sites. When I looked a couple of weeks ago there were over 250 apps and services to play with and there are more since then. Although Chromecast is by and large trouble free and it's so simple you don't need instructions, if you ever have a question or a problem there is a very active and enthusiastic user group at https://productforums.google.com/forum/#!forum/chromecast. Please come visit us.

My dad has always been into racing and he does it quite often and I have gotten a chance to take videos and photos for the track being an official media guy which is really cool.. Its really awesome to see you finally getting to do this, congrats! Posted via Android Central App on my LG Nexus 5 (Sprint)

Richard, Unfortunately, I suffered from the same misconception about the inconvenience factor of using some other device to control my TV/Chromecast setup. But after taking the plunge, I found the "nuisance" of shifting through content on a device that I almost always have in my hand anyway to be far more of a convenience than a burden. I too still use my Apple TV as frequently but have 2 Chromecast that receive equal play in my apt. The most enjoyable and unmatched use is with Youtube and Play Music which, based on how I consume content in those areas, both involve a lot of frequent interaction via surfing then casting my selections. I'm sure once people get past concept and embrace the actual practice of using the Chromecast they'll have a similar experience. For people who already have Android devices in there gadgetsphere....it's honestly a no-brainer.

Not only is it not a nuisance, but being able to control it from another room (no line of sight necessary) is an awesome bonus. Posted via Android Central App

AWESOME. I did the same thing. I use Plex for local content streaming to Chromecast and my Apple TV just sits here unplugged even. It's going on Craigslist. He'll even a Jailbroken Apple TV doesn't make it any better than Chromecast or even Roku etc. And since ATV jailbreaking hasn't had support for awhile now (and the fact you can only jailbreak older non - updated apple tv's with older firmware and OS and it costs 30.00 even then) it's a no brained. This fall Apple better announce something really special in the TV arena of they might as well kill off the Apple TV.

My only gripe with it is that you can't change the dns settings on it like Apple tv. Posted via the Android Central App

If only Chromecast supported 5.1 audio from apps like Netflix, I'd be using it all the time.

Oh, oh. No 5.1 (or 7.2) would be a killer for me. I did not spend thousand on the media and speakers to listen in stereo!

Nice... But where I'm from I don't get neither BBC iPlayer nor Netflix (although Netflix is said to come in september; I still don't believe that though...)

I've always hated the "Only works on iOS" attitude with most Apple devices hence giving a wide birth, my only Apple products to date are all iPods (Classic, Nano and 2nd Generation iPod Touch) so the appeal for Apple TV was limited to start with.
Chromecast has been a Godsend and it's just the begining.

All this talk of the WWE network and not one mention of #nineninetynine. HHH won't be pleased. Posted via Android Central App

Well done with the racing, long may it continue - gets pretty expensive when you go up in levels. Rallying was my obsession and competed at every level. 20 years ago it cost between £1000 - £1500 to enter the RAC Rally UK, well over £1000 on fuel and it was half the price it is now. Good article, I hope here in the UK, we get good content and priced right, ie. £1 does not equal $1. Posted via Android Central App

I noticed I hardly use my apple TV now, mainly used it for screen mirroring. Now I can do that with chromecast. I wish apple would bring iTunes to android but I guess that will never happen. I guess I will have to keep on syncing them from my computer to my phone or give up iTunes completely.... (shudder).... Posted via Android Central App
Android Central Newsletter
Get the best of Android Central in in your inbox, every day!
Thank you for signing up to Android Central. You will receive a verification email shortly.
There was a problem. Please refresh the page and try again.