Google I/O 2015 invites start rolling out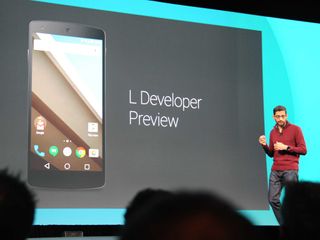 If you happened to throw your hat into the registration pool last week you may want to check your inbox.
Those lucky enough to score an invite will want to register as soon as they can, as the invites come with an expiration date. As a quick recap, regular attendee tickets run $900, while academic tickets fetch 300.
There's no knowing what to expect this year, but the developer conference usually brings some awesome stuff. Last year, for example, Google I/O brought us our first glimpses of, and introduced the first developer preview for Android 5.0 Lollipop.
Google I/O will run from May 28-29 at the Moscone Center West in San Francisco. And, as always, we'll be there to bring you all of the latest from the conference floor.
Android Central Newsletter
Get instant access to breaking news, the hottest reviews, great deals and helpful tips
Still haven't gotten mine yet. I'll update if I get anything.

I'll be there in spirit via AC app!

Feels strange that most people don't have lollipop yet and they might present a new version... Posted via the Android Central App

It is still not coming until Octoberish so not a big deal. Posted by my soon to be retired Note 3

Android M here we come! Can't wait! Hopefully the 2014 Moto X Pure Edition will get it quickly after its release in the fall. :) Posted from my 2014 Moto X Pure Edition

Android M LOL. I might stick with kikat till the end of time! Posted via the Android Central App

Now that the L Preview has rolled out to Nexus and a few others, can they release the final stable L release this I/O? :D

Lol... Lollipops... Funny Posted via Android Central App- Via HTC One

I'm just not all that excited. Apple has resolved a lot of my complaints with the iPhone (screen size, keyboard selection, being my biggest complaints). Meanwhile, Google is stagnant on services I want (like mobile wallets). They are particularly stagnant and late when it comes to bringing services to Canada (look how long it took to bring Music here). And they took away my last incentive to stay Android, with an oversized and expensive Nexus phone. I'm starting to lean towards the iPhone after my Nexus 5. Google better have something great this I/O to keep users like me around. We're sick of getting table scraps from Google.

OMG Please o.O! Geesh... go buy an iPhone then.

So you're okay with Apple being late with a bigger screen, keyboard selection, notifications, widgets, etc, but when Google is stagnant on their Wallet app (which still works fine, and was still out well before Apple's) it's a problem? And Google's one oversized and expensive Nexus phone is the deal breaker, when both iPhones are more expensive, and there are a ton of other great, less expensive Android options? Either I'm not understanding your logic, or there is just no logic here to understand.

Why should I care about Apple being late with anything? Every time I shop for a phone, I look for what is on the market and what it can do for me. As it stands today, Apple has removed the issues that bothered me about the iPhone (small screen size, and keyboard choice). It's successfully implmented mobile wallets and a subscription music service. Two features I would like to use. On the other hand, Google has taken away a product I liked (capable, resonably priced, and reasonably sized Nexus phones...I only bought Nexus phones). Instead we get a phablet sized phone, with a phablet sized price. I wouldn't buy a Note or an iPhone 6+. At least the iPhone has a normal sized option. Why would I buy the Nexus 6? It's only finally brought All Access Music to Canada. And Google Wallet (or whatever replaces it), is nowhere in sight. I'm also concerned that Apple will pull another Apple Pay and get ahead in the car market and that CarPlay will surpass Android Auto. If that happens, there's yet less incentive to stay with Android because I'm also looking to replace the Info/Nav system in my car this Fall, with preferably an OEM solution. So effectively, when I replace my Nexus 5 this Fall, I'm looking at no real gain if I stay Android. I won't get a feature I want (mobile wallets). And if I stay Nexus, I might have to spend as much as the iPhone without getting Apple's warranty support and customer care. And that's frustrating for someone who has been loyal to Android since being an early adopter on the Nexus One.

Sorry - I was just going off of your complaint that Google was late with a couple things right after you mentioned a couple of Apple features that they were REALLY late with. And this time you mentioned that when Apple (finally) got those features it was a good thing, but when Google (finally) brought All-Access to Canada, then it's shame on them for being late. I'm not trying to discount your opinion - obviously you can buy what you want. I just think that if this waiting game is your biggest complaint, you're going to be really disappointed if you go with an iPhone. Apple is notorious for being the last to the party (bigger screens, custom keyboards, NFC, mobile payment, LTE, and even a video camera if you look early on). Also, there are quite a few Nexus-like devices running nearly pure Android that are much cheaper and smaller than the Nexus 6 - look at the Moto X and the OnePlus One. I agree that Google kinda messed up with the Nexus 6 - it's too big and too pricey. I have the OnePlus right now and it's fantastic, but it's as big as I'd like to go. Hopefully for all of us Google has gotten wiser and will go back to a less expensive 5-incher this year.

People get so worked up with tech discussions. And unfortunately that drowns out legitimate criticism that companies could learn from. Google is innovative. If you live in the US. Elsewhere, they can be slow as molasses to deploy new services. And that can be extremely frustrating for Android users and fans. Apple is often first to market. I have no doubts that we'll see ApplePay in Canada before we officially see Google Wallet. Apple may be the last to implement a certain technology. But when they do arrive on the scene, then tend to arrive with partnerships in hand and to deploy very broadly. At this point, going forward, it's not about technology any more. It's about services. The technology has all but evened out from a regular user perspective. The screen sizes are the same. The modems are the same. The sensors are the same. The processing power is similar. The battery life is similar. It now comes down to what you can do with the devices. As a heavy user of Google services, one would think this situation favours Google. Except that with Google, I can use all my Google services on an iPhone and get access to lots of Apple's own services too. So that's a net gain if I switch. Unless Google catches up on the service front.... The biggest incentive to stay at this point is hardware price. And unfortunately for me, that incentive was removed with the Nexus 6. Google dropped the ball by not offering two versions of the N6, like Apple did with the iP6.

Looks like another year I do not get to go. I wish google would release how many people entered the lottery and how many tickets were even able to get got that way.

Android M here we come! Can't wait! Hopefully the 2014 Moto X Pure Edition will get it quickly after its release in the fall. :) Posted from my 2014 Moto X Pure Edition 0
21 hours ago
Android Central Newsletter
Get instant access to breaking news, the hottest reviews, great deals and helpful tips
Thank you for signing up to Android Central. You will receive a verification email shortly.
There was a problem. Please refresh the page and try again.