Google is killing off the RCS hack for unsupported countries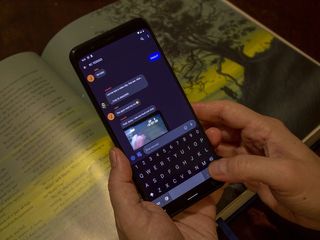 (Image credit: Android Central)
What you need to know
Google is ending chat in Messages for users who enabled it using an unsupported hack.
Chat features will be turned off at the end of February for those users who still have it active at this point.
The firm has committed to bringing its chat features online to all regions as soon as it can.
Last year, Google began rolling out RCS, its enhanced chat solution for Android devices. While not technically new (or specifically Google's), this was the first time the service was being attempted on a wide-scale by someone which as much clout and market reach as Google. Suffice to say, there was a lot of excitement online.
Unfortunately, Google's fairly slow region-based roll-out meant that not everyone could access it outside of places like the U.S., Canada, the U.K., and France. An unreliable hack emerged that allowed some users to switch on RCS outside of those regions, but Google is now officially cutting off that route at the end of this month:
As per a Google community manager:
Let's face it, this was always going to happen. There's probably a reason Google hadn't yet enabled chat features in those regions, and it wasn't just for the fun of it. It's not like Google isn't planning to bring RCS to those regions eventually. The community manager making this announcement even states that Google is working on it ASAP. It'll be ready someday.
But today is probably not that day.
A bit late to the party here but the big irony of this is that even in supported regions, the "hack" seems to be the only way to get the service properly activated. For example, I cannot get this activated on Telus in Canada without the "hack" method, even though Telus says that it officially supports RCS through Google Messages client. However, if I do the activation using the Activity Launcher and the old beta version of messages, everything is hunky-dory and I can then just install the latest Messages release with RCS still enabled.
Android Central Newsletter
Thank you for signing up to Android Central. You will receive a verification email shortly.
There was a problem. Please refresh the page and try again.