Google Fiber's next stop is Shawnee, Kansas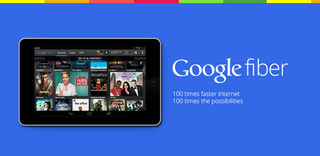 The Google Fiber train continues to roll with another Kansas location selected for the service
Google's next expansion to the Fiber network has been selected, and adds another location in Kansas to the map. Next up to receive the Gigabit Internet and TV provided by Google is Shawnee, Kansas, which makes total sense given its proximity to Kansas City.
Google says they were impressed by Shawnee's vision of keeping their citizens informed and involved using the internet. The announcement has been made after the Shawnee City Council voted to bring Fiber to the city. There's no estimated time of arrival for the service, as there is a lot of planning an engineering works to take place first. But, for the folks of Shawnee, this is fantastic news.
Source: Google Fiber Blog
Guess they have to start nowhere to get somewhere : p

Instead of somewhere pointless... how about Washington DC?

So because it's not where you live makes it pointless. Thats not egocentric at all...

Somewhere right next door to an already enabled network is far from pointless. Makes perfect business sense

Please come to St.Louis, just straight across hwy 70 from KC, can even get free interns to work for you from all the Universities along the way

@Richard Devine Thanks for the post. Of course, for the folks of Shawnee, this is fantastic news. well planned Fiber spreading with the cutting-edge technology makes sure more than sufficient internet speed for the people. People are more dependent on internet day by day, a mid range internet user should have the user right to use minimum 40GB to 50GB in a month, if really google want to let the people to enter in real digital world. Thanks in Advance

To shed a little more light on this, Shawnee neighbors Kansas City,KS (suburb). So really this is just an expansion of what is already in place. This is great news for me, since they are now expanding directly north and south of me. They will probably hit my suburb next.

Rumor is Google approached Olathe, Shawnee, Lenexa, and Overland Park all at the same time. There is just more red-tape to go through with the latter 3 for some reason. Same reason why KCK was announced prior to KCMO. It was supposed to be a joint announcement but KCMO was dragging their feet.

This needs to work it's way down to Wichita!

I chatted with a utility worker (contractor) last week in the Overland Park area close to the Sprint campus. He said that thet were pulling fiber for both Google and AT&T, so I hopefully will be able to break free from TWC! David
Android Central Newsletter
Get the best of Android Central in in your inbox, every day!
Thank you for signing up to Android Central. You will receive a verification email shortly.
There was a problem. Please refresh the page and try again.