Google Feed is now called Discover and available on Google's mobile site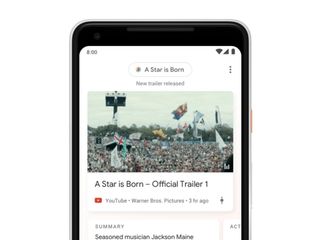 (Image credit: Google)
The stream of cards in the Google app and to the left of your home screen on the Pixel Launcher has gone by a couple different names over the past few years. First, it was Google Now and then rebranded as the Google Feed. Now, its name is being changed once more to Discover.
The fundamentals of Discover remain exactly the same. You'll see a list of cards related to recent Google searches, Chrome activity, etc. However, the cards are now presented with a refreshed look to make things easier on the eyes.
You'll now see topic headers above each section to make it clear what you're reading about. If you want to dive deeper into that topic, just tap on it and you'll be taken to a new list of articles and videos specific to that one subject. If you want to make sure you stay up-to-date with these topics, just tap the Follow button and you'll be in the know.
Discover will also show you new types of cards, including videos and evergreen content (articles that might have been published a while ago but are now relevant to you based on your Google activity).
Google's also adding controls over how often you want to see certain types of content, support for multiple languages (initially English and Spanish to start out), and bringing Discover outside of the Google app to google.com on all mobile web browsers.
Discover should be making its way to your phone over the coming days, so keep your eyes peeled.
Download: Google (free) (opens in new tab)
Joe Maring was a Senior Editor for Android Central between 2017 and 2021. You can reach him on Twitter at @JoeMaring1.
I'm all for updates but would it kill google to stick with one name and to support one product? It's almost a meme at this point. Ffs's google.

before my Pixel updated to Pie I was able to see all my packages coming in the mail and the date they are coming and who from. Where in the hell has that useful feature gone to? I searched everywhere. Anyone have any ideas? It was somehow linked with my Gmail and new everything about me . Now its just bull-crap news and nothing useful. Help!

Wow I totally forgot about that. I loved that- wouldn't mind having it back.

It's in the button that looks like smooched square, between the Google logo and the hamburger dots...and it should be the landing page instead of Feed or Discover. Google screwed up when they replaced GNow with Feed.

Now if they would only bring back the ability to swipe away cards!!!

+10000000000000000000000000000

Cool! I look forward to seeing what they rename it in January!

Probably Google We Can't Get The Name Right So We Will Keep Trying Until We Get It Right...

I thought it looked fine already, but I'm not going to complain about that. What I will complain about is not being able to swipe away cards anymore.

Identity crises aplenty at Google... yeesh

i never use Google feed or what ever it is called, in fact i do not even think it is activated on my phone.

I just want the return of the predictive notifications that used to tell me what time to leave for upcoming calendar events based on traffic. That was hands down the most useful feature of Google Now for me, and it stopped working with changes to Assistant/Feed/whatever.
Android Central Newsletter
Thank you for signing up to Android Central. You will receive a verification email shortly.
There was a problem. Please refresh the page and try again.