Google delays Android Wear 2.0 until early 2017, adds Play Store support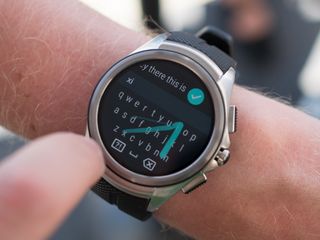 Google is pushing back the public release of Android Wear 2.0, the huge upgrade to the company's wearables platform unveiled this summer, to early 2017. Announced alongside the third developer preview, Google says that after a great response from the developer community thus far, it has "decided to continue the preview program into early 2017, at which point the first watches will receive Android Wear 2.0." One more developer preview will be released in the coming months before the platform is submitted to OEMs.
While the delay will be disappointing to many Wear fans, it's clear it is for a reason: The scope of Android Wear 2.0 is growing. To wit, Google is adding Play Store features to the smartwatch platform.
That's right, Google is separating Wear apps from their phone and tablet counterparts, a move that seems poised to herald a new era of cellular connected Android Wear devices.
More: Android Wear 2.0 hands-on from Google I/O 2016!
Google says that it asked developers what they wanted from Wear, and many of them brought up the difficulty of discovering great Wear apps, leading to the decision to add a separate app store.
The new developer preview also adds a number of interesting and useful features to Android Wear 2.0:
Improvements to complications, including explicit permissions for those that require access to personal information.
Inline actions for notifications, which is based on the APIs available to developers in Android 7.0 Nougat, allowing users to reply using voice or the new on-screen keyboard shipping with Wear 2.0.
Smart replies that are generated on the Watch itself, so no personal data is shared with Google. This method uses machine learning, and is based on the same technology Allo uses to create its smart replies.
What do you think of Android Wear 2.0 so far?
Android Central Newsletter
Get instant access to breaking news, the hottest reviews, great deals and helpful tips
Daniel Bader was a former Android Central Editor-in-Chief and Executive Editor for iMore and Windows Central.
Still waiting on the smartwatch front. I need something more refined than what's currently available.

Will there be new android wear watches on the 4th? I'd love to replace my Gear Live (that I won from this website :))

I'd wager not. Anything they might have released would be dependent on this most likely. They might at least show them, though.

The major Android Wear players have already stated they will not be releasing new watches this year.

I'm asking about Google tho...

Now we know why they are holding off releasing any new products.

Google said they have new watch hardware this year. With this latest development, the Google watches will probably be teased this year and launch next year with the new OS. Or launch this year still and update to 2.0 next.

And now we know why no new watches are coming out this year.

Think I'll be trying the Gear S3 Frontier, then. I'll catch up with Android Wear next time.

Evidently, I really won't think anything of it until sometime in 2017.

I'm actually not looking forward to a lot of the changes. The extras that they added have at least one positive thing. I would really prefer to get it over with on my LG URBANE 2. I really want to just bite the bullet and start trying to get past all the horrible design changes.

Software is hard. I feel for Google and Apple building these OS's and the APIs and rules for developing on them.

Where is the Android Pay support?

Really bums me out. I just got Android Pay with Chase, yet all my customers come in and pay with their Apple Watches, and I'm like....

Yep, that's the Apple Watch's killer feature, as far as I'm concerned. That should've been a day one focus for Google.

I'm already able to do this on my Gear S2, and it works well. I passed on Android Wear until it could be more refined, and then the S2 showed up and really impressed me. It does most of what I want it to do, but I'd like to see more *useful* features (such as pay and other things) on all watch platforms, and for the heart rate monitors to be more accurate and possibly constant.

Gonna be super awkward to reach over and hover your watchface over payment terminal though

With the antenna in the watchband on my LGU2, they could easily make the NFC location near the buckle to mitigate the awkwardness.

@Alex Dobie: I thought so too, but it really isn't as awkward as I thought it would be (the watch face can be at an angle and doesn't have to be perfectly parallel to the pad), and it only takes a second for it to register. Granted, my only experience is on the Gear S2, but it takes less effort than tapping my phone, surprisingly.

With this huge delay (could be March or April 2017) and total lack of new smartwatches (with Motorola, LG, etc. saying they've stopped developing anything new, and Huawei now abandoning AW altogether), the platform is in a LOT of trouble. This is starting to stink of BlackBerry and their constant delays. The Apple Watch and Tizen might end up killing off an otherwise promising watch os...

Is Huawei really abandoning AW?

At least for the next year or two.

2 years? Says who? You? Because none of the manufacturers have...

Those manufaturers have watches coming in 2017.

Says who? You? Because none of the manufacturers have...

They only said they're skipping 2016. Same for Wear 2.0 now. Coincidence?

If you're going to be, ahem, "clever", at least reply to the right person.

After using the preview for a few months, I rolled back to 1.5. Some of the features were very nice while others were worse. I hope they take feedback very seriously.

I tried the developer preview and flashed back to regular in less than an hour. I hope they add back the option to swipe back.....

I just want to have wear 2.0 on my LG Watch Urbane 1st gen.

Internals are the same as more recent watches, so no reason why it shouldn't.

Well, I have to wait until 2017 to get a new Android Wear watch anyway, so that's fine. My watch has a nice crack on the back, and it's time for a refresh.

For me, Android Pay support would be the big feature that would make an Android Wear device a must have. Samsung has added Samsung Pay support to their new smart watches. I'm really suprised that Google has been silent about this.

I think that it depends on the region. There are a handful of locations that accept contactless payments in my area and I work in a big college town. Pay support really doesn't matter to me, especially since USAA switched to visa debit and I lost the ability to use Android Pay.

If you have a Samsung phone, you might give Samsung Pay a try. I believe USAA supports it. The Visa debit thing really shouldn't matter (I have that now with my current bank and all three pay apps are supported (Apple, Samsung, and Android).

Apparently USAA is saying that their debit cards will receive support this fall. I don't own a Samsung at the moment. I'm only considering it because Samsung is less of a disappointment than LG is right now. Even then, I'm waiting for the Note 8 if I do.

Time to sell my Huawei Watch when the Samsung Gear S3 hits in a few weeks

Funny, I want to sell my gear s2 and buy Huawei watch. Had moto 360 1st gen and android wear got better functionality, and will got even more with 2.0 update. Tizen got great battery life but here's nothing in apps store, makes it boring

Funny. I want to keep my Huawei and LG Urbane v2 and buy an S3 Frontier.

Always thinking about third hand

Lol-if the S3 wasn't releasing soon I would offer a trade

I don't anything new in s3, so trade is a good option :)

I got 4 Android wear watches.....I hope they all get the update

I think Google is missing the bigger point. Shoehorning as many features as you can in to a smartwatch form factor is not the answer. Focus on core features watch, fitness, battery life, and notifications. This is why Fitbit is so popular. Even Apple has refined the Apple Watch with these in mind.

It's popular, but I would rather have a real fitness tracker and not the mess that is the Charge HR.

The ability to put an app on the watch and not your phone is a pretty major one though.

Agreed. Though the design changes are horrible

Disappointed. Don't really crave new features; just hoping to dump the inherent wonk...

From what I've read from people using the betas it adds more wonk than it removes.

Samsung needs to make the Play Store compatible with Tizen. I would gladly chose that over Android Wear to be honest.

Google isn't going to let that happen.

Uh...not really Samsung's call, it's Google's. Google isn't likely to do something that would contribute to Tizen undermining Android, so that's a long shot. Regardless, the apps developed for Android likely wouldn't run (or run correctly, anyway) on Tizen.

I'm growing out of the love I had for my Moto 360 v1 and smartwatches in general. More often than not I've got it on DND or theater mode to save battery (I do a lot of data entry and the screen constantly turns on), I don't really use OK Google for anything, and the times I do let notifications through it's more of a distraction. The only thing I use it for religiously is as my fitness tracker at the gym because it has a Wear app and it saves me from pulling my phone out constantly. Adding the Play Store to the watch itself and even adding keyboards is overkill. I don't need a dumbed down phone on a tiny screen on my wrist. Notifications are fine, relevant information (weather, steps, whatever) is fine, but none of these new features really improves the overall usage of the watch. It's making it more needlessly complicated, the same reason why friends with the Apple Watch ditched it. The delay isn't helping things either, by early 2017 I'll have lost all interest after having this for 2 years. It's just no longer appealing because it doesn't add any value or time savings to my life. /rant

I agree that it's absolutely unnecessary to make it so complicated. I personally love the functionality it has now. I'm fine with disabling all notifications except phone calls and text messages. That's what I use it for the most part. The only other app that I use is controlling my music from my watch when I'm at the gym. It's great to have music on my watch that way my phone can stay in the gym bag in the locker and I just need my Bluetooth headset and watch. I don't really need too much more functionality than that.

I was feeling the same then I bough a Pebble time steel and everything change! Around 6 days battery life with the screen always on. Cannot wait for the Time 2

360 Battery Plus completely changed my outlook on battery. I went from less than a day to about 2.5 days on my LG Urbane simply by using that app.

My thoughts exactly...wo wants to browse the play store for apps on a tiny watch screen when you can do it on the big phone? All I need is relevant information, fitness tracking, waterproof and loooong batery live...oh and paying with the watch would be awesome.

I'm not sure where all of the bad comments are coming from. Personally my Moto 360 (1st Gen) is still doing everything that I want it to do (tell the time, send the occasional short text, and check for notifications). I was just considering moving to the New Fossil Q Wander. I just hope that Fossil updates to 2.0 as fast as a tech company would.

Just got the Huawei coming from a 360. Screen clarity and quality compared is a huge upgrade. Best Buy $249.

I actually enjoy a lot of features in AW. The Urbane has great battery life and there are some amazing apps out there. My issues with 2.0 are almost completely design related. Material design, horrible menu list that Wear Mini Launcher does a better job at, brightness bar that Wear Mini Launcher already does a better job at, removing theater mode, and complications are the annoying parts for me. Additional input and more stand alone options are really cool. USAA already has one of the most impressive Wear extensions that I have seen. Stocard is an incredible card app, and Runtastic pro works great for my bike rides. Adding pay support would be neat, but they haven't really spread far enough to actually make a big impact for me. And the fitness angle is still years away from being usable for my goals. I still wish that I could get rid of the heart rate sensor on mine. I would rather have a real fitness tracker, not a smartwatch that can read steps and might also have such a flawed stairs element that I can climb 30+ stairs in 8 hours of walking on a solid floor.

My ZenWatch 2 speaker is shot to ish it sounds like water damage muffled sound -_- I thought it was IP67 - I never showered with the watch swam with it or nothing aside washing my hands n face thats it...I complained cause they discontinued the device so Amazon gave me my $ so I got it for free in the end.I am not sure I want the circle design and the proprietary bands but idk

This is actually amazing and this is how smartwatches should have been from the start. Now let's hope that SONY won't leave us behind and update the smartwatch3

Any news on adding Android Pay to Android Wear?

A salesperson at TAG Heuer told me to expect a new Android Wear watch from them very soon. I still won't be able to afford one, but it's good to know that companies are still interested in the platform. It sounded like the Fossil employee that I spoke with also expected something new soon as well since they were discounting Q devices for the first time.
Android Central Newsletter
Get instant access to breaking news, the hottest reviews, great deals and helpful tips
Thank you for signing up to Android Central. You will receive a verification email shortly.
There was a problem. Please refresh the page and try again.