Google comes out against "beauty mode" in smartphone camera apps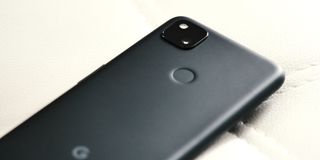 (Image credit: Alex Dobie / Android Central)
What you need to know
Google has come out against beauty mode for selfies and other image altering features on smartphone cameras.
The company will be updating its own Pixel camera app with value-neutral iconography and clear text descriptions to reflect these values.
Features like beauty mode contribute to body dysmorphia in young people and Google us making this change as part of its commitment to digital wellbeing.
Digital Wellbeing isn't just monitoring how long you use your phone or whether you get to bed on time. It's also examining other ways you interact with your smartphone too. Take selfies, Google is making a change to a popular feature you'll see on many Android phones — face retouching. On some Android phones, you may find it dubbed beauty mode or something similar. In essence, it's a feature that takes your face and smooths it out, lightens it up, changes your eye shape, and spits out a "beautified" photo.
Google notes that these features affect mental health in ways that may not be immediately obvious at first, especially in younger people or those who don't fall within conventional beauty standards. Google's Vinit Modi, Product Manager. explained on Thursday:
The company is not just giving lip-service to this idea, it's also changing the camera app on Pixels to reflect this. Currently, Pixels have a "face-retouching" of that alters your selfies to adjust skin texture, eye tone and eye-brightness. It'll be updated with clearer labelling and value-free iconography. The sparkles that you'll currently see on the feature will be replaced with something a little brush icon. The text will also swap out terms like "Natural" for "Subtle" ("Smooth" remains the same).
These updates will roll out at some unspecified point in the future.
Good for Google. It's a small thing but a lot of little things like this help.

I find myself agreeing with these changes.

LMAO! Yes, let's ban the word beauty. I swear these people are complete lunatics.

They have come out against it so it should be a main feature next year then?! 😂

Thanks be to God. How could I possibly live with myself and my low self esteem when there was an optional camera mode that I had the complete freedom of choice to not use. Joking aside, I actually agree with some of the changes because they make technical sense (renaming "natural" to "subtle" because modifying your portrait is the opposite of "natural")
My problem is Google's incessant virtue signaling over these things.

They can't get WOKE enough! The problem with woman's images of themselves is not selfie cameras. It is TV, movies, magazines, and social media.

"...social media."
Which includes the very same retouched selfies. You just validated Google's point.
Android Central Newsletter
Thank you for signing up to Android Central. You will receive a verification email shortly.
There was a problem. Please refresh the page and try again.