Google Chrome for Android updated for better bookmarking, adds switch for mobile view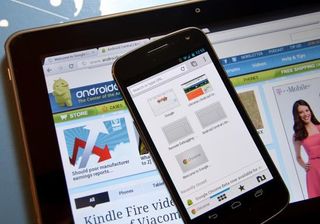 Heads up, boys and girls. Android's Chrome browser (still in beta, natch) just got a pretty significant update. Here's what's new:
You can now request the desktop version of a website, in case you would rather not view the mobile version.
You can now add bookmarks as shortcuts on your home screen, so you can get to your favorite sites faster.
Choose your favorite apps to handle links opened in Chrome.
Have a proxy setup for Wi-Fi access? You can now use Chrome with the system proxy configured in Android settings.
Huzzah! Remember that Chrome is still only available for devices with Ice Cream Sandwich. We've got download links after the break if you need 'em.
FINALLY we can use desktop sites. The best mobile browser gets better (even though this is a pretty basic feature).

Plus we can finally use it on a tablet...big plus.

Not sure why you're saying "finally". I've been using it on my Xoom since the day the beta came out.

As above. Been using it on my Xoom without any problems since release. Awesome browser!

Its still un usable. Just crashed twice while writing this and had to switch to the browser. Scrolling is horrendous as well. Hope this is fixed soon. E4gt cm9 a2

"Choose your favorite apps to handle links opened in Chrome." Hopefully YouTube videos will now give the option to open in the app instead of using the crappy HTML5 player in the browser

It gets annoying when it says no plugin available and shows a grayed out box in a video's place.

Oh, I don't know, thats the way I run the Stock Browser too. Why would I want to run whack-the-monkey animations on every page?

The update is great... fixes the two biggest issues for me (You Tube and Maps now give the options to open in apps rather than in Chrome)!

I'll play around with it later. But is the "request the desktop" feature a permanent option or is it like in the stock ICS browser where you have to select it each time you want to use it each time you go to a site? Why can't they just give us a UAString option in the advanced/dev settings?

It is a checkbox in the settings (and seems to stay checked until you uncheck it)

Woohoo! Best Android news I've had in weeks!

Guess I'll go see what all the fuss is about. Stock browser was gaining Chrome like features on ICS, so I had forgotten about this. It appears very fast. But at 62 meg, it quickly took over the number one spot on my App list sorted by size, 3 times larger than the next closest entry.

This is why I deleted the App from my phone, don't understand why it uses up so much memory.

Finally, I can use this on my tablet.

What changed to allow this? I've been using Chrome on my Transformer Prime since the initial beta was released with no problems. Unless you mean that your tablet finally got ICS?

Getting a package error when trying to update. NS4G running AOKP 31

Silly question, but how do you view your history in the Android Chrome? If it's not synced to your desktop version, that is.

+1 to this. I have no idea how to do this on my Transformer. Anybody know how to do this (if it is possible)?

Now, we just need full page view.

How does one add bookmarks to home screen? I poked around but it's still not apparent to me how to do this.

Not able to use on RAZR xt912. Please fix
Android Central Newsletter
Thank you for signing up to Android Central. You will receive a verification email shortly.
There was a problem. Please refresh the page and try again.