Google Cardboard passes 500,000 shipped cardboard headsets, gets a new SDK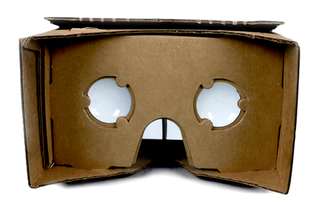 The fold-your-own Google Cardboard virtual reality headset has hit the half-a-million units shipped mark. And to mark the occasion, there's now an official Cardboard SDK for both Android and Unity. The SDK is designed to make it easier to build apps for Cardboard, taking care of the heaving lifting for things like head-tracking, lens distortion, and side-by-side rendering.
In addition, Google's also pushing out updated open-source specs for Cardboard headsets. The new specs are designed with varying cutting tools in mind, so you can easily get one that's meant for chopping things out from a huge stack of cardboard with a laser or it's just you with a utility knife and a single sheet of that corrugated paper board.
We've seen some pretty cool things come out of Google Cardboard, including virtual test drives and virtual concerts. Now with a proper SDK, we're really looking forward to some cool stuff.
Source: Google
Get the Android Central Newsletter
Instant access to breaking news, the hottest reviews, great deals and helpful tips.
Derek Kessler is Special Projects Manager for Mobile Nations. He's been writing about tech since 2009, has far more phones than is considered humane, still carries a torch for Palm (the old one), and got a Tesla because it was the biggest gadget he could find. You can follow him on Twitter at @derekakessler.
I didn't know this was a serious item for Google. Lol better than paying $200 for Gear that's for damn sure. 500K is not a bad number. Think I may jump on the VR bandwagon. Not. Posted via the Android Central App

I suspect it wasn't really a particularly serious thing. Then it kind of exploded and Google just ran with it. Wubba lubba dub dub!

Yeah, they'll run with anything that floats a few inches off the ground. And love your sig by the way. Can't wait for next summer till that shit comes back on!

SwiftKey for life. Posted via the Android Central App

Cardboard... not Keyboard.

Lol Posted via the Android Central App

LOL!!! I nominate this comment and it's reply for Comment of the Year... That's some internet gold right there!!!

The cardboard keyboard is coming next Posted via Android Central App

Have they made one that fits the Nexus 6 yet? I'm interested in trying this out

Beat me by 24 seconds! lol

I would assume the dodocase v1.2 cardboard would.
It says it fits the iphone 6 plus, and that phone has an almost identical footprint to the Nexus 6.

Unofficial Cardboard sells a kit (or fully assembled) one that fits the larger screen smartphones like the iPhone 6 and Galaxy Note 4. So I'm sure it'd fit the Nexus 6.

Anyone have any good cardboard rec's for the N6? Thanks!

Everytime I see this it makes me think of this: http://img1.wikia.nocookie.net/__cb20121011204131/azumanga/images/9/92/Y...

+π = infinity. Posted via "the Contest-Won" Sprint Galaxy Note 4

How do i get one of these? LG G3 32gb

Plenty of online stores selling them. Google it. It's not hard to find.

You either DL the specs and make it or if you aren't crafty enough, buy one from somewhere like eBay. Wubba lubba dub dub!

You should be aware though, that if you make your own, you'll be missing some a key feature of the official one. (the magnetic switch/clicker)

http://www.imcardboard.com/

I got a kit from here for $3 with free shipping http://m.tinydeal.com/product/diy-google-cardboard-vr-3d-glasses-for-iph... Posted via Android Central App

I work at a magenta carrier and with the launch of the nexus 6, they gave us a nice gift bag. Cardboard was one of the items in the bag. I suspect this number could be inflated. That being said, I've showed it to friends and family and they seem universally amazed.

Just ordered myself one from Amazon - genuinely thought this was a joke gadget a while back until I actually decided to read about it Posted via the Android Central App

for not even 20 bucks i'll try it. could be fun.

Just got mine in today. Lucked out and won a pair from the Volvo contest. Sadly the magnetic "click" doesn't work with my G2. Posted via Android Central App

On my Sony Z1 Compact, I found that the magnetic switch would work if I put the phone in the cardboard upside down. Apparently the magnet is on the wrong side for the sensor. I plan to modify my cardboard, moving the switch to the other side.

what in the actual f is this?

I won a free one of these from Volvo that actually just arrived in the mail today. I was skeptical at first, but it's actually pretty feakin cool. Not sure if I'd spend $20-$30 on a kit, but it's a neat toy for free.

Ugh and now I'm queasy after flying around Google Earth for 15 minutes...

Does anyone know if the cardboard is big enough for the Note 4? I am willing to try this.

I got one of these for my Nexus 5 and it works really well. It was one of the best $7 I ever sent actually. The thing is, since it's so cheap. You're not really expecting much out of it. Then when you try it, you're like holy wow, this is really cool! Plus it was only $7..

well for those of you with phones that are have size up to 5.7 inch note 2 or 3, iphone 5 plus there is a larger google cardboard available, is the Neje VR ZB02 MAx, is available at tabletland.com with coupon NEJE VR ZB02 MAX HG4SA under 9 bucks

Well it seems the comments here are divided by those who are easily amused and those who are unimpressed. Count me in the former....would love to try this!