A Gmail bug is preventing users from emptying their spam and trash folders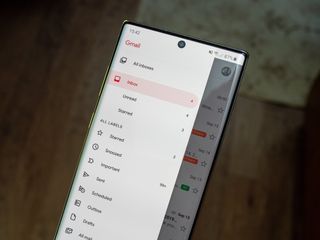 (Image credit: Android Central)
What you need to know
Your email might be a bit messier than usual today.
The Gmail app on Android is no longer showing the option to clean the spam and trash folders in their entirety.
Google has said this is a bug and will hopefully fix the problem soon.
The Gmail app on Android is acting up a bit, as reported by the folks at Android Police. If you navigate over to your spam or trash folders on the app, you might notice that the app is no longer displaying that helpful option to clear all spam/trash with one click at the top.
Things are even worse in the case of the trash folder because you can't even delete those emails individually. While you can still manually select and delete individual emails from the spam folder, they ultimately end up in the trash, so there is, it seems, no way of getting rid of the trash at the moment. It looks like Gmail's come up with a case of the Unruly Teenager Syndrome — and you're the nagging mom.
Thankfully, this is a bug, not a feature. Support staff on Google's forums confirmed as much earlier in the week, and the company's engineers are said to be working on a fix so you'll hopefully be able to make your inbox a tiny bit tidier once again — before you're drowned in another avalanche of investment opportunities from Nigerian princes, of course.
In the meantime, the Gmail web app is working just fine, so if you really can't stand looking at a populated trash folder, go ahead and fire up Chrome on the desktop.
Gmail now lets you send emails as attachments and reschedule appointments
Android Central Newsletter
Get instant access to breaking news, the hottest reviews, great deals and helpful tips
If you turn your phone to landscape mode the remove spam/trash button will show up.

Good eye! Also, if you go back to portrait, the option remains (at least until you exit the app).

I didn't see it when I went to landscape - but when I went back to portrait it was there - thanks for the tip!

Gmail sucks ass. From all Google's suite of apps it is by far the most problematic. An awkward design, not user friendly at all. On top of that it's glitchy and frequently plagued by a variety of problems. I really wish the BlackBerry Hub was available to all Android users for free. That would be a wonderful option! Gmail blows even on Android One phones where you basically get the stock Android experience with no annoying skins and bloatware. I think I'll switch to Outlook. Microsoft's offering seems better and more seamless than Gmail...
Android Central Newsletter
Get instant access to breaking news, the hottest reviews, great deals and helpful tips
Thank you for signing up to Android Central. You will receive a verification email shortly.
There was a problem. Please refresh the page and try again.