Gboard now supports Chinese, Korean, and 20 other new languages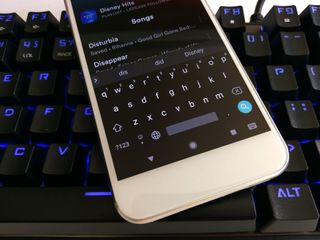 Gboard has been my go-to Android keyboard of choice for well over a year now, and a lot more people will now be able to take advantage of its many features thanks to new language support.
Version 7.0 of Gboard is rolling out to the Play Store now for all users, and with it comes official support for Korean, simplified and traditional Chinese, and 20 other languages – including Adlam, Manx, and Maori.
These new additions mean Gboard now covers over 300 different languages, and in other words, 74% of the world's entire population.
Along with the new languages, v7.0 for Gboard also brings auto-complete suggestions for email addresses, a universal search that lets you browse through emojis, stickers, GIFs, and more simultaneously, and the ability to have multiple keyboards selected at once.
Download: Gboard (free) (opens in new tab)
Joe Maring was a Senior Editor for Android Central between 2017 and 2021. You can reach him on Twitter at @JoeMaring1.
Swiftkey keyboard is better

Yes, you're auto correct. Can't be beet.

Their autocorrect is. I like features of Gboard but frustrating that the correct word is often found but it is *not highlighted* so pressing space does not automatically insert the word.

Chinese is finally coming. I'll give a go.

I have a galaxy s6. I switched from Swype. Gboard has really improved since I last tried it , but it freezes on a regular basis while Swype typing
Joe

Cannot find v7 in play store, it is still v6.98

BlackBerry Keyboard FTW
Hands down my goto and favorite keyboard on Android.. It's a "side load" but the source is secure. On top of the Keyboard, the developer provides access to all the time tried and tested full productivity suite ..
I keep saying, try it out and start flicking from a larger selection of predictions.. BlackBerry has been at the "input" game from the beginning!! While other of options provide similar options, BlackBerry just executes the best virtual keyboard I've yet to use. Try it for yourself : https://cobalt232.github.io/blackberrymanager/ Follow the bouncing ball, install the Hub, which is the "PlayStore" for the BlackBerry suite, and have at it.. I'm using several of the apps having come from a BlackBerry 10 device, I'm feeling much more at home.. ----------------------------------------------------------------------
Even though I am using a Galaxy S7 (G930U) the 3rd party Launcher : Action Launcher (3) has allowed me to tweak the UI to "feel" more like the BB10 I was accustomed to. The BlackBerry Launcher available is still lacking several gestures and such that makes Action Launcher a better choice for ME..
----------------------------------------------------------------------
Bottom line:
GBoard was my goto until I tried the BlackBerry keyboard. Having been made available for any Android phone with 5.0 and beyond, it is definitely worth the time to go through the extra step or two to allow Third Party sources... https://cobalt232.github.io/blackberrymanager/ Give it a whirl !!!
Hands down my goto keyboard. period.
Android Central Newsletter
Get the best of Android Central in in your inbox, every day!
Thank you for signing up to Android Central. You will receive a verification email shortly.
There was a problem. Please refresh the page and try again.